Are you a happily engaged couple, trying to decide where to finally tie the knot? If you're ready to make a commitment of a lifetime, perhaps you should start your new life together in one of the most popular vacation spots in the country.
Gatlinburg, Tennessee is a wonderful spot to host a wedding, no matter what sort of ceremony you want to have. With the beautiful views, fun activities, and comfortable cabins, you won't find a better place to have your family and friends come and witness your special day.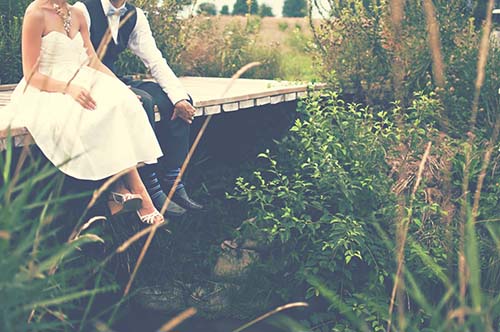 Where to Host
The first thing you must decide is what time of year you want to host your wedding. Any time is good, but if you prefer certain colors, you should definitely read about the different times of years.
In the summer all the way up to mid-September, you will be surrounded by a variety of shades of green. Everything from the trees to the shrubs to the flowers are a beautiful shade of green; some of them are deep and passionate, and some of them are light pastels. The Great Smoky Mountains are delightful in the summer with temperatures in the mid-80s.
In the summer, you'll get the opportunity to see plenty of wildlife in the area, and not just in the wildlife habitat reserve. You can see bunnies, and otters, and birds of prey. In the wildlife habitat, you can even see a family of black bears! This include Minnie and BJ, and their grown five year olds, Holly and Chief. While you're out exploring the multiple hiking trails, you might see even more bears. Just remember basic bear safety. If you're unsure of what these safety tips are, make sure you look it up on the Internet or ask one of the employees or park guides and they'll be happy to tell you what you should do if you run into a bear.
Bears
Continuing on the topic of bears, remember that they are not there for you to feed! It's important that these bears remain untouched by the human hand. It will lower their life expectancy from twelve to fifteen years all the way down to six to seven.
If you prefer other colors, you might want to come to the area in late-September all the way to mid-October. This is when the greens start to change to a myriad of gold, yellow, and red colors. This is a very beautiful time of year. The Great Smoky Mountains really come alive with exciting views and wonderful places to hike and visit.
If you come in the winter, you and your guests can enjoy the white, glistening snow that covers the land. Not only that, but you can ski! There are plenty of awesome slopes for you and your family and friends to try out; slopes meant for everyone, whether they're a beginner or expert. There are a total of nine slopes for you to choose from, and you can even try skiing at night!
Ober Gatlinburg
There are also a lot of other attractions in Ober Gatlinburg that you, your significant other, and your family and friends will probably enjoy. There is an indoor mall where you can shop to your heart's content. In the center of this mall is an ice-skating rink. There are also plenty of things for children to do, such as ride the carousal, play in bumper cars, and ride down the awesome alpine slide!
Oktoberfest
Coming in the fall also allows you to attend Ober Gatlinburg's famous annual Oktoberfest! It's held from September 22nd through October 29th. This event is created in order to honor some of the traditional activities in Munich, Germany. There are plenty of activities for everyone of all ages!
Food is one of the main parts of Oktoberfest. It's German themed and includes everything from schnitzel, bratwurst, strudel, turkey legs to pretzels and sauerkraut. The Seasons of Ober Restaurant switches to an Oktoberfest menu so you can order any of the German themed food that you'd like. This can be a great place to hold a reception because of the variety of activities and the quality of the food. Your guests will love it, and hopefully so will you and your soon-to-be spouse!
Bier Garden
To go along with the food is the excellent beer. For those of you are over 21, make sure you check out the Outdoor Bier Garden! It's open for sampling so you can figure out what flavor you most enjoy! Different breweries are featured every weekend! You can speak to a representative from each brewery on Saturdays!
If you're already enjoying the beer and the food, you might as well check out the outdoor games and the Bavarian folk dances, oompah music, sing-a-longs, yodels, and more! There are daily performances during Oktoberfest. You can even get free face paintings on Saturdays!
Just remember that everything is scheduled around the weather, so make sure you take advantage of the sunny, bright days and enjoy Oktoberfest with your family and friends!
Wedding Planners
Planning a wedding is a lot of fun, but can sometimes be very stressful. Rest assured that Gatlinburg, Tennessee there are plenty of wedding planners that can help you with everything from your save the date cards to your wedding invitations to your choice in venue. Let one of Gatlinburg's qualified wedding planners help you make your day as special as possible while relieving you of some of the difficult work. Your wedding is supposed to be a magical time that you remember for the rest of your life, after all! You don't want to focus on the details that might make you stressed out and tired.
There are lots of different options for weddings, and you've probably had one planned out in your head since you were a young child. Luckily for you, Gatlinburg can host just about any type of wedding and do it superbly.
If you want a flashy, ritzy, bright lights wedding, you've come to the right place. Perhaps that sounds more like Vegas to you? Well, it's not! Gatlinburg can make sure your wedding is as grand and magical as you want it to be. It's a beautiful town and can definitely step up to the plate when it comes to glorious weddings that nobody will ever forget.
For those That Elope
Perhaps it's just you and your soon-to-be spouse. Many couples decide to forgo a large splashy wedding and just elope. There are dozens of wedding planners and services that are happy to accommodate a couple that's made the decision to start their life with just the two of them, the beautiful mountain scenery, and the awesome weather that Tennessee is known for. There are plenty of awesome activities for newly wed couples and they can definitely start their life together out right.
If you want a more intimate wedding, though, with just you, some family, and some well-chosen friends, perhaps you'd be best off having a cabin wedding! It's a great place to host a ceremony and then afterwards, you and your partner can honey moon in it! There are packages of all sorts that you can buy. If you want something affordable, there are plenty of cheap cabin rentals in Gatlinburg. You don't have to shell out a fortune to enjoy your wedding night. However, if you do want an expensive cabin rental, there are plenty of luxury cabins to choose from.
Cabins
Choosing the perfect cabin for you has never been easier. You can use all sorts of criteria – everything from your cabin allowing pets to being motorcycle accessible. A lot of the cabins have hot tubs that you can enjoy well into the night – or even during the day! You can make your cabin as wedding friendly as you like, and let everyone enjoy this special treat.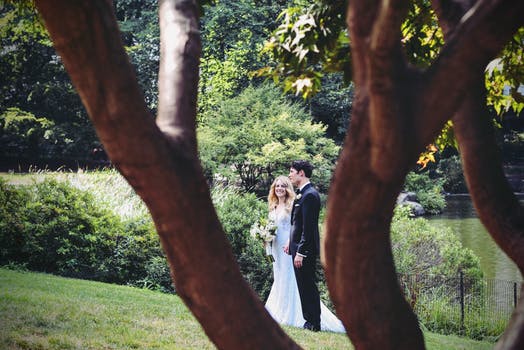 One of the great parts about having a wedding in the Great Smoky Mountains is the ability to match your wedding theme to that of the beautiful outdoors. When you go to pick out bridesmaid dresses, for example, take a look around. You'll find that there are a myriad of colors to choose from, and you can dress them in vibrant greens, or golds, or reds.
Themed Weddings
Weddings often have themes, so once you've picked out what colors you want, whether it's straight from your brain or focused around the beautiful scenery, you can start with the actual planning! Bouquets are important, and you can find the perfect ones for your wedding party – and yourself or your fiancé. Flowers can be very important, because you might want to save these bouquets for years to come. Pressing your wedding bouquet so that it remains preserved for years is a tradition that many brides enjoy.
There are also the decorations to think of. You might want a simple wedding, or a huge one, but either way, you want to take a look at the flowers, the terraces, and the archways your wedding might include. You can check out the multiple different florists who offer great deals on wedding flowers – everything from the bouquets to the debonairness that the groomsmen may be wearing.
The Wedding Dress
One of the most important things for a bride to consider is her dress! There are hundreds of different styles to choose from – everything from short and elegant to long and princess-like. The bride has probably been picturing this dress since she was old enough to start playing dress up. It's important that she find the best dress she's ever worn. Perhaps she'd like to browse wedding dresses in Gatlinburg or Pigeon Forge. Both of these places have spectacular dresses to choose from, and plenty of employees who will be more than willing to help her try on dress after dress until she finds the one she wants. Just remember to match your bridesmaid dresses to the wedding dress! You don't want to try to match elegant bridesmaid dresses to an old-fashioned puffy princess dress! It's the bride's dress that matters; everything else is just details!
Fitted Tuxedos
The groom matters too, of course, and there are plenty of places for him to find the perfect, fitted tuxedo. When she's walking down the aisle, everyone's eyes are on her, but her eyes are going to be on the groom, and he needs to look like the Prince Charming she's always dreamed of.
You also want to decide if you want to have your wedding indoors or out. Having an outdoor wedding is a fantastic way to start a life together. However, if you want to get married in a Chapel, there are plenty choices for you to make. Your wedding planner can help you find the perfect place to host a wedding party, whether it's large or small.
Receptions
Picking out a place to have a reception is important too. If you want something small or something large, there are all kinds of choices! Make sure you figure out something that fits your dreams and your budget. Expensive weddings… affordable weddings…. there's something for everyone.
Choose Gatlinburg
So when you start to plan your wedding, considering Gatlinburg, Tennessee. There are different activities that will suit everyone, no matter who you are. If you're an outdoor activist, you'll find hiking and biking trials that will allow you to fully enjoy the wonderful nature you're surrounded by. You'll enjoy the ski slopes, the animal encounter, and the gorgeous flowers, trees, and shrubbery. You can go fishing, swimming, and genuinely just enjoy your time in Gatlinburg, Tennessee. However, if you are an indoors person, there's still plenty to do as well, such as enjoy the many restaurants and activities. If you and your fiancé are history buffs, you can read all about how the area got to be formed, and even visit historic points of interest while you're in the area!
Just remember that when you decide to have a wedding in Gatlinburg, Tennessee, you can plan as much as you want on your own, and you can have help with the rest. It's going to be a magical moment that you're going to want to look back on for years and years to come.