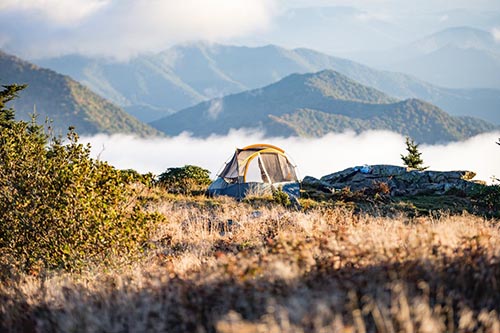 The Smoky Mountains is a wonderful place to bring the family. This is so they can enjoy some much needed time away from the stresses of everyday life. Gatlinburg and Pigeon Forge provide an abundance of shopping, food, and entertainment the whole family can enjoy. However, if you really want to unplug, there is no better place than the Smokies! You can just rest and enjoy the sights and sounds of nature.
Before the Smokies was a National Park, many families made their home here. By camping, it is a way for you to experience life in a simple way. You can do it in the same way families lived more than 80 years ago right here. The following is a list of 10 campsites located in the Smoky Mountains. You can experience without all the hustle and bustle of the main tourism areas.
Townsend/Great Smokies KOA Holiday - Top 10
Located in the Peaceful Side of the Smokies, Townsend/Great Smokies KOA provides guests with a more tranquil experience to their Smoky Mountain vacation. The campground is located against the Little River and is billed as one of the premier campgrounds in the Smokies. Each campsite has picnic tables and campfire rings. They also have options for those that don't want to rough it: log camping cabins or deluxe cabins.
Of course no campground lacks outdoor recreational opportunities, and this one is no different. Guests will have access to the 5 mile long Townsend Bike Trail and also the Little River. This is where you can swim and do some trout fishing. Also, campers can experience horseback riding being that there are several stables located just minutes from the campground. They recommend these stables: Cades Cove, Davy Crockett, and Packs Stables. For a full list of amenities, check out their website http://koa.com/campgrounds/townsend-great-smokies/ for a full list of amenities.​
Camping in the Smokies - Top 10
Camping in the Smokies is located adjacent to the Smoky Mountains. It's unique for being one of only 2 campsites in the Smokies with trolley access. They are located next to a quiet mountain stream just a few miles from Gatlinburg on the East Parkway. They have popular outdoor activities including horseback riding, golfing, hiking, and fishing. You also have the opportunity to buy wood, kindling, ice, and a newspaper for convenience at the front office.
Their laundry facilities are located at the center of the bathhouse. Other amenities include hot showers, satellite TV, and nine tent camping sites. This is a campground that seems very good at informing all of its guests to be wary of nature and the wild animals that may on occasion pay a visit to certain sites. This includes making sure trash and all food is properly disposed and put in the right animal-proof containers. It is something that people can take for granted so it is prudent to follow these important rules. You can find more information on them at their website http://gocampinginthesmokies.com/​.
Cherokee/Great Smokies KOA - Top 10
This campground is located on the opposite end of the Park on the North Carolina side of the
Smoky Mountains. One shining feature of this location is the 360 degree views of the mountains and just a mile from the beautifully scenic Blue Ridge Parkway. Anyone who has visited Cherokee is aware of its rich cultural history and the campground embraces this history with some of its activities including tie-dyed t-shirt making, face painting, crafts, and theme weekends. Of course, there are plenty of opportunities for trout fishing in Raven Fork River and three tribal trout ponds on site.
The kids will also not be bored with activities such as a nice playground and their "Hey" Wagon Ride, which takes riders through the campground. Cherokee/Great Smokies KOA also gives guests the option of staying in a cabin if that is their preferred method of campground accommodations. They have 1 or 2 room cabins that sleep up to 6 people. Their website is ​http://koa.com/campgrounds/cherokee/​.
Elkmont Campground - Top 10
Elkmont is a popular campground located near Sugarlands Visitors Center and Gatlinburg. In fact, they are considered the largest and busiest campground in The Smoky Mountains. Part of its popularity is due to the fact they are located near three trailheads: Jake's Creek, Elkmont Nature Trail, and Little River Trail. Another recommended trail with a wonderful 80 foot high waterfall at the end is the Laurel Falls Trail that is just a short drive away.
Elkmont is next to the Little River providing for plenty of backcountry fishing as well. In addition to Elkmont's 200 tent and RV sites with paved driveways, gravel tent pads, fire rings, and picnic tables, they also have 20 walk-in sites for tents which gives campers a short walk from their parking area to their tent pad. Keep in mind with their popularity and central location, campsites will be filled quickly so make sure you book well enough in advance. For a full list of their offerings, go to recreation.gov for additional information.
Smokemont Campground - Top 10
Another campground located near the North Carolina and Tennessee border is Smokemont. They are billed as one of the more picturesque camps in the Smokies--surrounded by mountain ranges and streams and covered with spring wildflowers. At Smokemont, trout fishing can be enjoyed in the nearby Bradley Fork River. They also have plenty of amenities for campers' enjoyment and convenience, and these include flush toilets, drinking water, sinks, grills, fire rings; a flat, grassy area provides for fun and games: football, volleyball, sunbathing, or just sitting out outside reading or enjoying nature at its finest.
If you feel the need to take in an additional activity outside the campground, there is The Museum of the Cherokee Indian, Oconaluftee Indian Village, and Qualla Arts and Crafts Mutual located in nearby Cherokee just six miles away. Go to recreation.gov for more information including camping rules and dates for booking a stay at this great site in the Smoky Mountains.
Cades Cove Campground - Top 10
Cades Cove is one of the most wondrous locations in the Smoky Mountains. Visitors flock to the area to get a glimpse of the beauty and wildlife that are abundant here. You can also make it your destination for camping if that is your desire. Nearby you can enjoy hiking on the Abrams Falls Trail and get rewarded with a modest 20 foot tall waterfall that spews large volumes of water making for a very picturesque sight. The campground itself provides guests with some primitive camping along with the more modern flush toilets and drinking water.
Basic necessities can be found at the camp store and if you want to bike, bicycles can be rented here too; in fact, there are times set aside during the week when you can have the whole Cades Cove Loop to yourself: every Saturday and Wednesday morning until 10 in the morning from May until late September; or if you need a full service grocery store and fuel for your camp, Townsend is the nearest place, nine miles from Cades Cove Campground. Once again, a full list of information can be found at recreation.gov.
Cosby Campground - Top 10
For a more secluded experience in the Smoky Mountains, you might want to give Cosby Campground a look for your camping needs. This may be the reason why they almost always have campsites available, but that should not deter you from visiting. They bill themselves as the anti hustle and bustle campground. This is because they are not in the middle of many trails and attractions. They say if want a true quiet vacation, then this is a place. There certainly is a demand for that still.
There is a trail nearby--The Appalachian Trail--and it can be accessed by walking three miles down Lower Gap Trail. Cosby is mostly a tent campground offering many trees for shade and tent pads. Modern amenities are certainly offered with 26 reservable sites and an additional 131 available on a first-come, first-serve basis. The conveniences of stores and fuel are located five miles away in Cosby, Tennessee. If this sounds like your ideal vacation, then go to recreation.gov to find a full list of amenities.
Balsam Mountain Campground - Top 10
Another campground that is off the beaten path is Balsam Mountain. The air is thinner here as it is located at 5,400 feet above sea level near Cherokee and just off the scenic Blue Ridge Parkway Spur. Unlike some of the other campgrounds--like Cades Cove--Balsam Mountain does not offer year-round camping; they are only open from May to October. Sites are offered on a first-come, first-serve basis. However, with the limited availability of sites--just 46--it may be difficult to reserve.
They offer the following: bunk house cabins, hot showers, clean bathrooms, primitive camping, and magnificent views. There is limited access to information online to Balsam Mountain Campground. However, you can take a look at their policies and contact information via mysmokymountainvacation.com.
Greenbrier Campground - Top 10
Located near Pittman Center not too far east of Gatlinburg is the amenity-filled Greenbrier Campground. Their location along the Little Pigeon River gives the camping enthusiast a buffet of options. These include swimming in the Flint Rock swimming hole, and also trout fishing. There are many trails available in the Greenbrier section of the National Park. They also offer some unique camping options.
Their camping island has five spots on the river for water and electric service. For those who like to "rough it," there is also open grass tent camping with no water or electric. There are almost 100 sites for RV hookups which include water, sewer, electric, cable, and even wifi. The best part may be the fact that you can hear the Little Pigeon River from every site even if you are not right on the water.
Cabins are available to rent at Greenbrier too. These cabins still give you full access to the campground, are pet-friendly, and can sleep a small family comfortably. There are rules and regulations, of course. So make sure you follow their list to make your stay as enjoyable as possible. Greenbrier Campground has a fantastic website with detailed information on everything they have to offer. You can find this at smokymountaincamping.com
Abrams Creek Campground - Top 10
The smallest campground on this list, and also one of the smallest in the entire National Park is the Abrams Creek Campground. They are located near Townsend, Tennessee and like Balsam Mountain, does not offer year-round camping--opening only from May to October. There are just 16 sites available here, but they are just off the Foothills Parkway, which offers stunning views of the Smoky Mountains. Abrams Creek draws campers for three reasons: Abrams Creek, its lack of use, and its size.
Their campsites include the common fire rings and picnic tables, and you can park your vehicle at your campsite. Adding to its primitive feel, they don't have showers, electricity, or water hookups, but they do have cold running water and restrooms with flushing toilets. Even the registration process is pretty simple. No reservations are required; when you arrive at the site, there is a self-registration envelope to fill out at the campground bulletin board, and deposit the camping fee in the nearby safe.
Abrams Creek is only monitored by Park Rangers, as there is no personnel on site. This may be a campsite for those who are motorcycle riders, since the popular Tail of the Dragon is located just a few miles south of here. Make sure you are aware of the dangers of this stretch of road, because it is not for the faint of heart. You can find a bit more information on rules and location at mysmokymountainguide.com.
Conclusion
As you can clearly see, there are many options for camping in The Great Smoky Mountains. This list is not a full list of options for camping. However, it covers a wide range of options for those who opt for privacy. It also has options for those that prefer an abundance of fun-filled activities. It will make for an awesome vacation no matter what your age. Just remember to follow Park rules in general. Keep in mind that even though most campgrounds have a similar set of guidelines, it is important to read through the list. Wherever you decide to stay for your vacation. Happy camping, everyone!