If you own a cabin in or near the Great Smoky Mountains, you've probably considered renting it out. There are a lot of preconceived notions about renting out your vacation rental. However, plenty of them are just flat out false. You might believe that if you rent out your beloved cabin, that things might happen to it that are irreversible; damage, for example, or over renting, or overcrowding.
The truth is once you get used to it, renting out your place has far more pros than cons. That doesn't mean that it's always the best idea. However, it sure can be a great way to make some extra money with your vacation rental.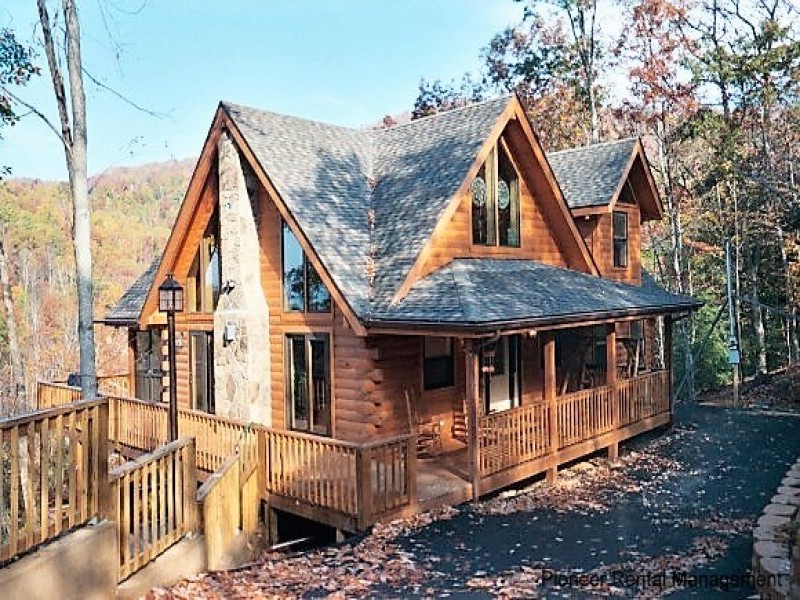 On the pro side: The financial side of things is always something to take a look at. Renting out to seasonal vacationers who are visiting for a short period of time can make you some great cash. Even if you only rent out your property for seventeen months out of the year, the money you collect from that can offset your mortgage costs as well as any other bills. If you choose to rent it out more than that, you're going to be looking at turning quite a nice little profit.
On the con side: Most of the worries that prospective renters worry about will never even happen! They are just myths that are based on fear and an occasionally bad experience that has been blown way out of proportion! Below are some of the common misconceptions that property owners might have, as well as information that proves them wrong.
The Necessity of Using a Property Management Company to Handle Rentals:
This is definitely false. You have the option of using a property management rental company, and sometimes it's a great idea. They can handle everything for you so you don't have to worry about bookings or cleaning up afterwards or making sure you get paid. However, many cabin owners self-manage their own places. This is known as rentals by owners. Those who decide to rent by owners have increased control over who rents out their homes. This also saves them the commission that the property management company would take – often anywhere from thirty to fifty percent!
Just remember, if you choose to handle your property yourself you're stuck dealing with all the details, and there can be a lot of them. You'll have to choose the right price to list it for, you'll have to manage the dates that people want to rent, you'll have to worry about clean up and repairs, and you'll have to worry about what seasons and temperatures are the best to rent out during. The pro side of dealing with this is all the increased control you'll have over your property.
Renters will Damage Your Property Beyond Repair:
This is another misconception that property owners often have. They assume that everyone is going to be a huge partier, and that they're not going to take care of the cabin that they rent. This is false. In fact, it is rare that renters destroy the property. If you take the time to screen your prospective renters, you'll have a lot less to worry about. When handling it yourself, you can run background checks, credit checks, and even interview prospective renters.
If you decide to use a property management company, they will take care of all this for you, so you can sit back and relax and not worry that your renting out your special property to a bunch of hooligans! Even if you do have a bad experience and suffer damage to your property, you can bill the people who did the damage. Even if you can't recuperate all your losses on that particular rental, the rest of the year will definitely cover any possible mishaps you might have.
You Must Live Close to Your Rental:
This too, is a false belief that many cabin owners have. You don't have to live in the area to manage your property. It's true that you won't be able to go in and clean it yourself, but there are affordable companies and housekeepers who can manage this part for you. You can interview them yourself and find someone who fits the criteria you are looking for. If you live far away, this is another reason to consider a property management company: they'll handle all these details for you, even if you live all the way across the country! Thousands of owners rent out their cabins while living far away, and you can be one of them!
Finding Renters will Require Door-to-Door Sales
We live in a day and age that finding renters is not a problem. Many people use the internet now to plan their vacations and often pick out the perfect place online to book and rent their vacation spot. There are hundreds of sites that get over a million views a year, and your cabin can be one of those special places that they decide to rent out for a weekend vacation, a wedding, or a family reunion. You shouldn't have too hard of a time finding people who will enjoy renting out your vacation home!
You Can't Tell Your Insurance Company that You'll be Renting Out Your Property:
This misconception is one of the strangest ones out there! Of course you should tell your insurance company your plans for renting out your property! This will allow you to find out from your insurance company what, if any, additional coverage you will need. Then if you do run into some kind of issue at some point, you will know that you're properly insured for whatever has happened. If you have the right insurance, you're going to save a lot of money if some kind of problem does arise.
You Won't Be Able to Use Your Rental For Your Vacation Spot:
This is an absolutely ridiculous myth, and is definitely false. Of course can still use your property! If you're managing the online bookings yourself, you can make sure that your cabin is unavailable to rent for the time that you wish to occupy it; in the same way that you wouldn't let guests double book your property, you don't have to worry about someone showing up on your doorstep with their luggage in hand.
Still not convinced? Afraid it will take up too much time? There are property management companies who can handle your rental for you and make sure that it stays clean, maintained, and rented out for whenever you're not using it! Read on to find out why property management companies are so well liked.
Renting has Never been Easier:
As we mentioned above, most people use the Internet now to find the perfect place to vacation in. A property management company can make sure that your rental is listed everywhere it needs to be for the maximum amount of bookings. They will make sure that there's no overbooking, that you're making the most amount of money possible, and that you have plenty of time to still vacation there if you want.
Cleaning, Cleaning, Cleaning:
As you might have guessed, after a guest stays in your rental cabin, there's going to be stuff to clean up. You're going to want to wash the bedding, scrub the floors, wash the counters, and more. This might take you a lot of time that you just don't have – especially if you're working as well. So why not let a property management company take care of that for you? They know all the best cleaners in the area, and have screened them all to make sure they're trustworthy. You won't have to spend another day making sure your baseboards aren't grimy! The cleaners will take care of all those small details for you, leaving you with more time to do what you want, while still collecting a decent income.
Screening Tenants:
If you're still worried about your property getting damaged, you're going to want to make sure that you screen all tenants using background checks and credit checks to make sure they're never been evicted and that they're not secret partiers who have left devastation in their wake. Running these checks is not cheap, and it takes time. A property management company can do all this for you, making sure that you don't have to worry about who's in your home.
On the same note, they can also help with evictions. What happens when you have a tenant who has overstayed their welcome and refuse to leave? If you have to deal with this yourself, you might get frustrated, or the situation may even turn dangerous. Allowing a property management company to deal with it, however, reduces the danger you're in, as well as allowing them to get the renters out in a timely and friendly fashion.
Friendly Staff to Help with Everything:
Most property management companies have a great staff that's willing to listen to your concerns and work with you to manage any problems you might have. Are you worried that your property is being listed for too low or too high? Dissatisfied with the cleaning that's been done? Are you getting complains from your renters? Make sure to bring this up to your property management company and let them work on satisfying both you and the people who want to rent your vacation spot. Most of the time, property management companies just want to make sure that you are satisfied with their work. If you're not, there are plenty of others that can take over!
Helping to Create Memories that Last a Lifetime:
A lot of people who want to rent a cabin for a few days or a few weeks have a special event in mind. They might be getting all of their family together for a reunion. Some might be seeing friends they haven't been with in years. A few might even be getting married! Whatever the occasion, the property management company can make sure they have all the things they need to make sure this event is as special as possible. While you're not really a direct part of these special moments, you can always look back and say that you helped a couple get married, or you helped a family reunite. You and your rental will play a large part in someone's life, and the karma from that will last your entire life. Help property management companies help other peoples' lives memorable.
Increasing Investment Potential:
While you might not know the ins and outs of renting out vacation homes, property management companies do. They can make sure your cabin is just right for whatever people are looking for. Whether it's someone coming down to Gatlinburg, Tennessee for a few days, or whether it's someone planning a special occasion, they can make sure to get the most use out of your rental home. They can also make sure that regular maintenance is done so your property doesn't decrease in value.
Property management companies make money when you make money. So rest easy knowing they'll do everything in their power to make sure that your property gets the most use, the best care, and makes the best memories.
Hopefully this article has helped you see the pros to renting out your vacation home. You can see that most of these myths can be disproved! There's no reason to not rent out your vacation rental. You can pay for the mortgage and even make quite the profit!
In the same regard, hopefully you can see all the pros to using a property management company. They exist to make your life easier. You can screen and research all different types of companies to make sure you're getting one that fits you, your lifestyle, and your vacation rental. Start making money now, and stop doing all the work yourself. Your vacation rental is supposed to work for you, not the other way around.