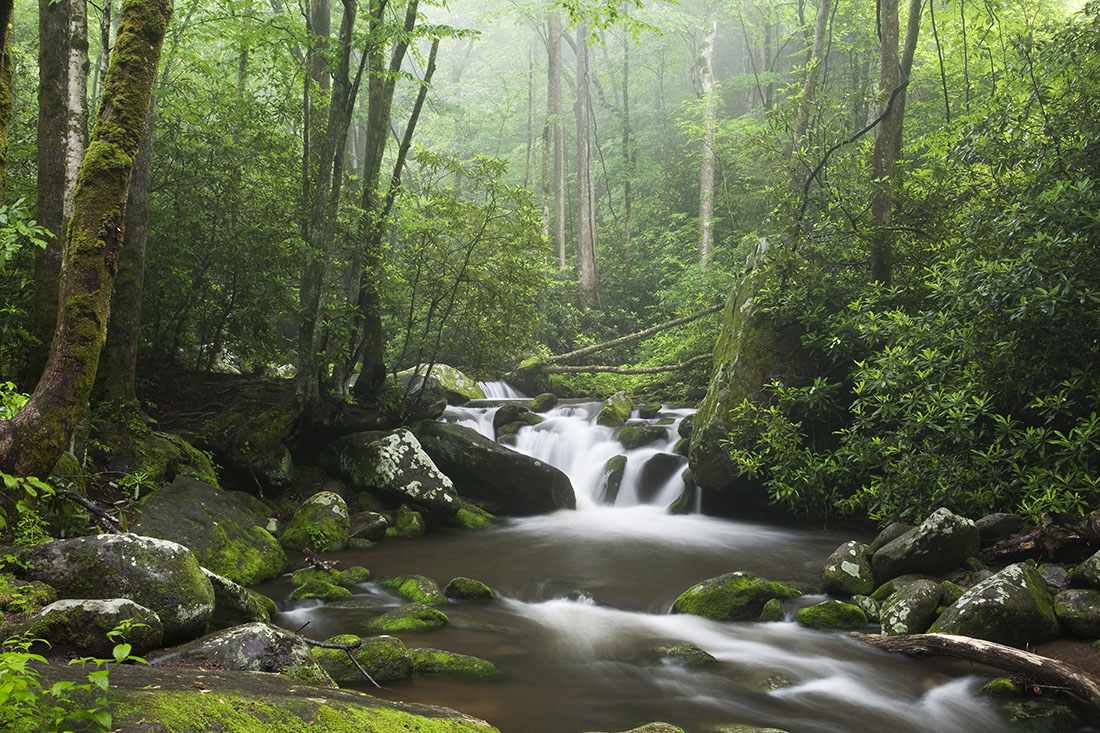 This article describes what the Smoky Mountains visitor should expect when hiking the Forney Ridge Trail to Andrews Bald. It is a popular trail for hikers and tourists. This is because it's located at the end of the Clingmans Dome parking lot. Also, it's considered a moderate hike with azaleas and rhododendrons, as well as berry patches. It was probably named after Andres Thompson and was used by hunters and herders such as himself.
Andrews Bald offers fantastic views and is the highest Bald in the Great Smoky Mountains National Park. The article also describes some tips for enjoyment as well as some tragic events that happened at or near Andrews Bald. There were many preservation efforts and programs in the early history of the Park. However, they often failed as a result of administrative decision. The end of the article features hiker reviews that give positive and negative views of Andrews Bald.
Andrews Bald: A Guide and a History
The Great Smoky Mountains National is home to many different peaks. Andrews Bald is one such peak that is popular to hikers; however, it's usually not on the beginner's list of hikes to conquer when they're first visiting the Park. Like many others, Andrews Bald has a rich history along with its amazing views. These are just waiting to be seen by curious and avid hikers. Let's get started by filling you in on a little bit of basic facts about the peak and the trail on which it's located.
Location
There are a fair amount of trails in the Smoky Mountains that aren't easily accessed. However, the Forney RIdge Trail is pretty easy to find. Especially if your excuse is to go to Clingmans Dome for the amazing views there. Quite simply, this trailhead is located at the end of the Clingman's Dome parking lot. Therefore, you could easily kill two birds with one stone if you're also interested in the views atop the observation tower. For those of you unfamiliar with where Clingman's Dome Road is, just follow Newfound Gap Road into the park and turn onto the road, which is near the parking lot of Newfound Gap—where President Roosevelt dedicated the Park signaling its completion and opening to tourists all over the country.
The Forney Ridge Trail
Once upon a time, this trail was very treacherous and unsafe for many hikers. This made it a trail that the faint of heart would just as easily like to avoid. This is so they wouldn't risk an injury. Friends of the Smokies is just one organization that has taken their love of the mountains and turned it into action. They began raising funds for the Park to make much need maintenance work improving the safety of the Trail. This is so that more hikers will recommend it to others. Also, it gets hikers much desired miles that many of them keep close tabs on. This is for personal achievement and recognition from the Park itself.
Starting With Clingman's Dome
When you begin your hike to Andrews Bald on the Forney RIdge Trail, your elevation will quickly become evident when you begin. It starts with a descent down Clingman's Dome. On the first part of the trail, you will pass through a spruce-fir forest. If you had not already noticed coming up to Clingman's Dome, you will really be hit with the sad reality of what the deadly balsam wooly adelgid has done to the trees in the area. They are mainly responsible for sapping the life out of these beautiful creations of nature, The fight to rid them of their destructive ways is an ongoing human and natural force that is proving very difficult.
A Fork in the Trail
Not far from the beginning of the Forney Ridge Trail, there will be a fork in the trail. Unless you want to continue on the Appalachian Trail, you'll want to make a left here. If you don't, you'll be on quite the adventure that's probably just a bit longer than you want to tackle right now. So let's stick with this one for now. At the one mile mark, hikers will come to another diversion. This is a right will take you another 11 miles to a backcountry campsite that dead-ends. So proceed straight ahead to stay on track to Andrews Bald.
Finally, at about the 1.7 mile mark, you will reach the outer portion of Andrews Bald. The views are stunning here, but keep going to reach the payoff at the end. If you'd like to hang around at this point, it's ideal for taking a picnic lunch break. You canenjoy spectacular views of Fontana Lake.
Appalachian Bald
Once you're here, you can probably see why this is a bald. An Appalachian Bald is not much different than what happens when someone loses their hair, hence the name, Bald. In this case, it's covered by native shrubs where you might expect to find heavy forest growth. It remains this way not naturally, the Park Service has to do regular maintenance to ensure that natural forest growth doesn't eliminate its status as a bald and wouldn't offer visitors the same type of access and views. Andrews Bald holds the distinction of being the highest bald in the Smoky Mountains, at an elevation of nearly 6,000 feet. In the western part of the Smokies is the only other one maintained by the park service, Gregory Bald.
Etymology
It's always a little interesting to find out the whos, whats, and hows that were involved in the naming of so many of these peaks in the Smoky Mountain; however, there's some question of the naming of Andrews Bald. No one is positive, but it is widely regarded that it was named after an early settler in the area named Andres Thompson. He brought his bovine here in the 1840's. Why it was named for him isn't quite a certainty,. Other than the fact that he used the mountain for hunting. He possibly held a seasonal residence in a cabin that sat on the southwest slope. It was common back in the day for herders to take up a residence in high elevation areas in turn of the 20th century Appalachia, so this adds a little evidence to the story.
Tips for Full Enjoyment
There is a myriad of choices to go with when researching a hike to Andrews Bald on the Forney Ridge Trail. For some quality second-hand knowledge, there is a Facebook group called Hike the Smokies. They will prove to be a valuable resource for anyone looking for a hike that is suitable for them. Much of the appeal is drawn from the many pictures that hikers have shared to the group. They provide enough convincing for those interested in pursuing their own hiking adventure in the Smoky Mountains. For even more specific tips, the following are some solid advice for getting the most enjoyment of their hike to Andrews Bald.
Advice:
If you are an early riser, try to go before sunrise. This more than likely means you'll get there before the crowds arrive. This is since Clingman's Dome has its own set of tourists. You might have to contend with them if you get there later in the morning.
Be sure to follow the weather. After a few days of hard rain, the trail—especially at the area of the bald—could easily have some standing water despite its vigorous maintenance.
The weather should also be in mind for when you want to get the best views. On a beautiful, clear day you should be able to see Noland Creek watershed looking east. To the southwest you should spot Fontana Lake.
Different seasons of the year bring out the best in certain peaks and trail in the Smokies. This is due to the beautiful floral growths. At Andrews Bald, this comes in the early to mid-summer months of June and July. This is when the flame azaleas and Catawba rhododendron are in full-bloom. Plant-lovers consider the azaleas to be the greatest show in the Smoky Mountains. That probably includes all the theater shows in Pigeon Forge (even though those are quite spectacular in their own way).
The hike to Andrews Bald on the Forney Ridge Trail is considered moderate. However, it may be strenuous if you're not in the best physical condition. Be sure to take the proper precautionary measures for a hike. It will probably take around 3 hours for a round-trip total of 3.6 miles. The elevation change of around 900 feet isn't extraordinarily tough. However, listen closely to your body's cues and take rests if needed.
Birding
Birders involves people that love nature, and especially, watching birds. The great thing about birding groups in the United States is that most of them are very welcoming. This is without regard to the nature of your love for birds; whether your an expert or just a casual observer. Ventures Birding Tours of Asheville, North Carolina is one group nearby that goes on long and short trips with their group, One of their trips is to Andrews Bald in the summer.
Of course, they know how busy the area can get. That's why their Andrews Bald hike begins at 7 in the morning. Once here, they will be on the lookout for many types of birds that are native to the area. The Black-capped Chickadee can only be seen—and most definitely heard—at the highest elevations in the Smokies. Therefore, don't expect to see this little chirper once you head back to the tourist areas.
Other Types of Birds
Some other types of birds that you can feel free to research, or see if you plan on hiking the area are these: Red-breasted Nuthatch, Winter Wren, Hairy Woodpecker, Golden-crowned Kinglet, Common Raven, Brown Creeper, Hermit Thrush, Dark-eyed Junco, and with a little luck, you might see the Red Crossbill. The Blue-headed Virio, Veery, Wood Thrush, Gray Catbird, and the Pine Siskind. You may think some of these names are just too funny or weird to be bird names. However, expert birders wouldn't look at you funny if you mentioned these names out loud to them.
Preservation Efforts
From an ecological perspective, the history of Andrews Bald is a fascinating one. The preservation of different areas of the Park wouldn't be possible without the National Park Service's intervention in the maintenance of peaks and trail in the Smoky Mountains. We are fortunate to have records of the process that was undertaken in order to establish a means to which travelers may visit the Great Smoky Mountains National Park and make it much easier to navigate the unforgiven natural wonder that it is.
In 1929, naturalists held their conference and their topics centered around the concern for the amount of scientific data of national park's natural history. Work was quickly established, fortunately, to collect data and wildlife management procedures. Biologists worked feverishly on this process, and it has been noted that by the 1930's, half of them were doing this things. While research began on wildlife on popular national parks in the west, the Smoky Mountains were ground for biologists collecting research on thousands of plant species.
Biologist Programs in the 1930s
One of the biologists programs in the 1930's involved establishing research areas in the national parks. This proved to be a difficult task getting into these areas, not to mention the fact that they were subject to administrative decisions that could change in an instant. Adding to that was Congress, which hadn't mandated such a program. Unfortunately, Andrews Bald fell victim to this shortly after it was created due to the National Park's apathetic outlook on research in general.
It's not a surprise why Andrews Bald was considered a prime location for this type of research. The rareness of its landscape features made it of special interest to biologists who had long-term plans for conducting in-depth data on plant life. This is why many of them were concerned when in 1936, a powerful windstorm resulted in the destruction of hundreds of trees in the area. There were debris and dying trees left over in its wake, and this was one example of how these biological "research reserves" came to an unfortunate end.
The Disagreement
There was a disagreement between administrators on how best to proceed with either a cleanup, or leave it as a natural process that was essential to the biologists' work. The Superintendent, J.R. Eakin, strongly urged an immediate cleanup stating that the trees presented a distinct fire hazard to the park—and also as a deterrent for potential sightseers. Park naturalist Arthur Stupka (also noted as being an active Smoky Mountain birder), on the other hand, argued that a natural phenomenon like the windstorm would "thwart the objectives" of the research.
The acting Director of the Park Service, Arthur Demaray, reluctantly decided to go along with Eakin's insistence upon clearance of the trees, but in the process, decided to do away with the research reserve, which ironically was approved by Eakin himself. Demaray wrote in his letter that he abolished the research plan, because Eakin was essentially admitting he had made a mistake in establishing the reserve.This explains furthur what happens when the some administrators prioritize the beauty of the park and its scenery over science.
1970s Report
In the 1970's a report was put out by the National Park Service on the dire need for there to be maintenance of the grassy balds in the Smoky Mountains, most notably at Andrews Bald. This report stressed the importance and methods were proposed on how to best preserve the balds in their present state. Even though livestock grazing was used before the establishment of the Park, the report stated that it just wasn't practical to be using this method.
Instead, the use of controlled fires in the area were seen as effective ways to establish thick grassy swards and prevent invasion by woody plants. Eventually, in 1983 work was started to help push back the overgrowth on the bald and help preserve the plant life and blueberries that are a popular picking fruit on the trail for hikers that visit the area. These blueberries are noted for being healthier, because they are wild and contain many phytonutrients, as well as being laden with antioxidants that help with brain and cardiovascular health, in addition to preventing cancer. They are also sweeter, and taste even better since you picked them yourself.
Tragic Events in Andrews Bald History
The following two stories are not meant to prevent you from exploring this beautiful location in the Smoky Mountains; it only seeks to remind you of a couple events that just happened to occur at or near Andrews Bald. It makesit an unfortunate footnote in the history of the Park. One event may be still fresh in long-time residents' minds. It happened in the 1970's. However, the other happened just recently.
Treeny Gibson
The unsolved disappearance of high schooler Trenny Gibson remains a mystery today. There have been many theories as to how and why she came up missing. Some of them include falling, taken by a kidnapper or a friend, and simply just running away. Each angle has been diligently followed by law enforcement with no solid evidence that would lead to her discovery.
It all started innocently enough: a day off from school with her classmates from Bearden High School in nearby Knoxville. Kids love a school field trip no matter their age. The 16 year old Trenny Gibson was one of 35 the bus dropped off at Clingman's Dome for a hike to Andrews Bald. During the hike Trenny and a few of her friends stopped to rest, and then she went ahead. That was the last time she was ever seen, as her friends were quite perplexed when they couldn't find her.
The Search
The search for Trenny began almost immediately that afternoon and grew to 150 people by the next day. Local law enforcement, rangers, and family, and volunteers joined in to search for the missing girl. Tracking dogs proved to be valuable in locating her scent, but in the end, it didn't provide enough for them. The fact that her body was never discovered seemed to solidify the idea of either a kidnapping or a runaway situation. The search became quite difficult given the time of year of the incident. The fall foliage that was abundant made it that much harder for a discovery. Four days later, with just 20 people now searching for her, the chief ranger gave up all hope that she was still in the park.
If Trenny GIbson, did want to just run away, she gave her friends very little clues that she wanted to carry out the act. Those that knew her and hung out with her left open the possibility that she may have wanted to leave. However, no one really knew for sure what might have led to her leaving her life behind. Forty years later her disappearance still remains one of the most baffling mysteries in the history the Great Smoky Mountains National Park. It is certainly the most intriguing for those hiking the Forney Ridge Trail to Andrews Bald.
The Couple and Their Son
You may have heard of the most recent tragic event that happened near Andrews Bald. It involved a dating couple and her 8 year old son. The plane crash happened shortly after the Christmas holiday in 2016. The couple and her son took off in a Cessna 182 from a Jacksonville, Florida airport. They were on their way to the Gatlinburg-Pigeon Forge airport for a landing when things started going wrong.
Even though the adult male was in contact with air traffic controllers at McGhee Tyson airport in Knoxville, but the pilot—based on information from the FAA—didn't have instrument flight rules, and also wasn't certified, which is not required by private plane owners.
The Crash's Location
An aviation lawyer and pilot suggested that the pilot was probably overwhelmed with the foggy and rainy conditions. This didn't result in an advisory. However, in the Smoky Mountains, those are quite common occurrences. They can wreak havoc on even the more experienced pilots. The crash's location was near Andrews Bald in the vicinity of Cole Creek and Bearpen Hollow Branch.
The most tragic part of this event is that they were set to join other family members of the pilot's girlfriend. It was supposed to be a nice family vacation in the Smoky Mountains. Sadly, this wouldn't happen. You can't imagine the grief that either of their families went though dealing with the loss of their beloved.
Have a Plan
Both of these events were very tragic. Therefore it's important to know that you should always have a plan when going into the mountains on a visit. It's a beautiful place to be, but it shouldn't be taken for granted. When you're hiking Andrews Bald, be sure to always stay together while enjoying the sights, sounds, and smells of nature. As beautiful as it can be, it's also very unforgiving if you're not careful.
What Visitors Say About Andrews Bald
The review sites are a great place to either vent, or rave. YOu can talk about how special of a time you had enjoying an activity. The online review sites are a great place to understand how people found the area—a more personal perspective. Most people are kind enough to give an honest review and upload pictures for the curious researcher on what they can expect from undergoing this planned activity.
Most have wonderful things to say about Andrews Bald—and who wouldn't, if you enjoy nature? Some like to be a little more, shall we say, critical of Andrews Bald. Everyone is entitled to their opinion, and sometimes people's expectations of a hike don't meet their reality. The following are actual comments that are paraphrased, but give you representation of how they felt. The negative comments listed will be ones that explained their reasoning well enough to make you build your own list of pros and cons for doing this lovely hike, so here are some positive ones first.
The Pros
Prepare yourself for a hike 90 percent downhill on the way and 90 percent uphill back, but it's a great hike with an amazing view at the Bald.
We took our two children ages 8 and 9, and we never worried they would fall off the edge, even though they're not the best hikers.
It's a great spot to spread a blanket and have a picnic lunch with the family; there is plenty of room for a large group.
The trail is lined with all sorts of berries that were ripe for the picking.
The trail is very well maintained with the flowers in full bloom
It was an enchanting experience with the birds singing through the trees, and since there were few hikers on the trail, it made for a magical time.
These were all wonderful things that are quite accurate about everything Andrews Bald has to offer the visitor to the Smoky Mountains. The following are some critical reviews, but most of these people still found good reasons to enjoy it.
The Cons
This shouldn't be considered an easy hike, because it was a tough uphill climb on the way back; some said it was easy, and it wasn't.
Too much haze contributed to us not seeing any great views.
Another family having lunch at Andrews Bald was loud so we didn't stay long.
Beautiful views but you can get those same views from Clingmans Dome.
There you have it! Some of the reviews may seem a little petty, but certain things aren't kosher for tourists on a hike. Sometimes we all want a little peace and quiet on a hike, but the fact of the matter is, some trails in the Smoky Mountains just don't give off the same experience, and it's a little harder to really enjoy a hike if you just want to reflect and get in touch with nature on an emotional and mental level.
Conclusion
Overall, the Forney Ridge Trail to Andrews Bald offers you the rare opportunity to see a bald in the Smoky Mountains—worked on tirelessly by the park service to maintain despite some budget issues—at one of the highest points in Tennessee. Also, it's not a bad hike if you're in good enough physical condition to do some uphill climbing on the trip back to Clingmans Dome parking lot.
The Smoky Mountains are full of awesome displays of nature—some not seen anywhere else in the United States national parks—and it would be a shame if you took your family on a vacation here and neglected to see its beauty on full display no matter what time of the year you plan on taking your trip. Hopefully you gathered some important tidbits of information from this article that will influence your decision to take a nice walk in the mountains here at Andrews Bald.