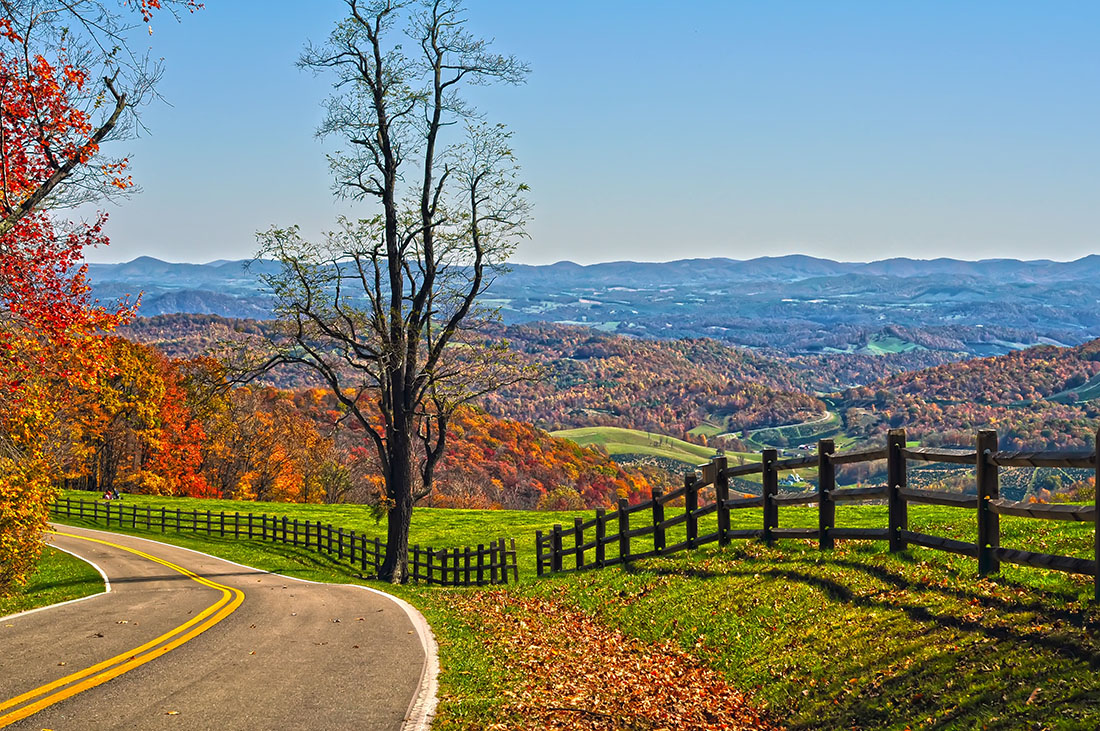 "America's Favorite Drive", The Blue Ridge Parkway, is one of the gems of the Eastern United States. Winding through 469 miles of mountains and lowlands, the Parkway connects Shenandoah National Park at milepost 0 in Virginia with the Great Smoky Mountains National Park in Cherokee, North Carolina at milepost 469.
Visitors in search of something unique will find just exactly that while traveling the Blue Ridge Parkway. No two trips will be alike, always revealing something new and special along the way. Nature lovers are sure to find a multitude of mountain vistas and scenic drives to satisfy their visual appetites. There are also outstanding hiking trails, biking trails and horseback riding trails to be found. Not only that, you can find world class whitewater rafting opportunities and waterfalls to view. There are great campsites and fishing streams and a world full of plants and animal life. These are in the protected forests and parks along the way to be able to enjoy.
Historical Sites and Living History
The Blue Ridge Parkway is also loaded with historical sites and living history. Split rail fences and old farmsteads sprinkled throughout the spectacular views and distant mountains and low lying valleys make for lovely glimpses into history of the region. Visitors can also find living traditions of the hills in the cultural and historical venues of music. Also! Crafts and cultures that can be found along the way.
Recreation Areas
There are also several recreation areas, some larger than 6,000 acres. These parks within the Parkway have visitor centers, campground, picnic areas, trails and even some lodges, restaurants and other facilities for visitors to enjoy. There's something for everyone along the Blue Ridge Parkway. If you stop at any visitor center you can find out anything you'd like to know about the region, Parkway, or other ideas for things to do along your drive along America's Favorite Drive.
Humpback Rocks
One of the wonderful stops along the route is at MP5.8, the Humpback Rocks. This is possibly the best varied combination of natural and cultural resources anywhere along the Parkway. The outcrop of rock was a landmark guiding wagon trains over the Howardsville Turnpike in the 1840's. A portion of the historic turnpike still exists. This was a major route across the narrow Blue Ridge until railroads came through the mountain gaps. The view from the rocks is spectacular any time of year.
Adjacent to the NPS Humpback Rocks Visitor Center is an outdoor farm museum. It is surrounded by nearly 3,000 acres of forested lands. Early Parkway designers collected buildings from nearby and arranged them here that allows for an easy stroll among the pathway. The farm museum consists of a single room log cabin and a series of outbuildings that represent elements of the region's architecture of the late nineteenth century. Costumed interpreters provide demonstrations, including weaving basket making and gardening.
A visit to Humpback Rocks will help visitors understand a little bit better what it was like to live here in the mountains. They can see how transportation routes helped connect the mountain communities in this region. Be sure to participate in some of the "hands on" opportunities to do some farm chores. You can also play some mountain music.
Peaks of the Otter
Another wonderful stop along the Blue Ridge Parkway is at MP86 at the Peaks of the Otter. Here visitors can get a taste of both the history of the community and of the tourism in the Blue Ridge Mountains. This community began in 1766 when Thomas Wood settled here after coming from Pennsylvania. By the mid 1800's there were twenty families, a school, and a church. They also they provided food and labor to build a large resort hotel for the area. Polly Woods' early tavern provided basic necessities for travelers as early as 1840. It is preserved for visitors to see at Peaks of the Otter.
Prominent figures such as Thomas Jefferson and Robert E. Lee have visited and written about Peaks of the Otter. Therefore, this signifies its importance as a natural landmark in Virginia's Blue Ridge Mountains. The Johnson Farm, another site you can visit during your stay here, demonstrates a living history of what life was like here in the late nineteenth and early twentieth centuries. The farmhouse is also the Parkway's best example of a log cabin home that was enlarged over time, clap boarded and modified to reflect the evolution and development of Appalachian homes of the time.
Johnson Farm
The Johnson farm represents what would be thought of as a 'middle class' family life in the mountains. It provides a contrast to some other log homes that have been preserved by Parkway planners and breaks down certain stereotypes of sometimes associated with mountain residents. There is also a lot of natural history associated with Peaks of the Otter. It is an area that is representative of the hardwood forests that are common along the Blue Ridge Parkway. There is also an extensive trail system to enjoy. A hike to the top of Sharp Top, one of the three 'peaks', along with Flat Top and Harkening Hill, is also a tradition dating back over a century. Overnight lodging and food service makes the Peaks a very attractive stop along your Blue Ridge Parkway travels.
Rocky Knob Visitor Center and Park Store
Along your travels of the Blue Ridge Parkway, a nice stretch to visit is between MP169 to MP176. At MP169 you'll find Rocky Knob Visitor Center and also Park Store where you can find out much about the area. Within this few miles of the Blue Ridge Parkway you'll find Rocky Knob and Mabry Mill, along with Puckett's Cabin. Along this route you can see how people have interacted with the landscape to make a life in these mountains. Ed and Lizzy Mabry's Gristmill is over 100 years old and has also been seen on many calendars and postcards over the years.
It is one of the most picturesque spots along the Blue Ridge Parkway. You will want to spend some time here and enjoy the beauty. Ed Mabry also was very talented in many other ways and exhibited this talent in his wheelwright shop, sawmill and blacksmith shops. He built a two story house for his family. However, Parkway designers preferred log cabins. In the 1930's replaced Mabry's home with the Matthew's log cabin from nearby. Rangers and volunteers staff the Matthew's cabin daily in visitor season and demonstrate carding, spinning and making baskets while telling visitors about the area.
Blacksmith Demonstrations
Blacksmith demonstrations can also be viewed in the blacksmith shop on certain days of the week. In October, be sure to attend the apple butter making activities. Also old time music fills the air and visitors are invited to dance to the local tunes. There is also a network of trails that can be accessed in this area that cover 3,500 acres of the Rock Castle Gorge. Trails into the Gorge can be accessed from several points, including from the Rocky Knob campground at MP167.
Blue Ridge Music Center
At MP213 visitors will find a real treat – The Blue Ridge Music Center. Sounds of fiddles, banjos and guitars will welcome you with you visit this wonderful music center that straddles the North Carolina/Virginia border. Some of the finest traditional music of the region can be heard here on weekends at the outdoor amphitheater running from late May through October. Weekdays visitors are welcomed to a front porch experience with local musicians playing on the breezeway.
Managed by the Blue Ridge Parkway and the Blue Ridge Parkway Foundation, the Blue Ridge Music Center has a mission of sharing traditional music with visitors and the complex includes an outdoor amphitheater, indoor theater and interpretive center and gift shop. The Roots of American Music exhibit will give visitors insight to the history and culture of regional music here in the mountains.
Kids in Parks TRACK Trail
Trails are also accessible from the parking lot including a Kids in Parks TRACK Trail for children of all ages to enjoy. Music is a major part of these mountains and this tradition is being kept alive for all to enjoy. Nowhere is this heritage felt deeper than here on the banks of Chestnut Creek and the shadow of Fisher Peak. Here you will find rich folk music and dance that is traditional to this region. Music here comes from diverse groups including European and African that have evolved over generations into distinct styles. Admission is free so sit back and relax and enjoy the music.
Doughton Park
Doughton Park is another stop well worth your time at MP238. The Doughton Park area is characterized by rolling ridgetop meadows and steep mountainsides. Remote mountain places like this were peopled by close-knit families who built their own houses and raised their own food, living well into the 1900's without modern conveniences. The Brinegar Cabin is one of the sights to be found here.
Martin Brinegar and Caroline Joines were married in 1878 and built a log cabin near Caroline's parents. It still stands on the ridge along with the springhouse and granary. Below the cabin is Basin Cove. Basin Cove grew into a community of twenty families with a store, a church and school. In 1916 torrential flooding cause mud slides and cascading down into the valley, it destroyed all but one home and killed several people.
Brinegar Cabin
Nowadays Parkway visitors can see the ruggedness and beauty of Appalachian life here. Hike some of the more than thirty miles of trails that run through the meadows and climb the hillsides. The Brinegar Cabin is open several days a week during the summer and fall and visitors can tour the garden and the cabin and learn how Caroline made the family's clothes from the flax she grew and the sheep she raised. It's definitely a stop along the Blue Ridge Parkway you won't forget.
Moses Cone Manor House, Visitor Center, and Store
At MP294 on to MP297, visitors will find some interesting stops to make including the Moses Cone Manor House, Visitor Center and Store. Also is the Julian Price Memorial Park which boasts some of the best natural beauty to be seen along the Blue Ridge Parkway. Julian Price Memorial Park was left to the Blue Ridge Parkway as a memorial park after Price's untimely death. It contains 4,200 acres with elevations from 3,400 feet to 4,000 feet. Price Park is great for relaxation and recreation with the 47 acre Price Lake as a point of interest.
There are picnic areas and camping and boating and fishing on Price Lake and hiking trails. Grandfather Mountain rises above to majestically shadow the Park below. The Green Knob Trail, Boone Fork Trail and Price Lake Trail offer great hiking opportunities. There are other trails that will test the best hiker and give them wondrous views as they hike along the slopes of Grandfather Mountain. Julian Price Memorial Park is one of the gems of the Blue Ridge Parkway and is a favorite stopping place for many visitors.
Craggy Gardens
Jumping a bit forward on the Blue Ridge Parkway, visitors will be interested to see Craggy Gardens at MP364. The name is appropriate. Craggy Gardens contains twisted, jagged rocky crags on its high elevation summits. They are home to some of the most beautiful floral displays along the 469 mile Parkway corridor. The prime time for viewing the pink and purple blooms of the Catawba rhododendrons is during mid to late June and they blanket most of the area during this time. In the fall the "Craggies" turn red with a show of mountain ash berries that cast a reddish glow over the whole area.
The higher elevations from a distance appear treeless and have become known as 'balds'. There are two types of balds – grassy and heath. The grassy ones are dominated by grasses and wildflowers. The heath balds are home to low growing rhododendron, mountain laurel, blueberries and flame azalea. Although the balds are disappearing for unknown reasons, they can still be seen here at the craggies. Harsh weather can invade these craggy areas and sometimes the weather conditions can be severe. Strong winds, ice storms and short growing season dwarf and twist anything that dares to grow here. Severe weather can invade the Craggies at any given time so be prepared should you decide to try any of the trails and prepare for wind and cold weather.
Watterrock Knob Visitor Center and Park Store
At MP451 you'll find the Waterrock Knob Visitor Center and Park Store. There's a parking overlook, a comfort station, a four-state view including a wonderful panorama of the Great Smoky Mountains National Park and a trail with overlooks that leads up to the Knob. It will feel as though you are walking among the clouds when you visit this, the highest elevation visitor center on the Parkway. For an unforgettable experience, try visiting to view a sunrise or sunset. You won't be disappointed.
The Blue Ridge Parkway has many, many places to stop and enjoy the environment along its 469 miles and wherever you stop, you won't be disappointed.