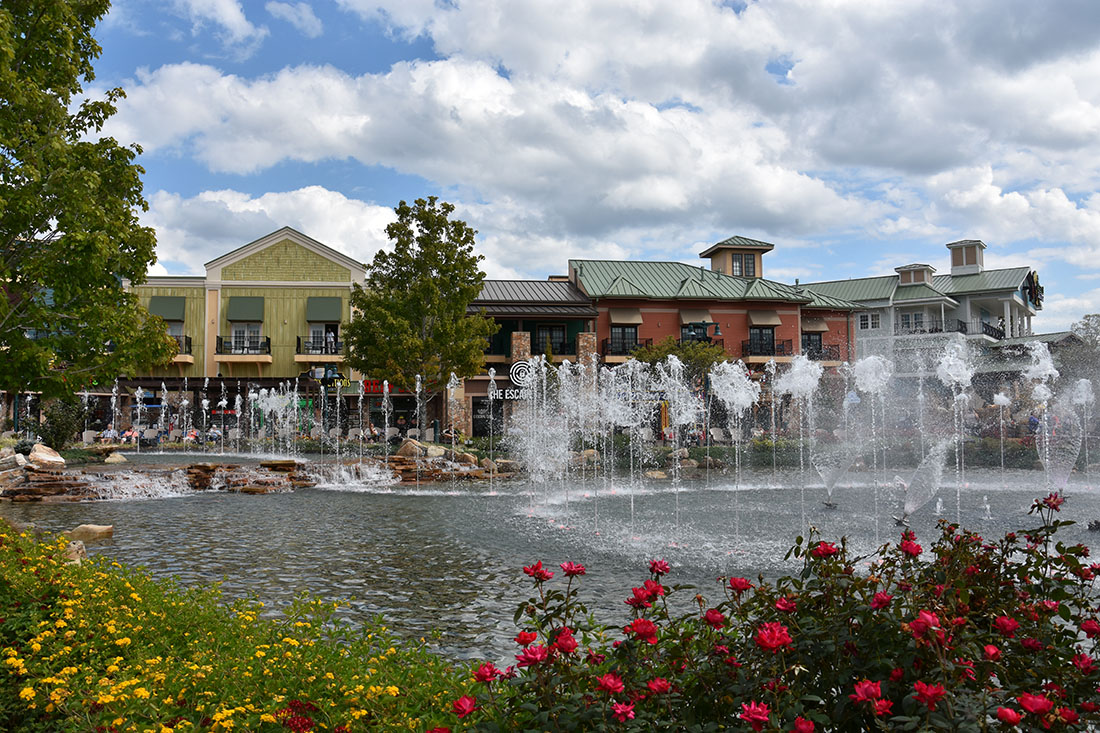 The Island in Pigeon Forge, Tennessee is a fairly new place to enjoy all the excitement you've come to expect from a Smoky Mountain vacation. In the following article, there is a listing of some of the fun activities that are offered here in the tourist area of East Tennessee. There are several different uniquely Southern and international restaurants available here. Also, there are activities for the whole family to enjoy, and these things will be described in the article.
Pigeon Forge has many shops and restaurants. However, at The Island, you can enjoy a piece of it all without venturing out into traffic. This is proven also by all the shopping that can be done here as well. There are local favorites and nationally-known retail stores here. Therefore, there's no shortage of good shopping that features many different products to suit your interests. The Smoky Mountains has it all and The Island provides plenty of entertainment for the family on vacation here.
Fun Things To Do at The Island in Pigeon Forge
It was announced in 2011 that there would be a new shopping and fun center in Pigeon Forge. It soon became clear that the intention was to create an iconic and eye-catching area for tourists. Another one of its appeal was something missing in many areas of Pigeon Forge. This was a place where you can walk to eat, play, and stay.
Gatlinburg's downtown is something that many people enjoy because of its walkability to many shops and eateries. Not to mention the kid and adult friendly activites. So it's no surprise that Pigeon Forge would try their hand at re-creating a nice environment that is not only walkable, but a very welcoming place for visitors of all ages. Here are just some of the few things that you can enjoy when making a visit to The Island in Pigeon Forge.
The Great Smoky Mountain Wheel
It's not be as tall as The Space Needle in Gatlinburg. However, The Great Smoky Mountain Wheel is no less impressive. Rising 200 feet above Pigeon Forge, it's hard not to spot the most recognizable feature of The Island. When The Island debuted in June 2013, this was undoubtedly the most sought-after activity for guests.
Riders are seated in a comfortable 8 person gondola. It gives them one of the most picturesque views of the Smokies in all of Pigeon Forge. On a clear day you can enjoy the majestic Smoky Mountains in all their glory. For just $14 for an adult and $9 for a child ticket, you can hop aboard The Wheel. However the best deal is the day/night combo pass for $20 that allows you to take two trips. You take one during the day and one after sunset. This provides the perfect opportunity for acrophobes to face their fear! They can go home bragging that they overcame it--and leaving with no regrets either.
The Island Show Fountain
Right behind the Smoky Mountain Wheel in a close second in the spectacle category is The Island Show Fountain. This isn't your typical fountain in a mall or a stadium; it's a state-of-the-art fountain that is synced up with a wide selection of popular music. This is to put on a well-choreographed show. There are 89 nozzles that twirl and sway to the music. One particular nozzle is designed to shoot water 60 feet skyward for dramatic effect.
There are plenty of benches of seats and chairs to watch this impressive display in action. That's perfect for a time when you're looking for some rest. Whether that's in-between or after long periods of shopping and fun activities for the whole family. Arguably, the best time to see the fountain may be at night when the lights are on. It makes for a colorful and somewhat magical experience that rivals a live musical performance.
The Island Ropes Course
Located in close proximity to The Wheel and hard to miss is The Island Ropes Course at The Island. This is something that epitomizes an experience geared to both children and adults. You will discover that there are two different courses. There's one that accommodates smaller children under 4 feet tall. There's also one that is much taller for older children and adults.
The Sky Tykes course is the smaller course. It gives parents the opportunity to encourage their child to make it through the nine elements of the maze. A certified instructor will harness and attach you to a sling line to ensure the utmost safety. For those who are the proper height, the three-story Sky Trail Explorer course is waiting for you to tackle. This may take a little time as there are 30 different elements on this challenging course. There are also two zip lines and a Quick Jump. This is a mini free-fall at the end that you have the option of doing. Just in case you don't want to walk back down the stairs.
At the end, you might be too exhausted to walk down. Therefore the jump is a fun way to finish this challenge--and challenging it is. Don't worry about the time; you can take as long as you wish. Note: If you want to do the Quick Jump, it's $5 extra that's tacked on to the $15 admission; The Sky Tykes course is just $5. Definitely a recommended activity for those too jittery about doing some real ziplining! It's also a much cheaper option but no less enjoyable.
Alcatraz East Crime Museum
One of the more recent additions to The Island is the Alcatraz East Crime Museum. True Crime is quite the popular subject. Many cable networks feature some of the most infamous stories and names in American History. These are all things you can find when you visit this attraction at The Island. Some of the highlights of the museum include many artifacts used by criminals; however, one of the more publicized--and recent--artifacts featured in the museum is the Bronco O.J. Simpson rode in on the famous chase that was all over the news in June 1994.
The 25,000 square foot facility doesn't just contain artifacts; it also has kid-friendly activities that are related to the theme of the museum. There's a police shooting range, heist laser tag, and a jail cell escape. These are just a few things the young ones can safely enjoy. With 20 exhibit areas and five different galleries--each offering an educational experience as well--visitors should find the $25 admission price well worth it. For convenience, they are open every single day of the year.
The Escape Game
Another fun game that has been popping up in recent years is escape-themed adventures. Gatlinburg has their own version of an escape game, and even Ober Gatlinburg offers a Survivor-type maze game. Therefore, it's not surprise that The Island has opened one of their own. It's simply called The Escape Game. Here, you are given an hour to complete a mission to try and escape from your locked room quarters.
This is an excellent way to build teamwork with your family or friends as you're tasked with challenges that will help you unlock the door to succeed in your mission. What makes this adventure truly interesting is the fact that you can choose several distinctly different adventures including a prison break, a Mars mission, and a heist; each has its own difficulty rating, with one of the hardest ones being the prison break, which is rated a nine out of ten.
Because of the difficulty of the game, it's recommended that younger children be left out, but teens are welcome providing there is an adult to sign a waiver for them to participate. If you're a fan of watching the hero get himself out of tough situations on television programs, this may be right up your alley. The price is just north of $30 per person, but if you want to role play and be the hero of your own show, then it's strongly recommended you give this particular activity a go as part of your Island adventure.
Ole Smoky Moonshine
If the attractions at The Island aren't enough to keep you and your family occupied for a good portion of the day, you still have more than 60 different shops to explore and spend some of that hard-earned vacation money. One of the more popular places is the nationally recognized and first legal moonshine distillery in East Tennessee, Ole Smoky Moonshine. Gatlinburg is the original home of Ole Smoky, but the success of the brand led the owner to pursue another location to purchase their many different flavors of moonshine and numerous merchandise items.
The new location at The Island features more than 6,000 square feet of space and a glass frontage that allows for plenty of natural light to pour into the site, which is quite the opposite of the original location that is known as resembling a "holler"--a small valley between mountains. Also like the Gatlinburg location, all the moonshine that is sold at the facility is distilled onsite and also features an outdoor stage ideal for good 'ole bluegrass and country music. Be sure and get yourself a sample just to say you tried some of the stuff of legend in these parts.
Poynor's Pommes Frites
Many guests of The Island will no doubt be drawn to some familiar names when it comes to time to feed those faces. Some of the more recognizable restaurants you can find here that have multiple locations include Mellow Mushroom, Cinnabon, and Auntie Anne's. While all of these places are more than suitable for providing a great product for you to enjoy, you might want to give a closer look at a unique and internationally flavorful place such as Poynor's Pommes Frites. Guten Tag!
That's "good day' in German as you'll find that's the inspiration for the food served here (the name Pommes Frites is basically the Belgian version of French Fries). Poynor's Pommes Frites is a prime example of how you don't necessarily have to serve Southern food to run a successful business in the South, as long as you do the food justice--and they certainly have accomplished that aspect. Authenticity is the name of the game here, serving traditional Brats, scratch-made dipping sauces, and fresh baked German Rolls.
Besides the Pommes Frites, their most sought-after dish is probably the Spaghetti Ice--a dessert that appears to be spaghetti with marinara and meatballs that's actually vanilla bean ice cream, strawberry topping, grated white chocolate, and topped with a Ferrero Rocher Chocolate Ball. If that doesn't sound like something that might dazzle the taste buds, there's plenty more at The Island that's more representative of the area, including the next eatery.
The Paula Deen Store and Family Kitchen
Possibly nothing more Southern comes to mind when mentioning the name Paula Deen, especially when it comes to the food, and it's right in her wheelhouse here in East Tennessee. This is quite the popular--and busy--place to get some good Paula Deen Southern cooking inside. Be sure to bring your appetite because this is a family-style eatery, meaning there are several choices to order off the menu, and it's served in platters for the family to pass around--just like you would do if you were enjoying a family meal or get-together at home.
If you manage to finish up an item--which can be quite a chore in itself--you can freely order more at no additional charge, but don't get too greedy, because they won't offer a to-go box to take home--enjoy all you want there and leave with a full belly. The store is located on the first floor and offers many items from Paula Deen's merchandise empire: mugs, cookbooks, souvenir items such as T-shirts and mugs, and also some cute toys for the kids. This is an ideal time-waster if you have to wait for any length of time for a table at The Family Kitchen. Overall, it's something that everyone should at least try, and many happy, hungry customers would definitely agree that while it's not the healthiest meal around, it's certainly one of the most satisfying.
Final Thoughts
Also on the site of the Island is an arcade called Arcade City. This proves that you really can find almost everything to enjoy here in a day without worrying about traffic. This is one of the few concerns people have with the whole tourist area of The Smoky Mountains. Arcade City is your typical arcade. It has a wide array of games and prizes to claim after accumulating points on your card.
Overall, The Island offers what many places in and around the area offer; something that appeals to people of all ages and interests. Many people love to be entertained while on vacation. The Island provides that element for those looking for all the bells and whistles of an enjoyable vacation. Itwill keep everyone in the family fully fascinated by what it has to offer. It is certainly a place that can be enjoyed from the morning hours until the evening hours! Also, no matter the weather or time of the year, so plan today and enjoy tomorrow.