The majestic Appalachian Mountains are one of the oldest mountain ranges on earth. Is it any wonder that they were the favorite hunting grounds of our ancestors? Inside the borders of Gatlinburg, TN and the Great Smoky National Park, visitors are fortunate to have access to a number of well-preserved historical structure sites.
These amazing homes, barns, grist-mills, smoke houses, and even a few chicken coops and hog pens are all a treasured gifts of days long gone, reminders of a quieter, simpler time when the only serious rush in someone's day was how fast they could find the nearest 'outhouse'. It's a great honor to have structures located at Cades Cove, Roaring Fork, the Noah "Bud" Ogle Place and Elkmont listed as part of the U.S. Registered Historic Districts. Nine separate structures are listed on the National Register of Historic Places. All sites are maintained under NRHP guidelines, despite being listed or not. Following is a list of the historical structures maintained by the Great Smoky Mountains National Park.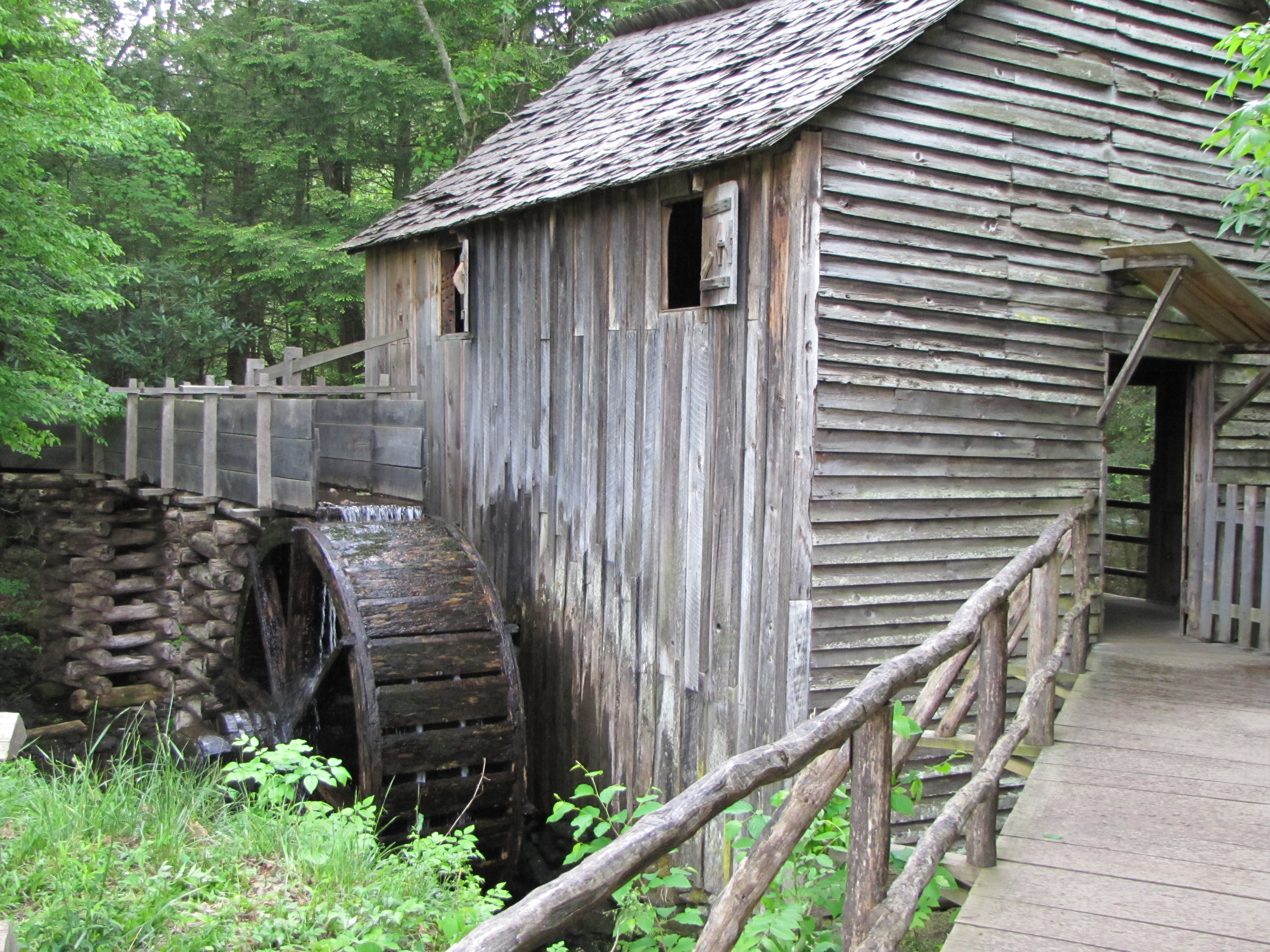 Cades Cove
Located in the heart of the Tennessee section of the Great Smoky Mountains National Park, more than two million people visit Cades Cove each year, making it the single most popular destination for visitors to the park. Scenic Mountain views, abundant wildlife and many well-preserved homesteads, barns, corn cribs, and churches can all be enjoyed along the Cades Cove Loop Road. The John Oliver Cabin, built in 1822, is the oldest standing structure in the park.
Elkmont
Another favorite among visitors coming to see historical places is 'Elkmont'. It's a community located in the upper Little River Valley of Sevier County, Tennessee. This diverse region has been home to a pioneer Appalachian community, a large logging town, and a very famous resort, vacation, and society club, called the "Appalachian Club". It was finally decided in 2009 after a 15 year debate, to restore the club house and its 18 cottages and also the outbuildings. Elkmont now boasts a large campground, ranger station, and historic district maintained by the NHRP and the Great Smoky Mountains National Park.
Cataloochee
Cataloochee is a valley in the North Carolina section of the Great Smoky Mountains National Park. Now a recreational and historical area, Cataloochee was once home to a substantial Appalachian community and Cherokee Indian hunting grounds. The name is believed to come from the Cherokee Indian word "Gadalutsi", which means, 'fringe standing erect'.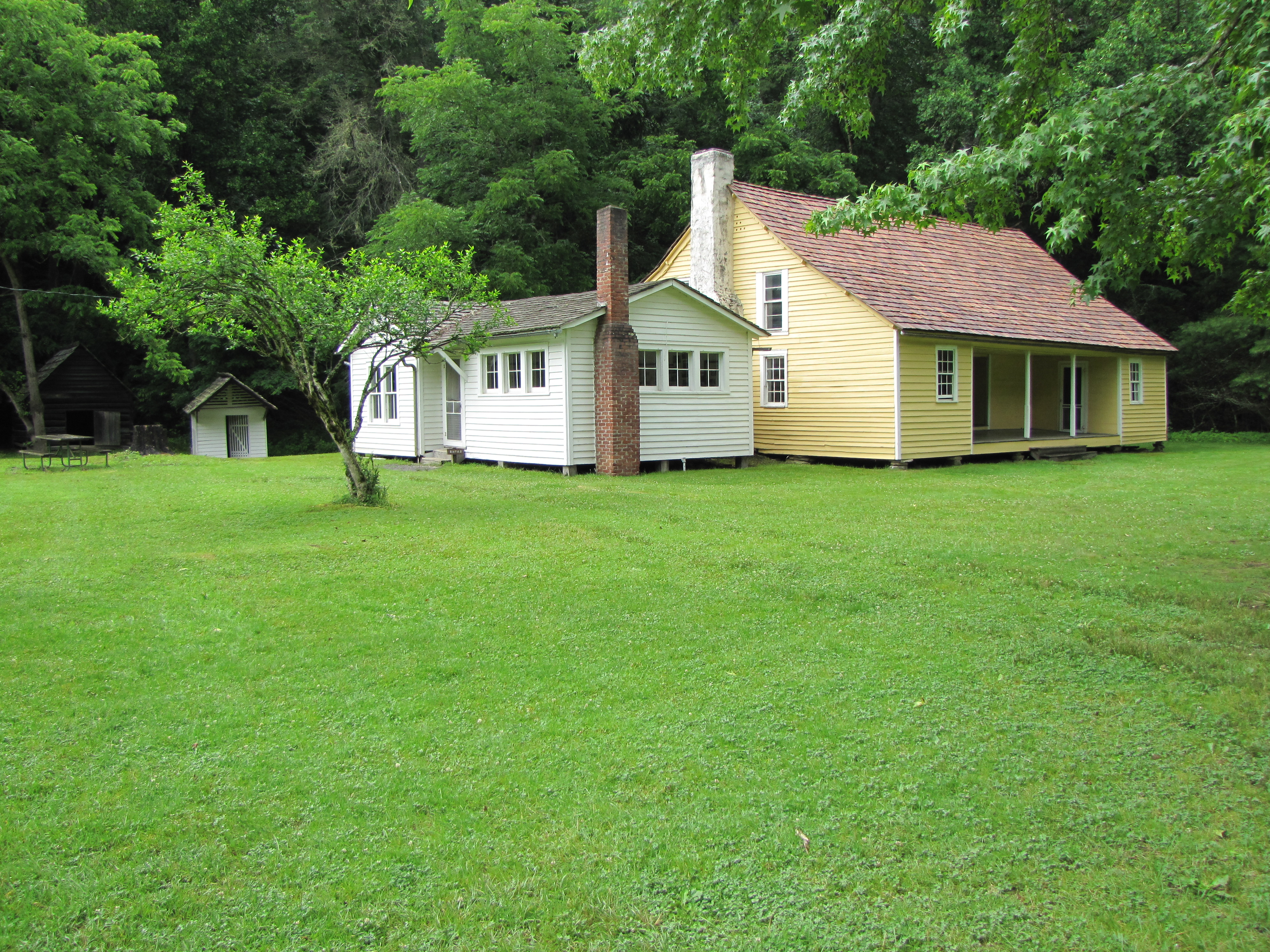 It's in reference to the tall trees ringing the valley. It's believed that during the Trail of Tears, Levi, the great-grandfather of Hattie Caldwell Davis, provided aide to the Cherokees hiding in the forest. Following are a list of structures still standing in this beautiful mountain valley.
Hannah Cabin-1860 Little Cataloochee Trail Brick chimney

Cook Cabin-1850 Little Cataloochee Trail Dismantled 1970, restored 1999

Palmer House-1869 Now used as museum

Palmer Smokehouse Behind Palmer house

Palmer Springhouse Behind Palmer house

Palmer Barn Near Palmer house

Palmer Chapel-1898

Beech Grove School-1907

Caldwell House-1898-1903

Caldwell Barn-1923

Steve Woody House- Rough Fork Trail

Steve Woody Springhouse- Rough Fork Trail

Little Cataloochee Baptist Church Sometimes called the Ola Baptist Church

Will Messer Barn-1905 Moved from original location
Hazel Creek
Hazel Creek Is a tributary stream of the Little Tennessee River. It was a one-time home to several pioneer communities and logging towns. This was before being incorporated into the Great Smoky Mountain National Park. Between 1830 and 1944 several prominent towns also developed along the banks of Hazel Creek. These included Proctor, Cable Branch, Medlin, Bone Valley, and Ritter.
The Cherokees were the first known permanent residents of the valley. A small village had developed from those living in Possum Hollow at the time the first settlers arrived. According to local lore, there is also an unmarked Cherokee grave somewhere near Proctor. There are not many historical structures left standing along Hazel Creek. Therefore, the two that remain, are truly a gift from the past.
Granville Calhoun House 1920 Hazel Creek Trail built by George Hidgon/purchased by Calhoun in 1928

Hall Cabin 1892 Bone Valley Trail The parks most remote structure
Greenbrier
Greenbrier is a valley located on the Middle Fork of the Little Pigeon River. It's surrounded by some of the highest ridges in the Appalachian Range. 'Guyot massif', to the east reaches over 6,000 feet and to the west 'Le Conte massif' rises to a staggering 6,593 foot summit. To the south are also two Massifs known as 'the Sawteeth'. The most well-known of which spans the northern face of Charlies Bunion. 'Greenbrier Pinnacle', a 7-mile ridge running from the western flank of Old Black, to the Middle Fork Valley, nearly closes off the valley completely.
The Cherokee Indians were the first inhabitants of the region. Therefore, the area around Porters Flat is still referred to as "Indian Nation". Around 1880 William and his brother Middleton Whaley became the first settlers in this area. In 1818 the John Ownby family also settled downstream from the
Whaleys and their families soon spread through the valley. Of the 26 homes shown on an early 20th century map, 11 were Whaleys and 10 were Ownbys.
John Messer Barn-1875 Porters Creek Trail Built by Pinkney Whaley; Dbl-cantilever

Smoky Mountain Hiking Club Porters Creek Trail Built from Whaleys Cabin by SMCH

Baxter Cabin-1889 Maddron Bald Trail Sometimes Called "Jenkins Cabin"
Tyson McCarter Place
The Tyson McCarter Place is an old homestead located along Webb Creek, 10 miles east of Gatlinburg on state Route 73 in the Great Smoky Mountain National Park. The McCarter place was arranged in an unusual circular formation around an open barnyard. Another unique feature was their choice to make the barn and the corncrib adjoining buildings. Although the home it's self no longer stands, two 9-foot tall chimney falls and also the remains of a foundation mark where this once proud cabin stood and several well-built rock walls can be seen crisscrossing the property.
Tyson McCarter Barn-c.1876 Old Settlers Trail Open barnyard with conjoined corncrib

Tyson McCarter Springhouse-c.1876 Old Settlers Trail

Tyson McCarter Smokehouse-c.1876 Old Settlers Trail

Tyson McCarter Corncrib-c.1876 Old Settlers Trail adjoined to barn
Sugarlands
The Sugarlands is a valley lying just south of Gatlinburg. It's also one of the park's most popular access points. It's now home to the Park Headquarters and the Sugarlands Visitor Center. The Valley was named after the many Sugar Maple trees growing in abundance in this area. The settlers used the sap from these trees as a sweetener before the days of cane sugar.
Although these sweet trees were cleared by the early settlers, the sugar maple still flourishes throughout the park today. Most Sugar landers lived in log cabins. Most mountain cabins consisted of one room, 16'x 20', notched logs and a puncheon floor. A chimney – Usually of slate and clay – rose along one wall, and a window often in the wall opposite. A standard farm might include: a barn, smokehouse, springhouse, woodshed, corncrib, chicken coop, and a gristmill. It was either surrounded by a paling fence or a sturdy rock fence.
John Ownby Cabin-1850s Sugarlands Visitor Center nature trail
Noah 'Bud' Ogle Place
The Noah 'Bud' Ogle Place presently consists of a cabin, barn, and also a tub mill built by the farmer in the late 19 century. The cabin is a type known as a "saddlebag" cabin. A relatively rare design it consisted of two single-pen cabins joined by one chimney. The barn is the last and best example of a four-pen barn, a design once common in the area. This site also contains the Park's only operational tub mill. Noah Ogles great-grandparents, William and Martha Ogle, were the first settlers in Gatlinburg and their cabin still stands on the Arrowmont School campus in downtown Gatlinburg. No longer standing, but of historical interest was the "weaner" cabin that once stood behind the main house. It was used by the freshly married young couples. What an entertaining concept!
Noah Ogle Cabin-1880s Cherokee Orchard Road two cabins sharing one chimney

Noah OgleBarn-1880a Cherokee Orchard Road behind Ogle cabin

Noah Ogle Tub Mill-1885 Cherokee Orchard Road still operational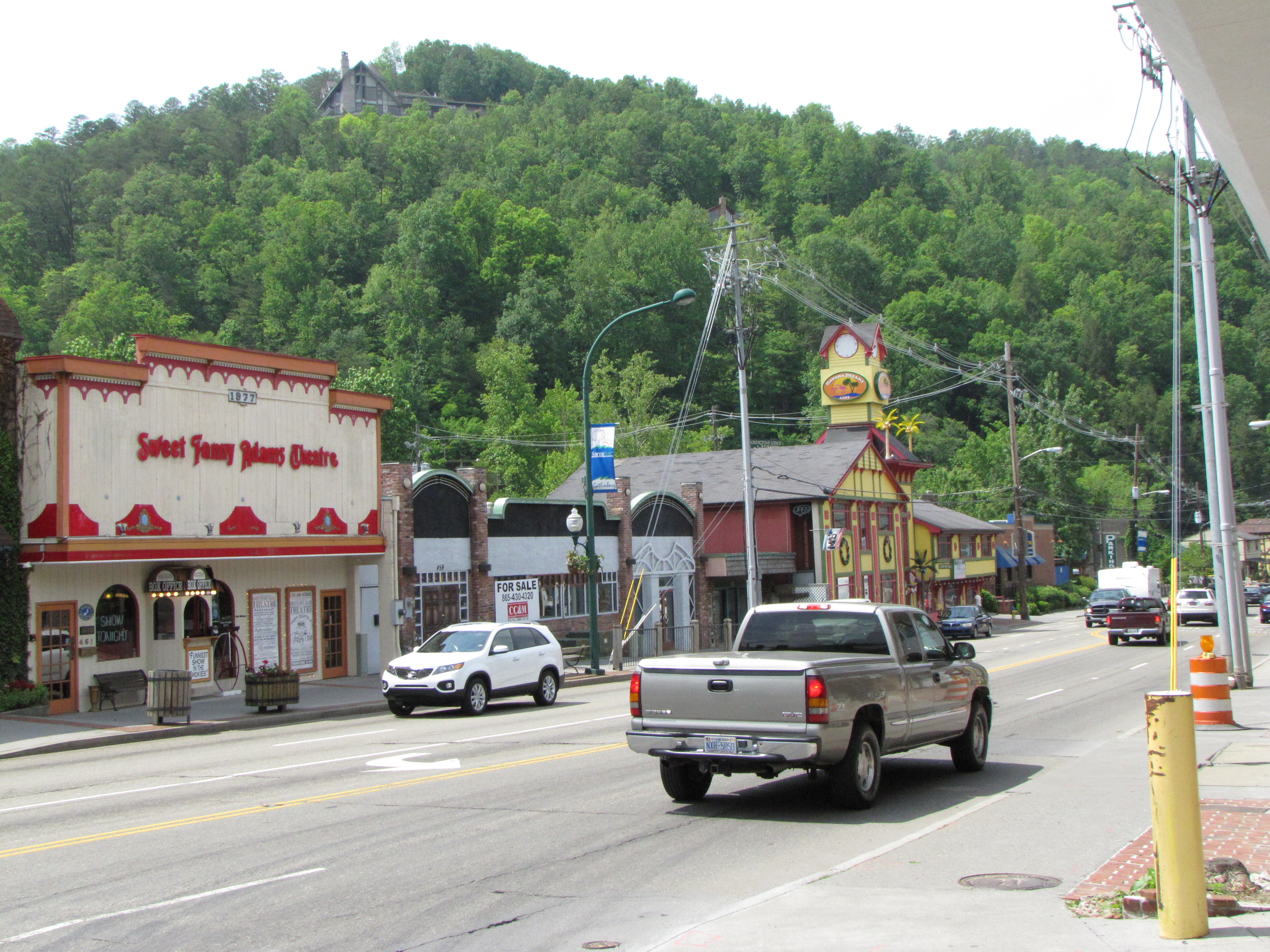 Gatlinburg
Between 1800-1810 the first settlers arrived in the Roaring Forks region, around what is now Gatlinburg. In the following years their families spread out into the surrounding coves, valleys, and hollows. Some of the settlers included the Reagan, Bale, Clabo, Ogle, and the Mellinger families. They were uppermost on Roaring Forks where the stream absorbs Surry Creek. Former homesteads can be easily identified by the large number of Tulip trees, as these are easier to repopulate and reclaim previously-cultivated land. In 1850, a road was constructed connecting Roaring Forks with the White Oak Flats area. By 1900, the community had matured into a quaint mountain hamlet with its own school, general store, and tub mills. These homes are all located on the Roaring Fork Motor Trail.
Alex Cole Cabin-early 19th cen. Jim Bales Place
Jim Bales Barn-late 19th cen. Jim Bales Place
Jim bales Corncrib-late-19th cen. Jim Bales Places
Ephraim Bales Cabin-late 19th cen. dog-trot double cabin

Ephraim Bales Corncrib-late19th cen. behind Ephraim bales cabin

Ephraim Bales Barn-late 19th cen. behind Ephraim Bales cabin
Ephraim Bales Hogpen-late 19th cen. behind Ephraim Bales cabin
AlfredReaganCabin-late19th cen. Paneling/paint-20th cen.
Alfred Reagan Tub Mill- Late 19th cen. across from Reagan cabin
Little Greenbrier
Little Greenbrier is the name of a former Appalachian community that is now home to an historical area in the Great Smoky Mountains of East Tennessee. At one time it was simply known as "Greenbrier" but the 'Little' was added to separate it from the larger Greenbrier farther to the East. It's currently home to the Walker Sisters Cabin and also the Little Greenbrier Schoolhouse- both of which are on the National Register of Historic Places. The earliest settlers to this area were South Carolina Neighbors, Alexander McKenzie and Arthur "Brice" McFall's who were believed to have built their cabins around 1840.
Metcalf Picnic Area
The Metcalf Picnic area was named after two brothers of Cherokee descent who supplied drinking water to the road crews in the 1920s. The Walker Sisters Place was also the home of five spinster sisters who refused to sell their 166-acre plot to the national park and maintained their home well into the 1950s. There is a rumor that while in the area to dedicate the national park in 1940, President Franklin Roosevelt paid a visit to the sisters and convinced them to sell their land, however there's no official record of this visit. Therefore, the National Park Service assumed control of the land when the last of the Walker sisters passed on in 1964.
Walker Cabin-1859 Little Greenbrier Trail (Also called King-Walker Cabin)

Walker Corncrib-c.1859 Little Greenbrier Trail (adjacent to Walker Cabin)

Walker Springhouse-c.1859 Little Greenbrier Trail (near Walker cabin)

Little Greenbrier School-1880s Little Greenbrier Trail (Hewn poplar logs)
Oconaluftee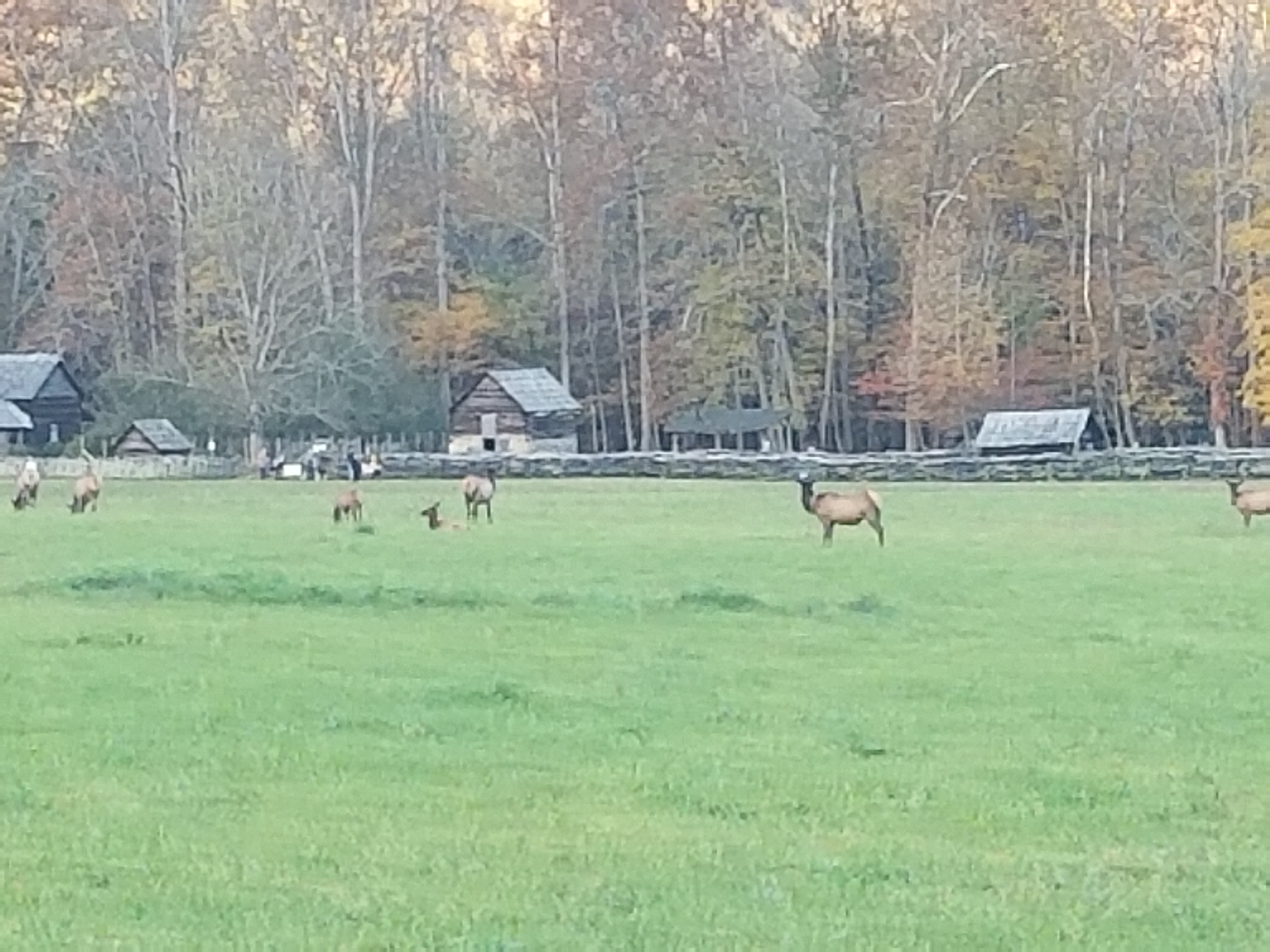 Oconaluftee is the name of a river valley located in the North Carolina section of the Great Smoky Mountains National Park. Once, the site of a prominent Cherokee village, and an Appalachian community, the valley is now home to North Carolina's main entrance into the Great Smoky Mountains National Park. The Cherokee Indians also held the waters of the Oconaluftee to be sacred. Dora Woodruff Cope who lived near Smokemont around 1900, recalled a legend told by her Cherokee neighbors:….part of the river was called Ya'nu-u'nata wasti'yi, "Where the bears wash."
John Jacob Mingus
It was the deepest part of the river where all the animals came to heal wounds caused by hunters. No white people could see this place because evil had blinded us to its existence. But the animals knew where it was and to dive in meant instant healing. John Jacob Mingus was the first to arrive in this area in the 1790s and therefore the first within the boundaries of what is now the Great Smoky Mountains National Park. Mingus was followed by Abraham Enloe who, due to his resemblance to Abraham Lincoln, many locals believed he was the Presidents father.
Mingus Mill-1886 just off US-441 Large gristmill/operational

Smokemont Baptist Church-early 20th cen. Smokemont Campground Road

John Davis Cabin-1900 just off US-441 Mountain Farm Museum

Enloe Barn-c.1880 just off US-441 Mountain Farm Museum

Messer Applehouse just off US-441 Originally from Cataloochee

Baxter Chickenhouse just off US-441 originally from Greenbrier

Mtn. Farm Museum-1900 just off US-441 Originally from Cataloochee Meathouse

Mtn. Farm Museum just off US-441 originally from Cades Cove Blacksmith Shop

Mtn. Farm Museum just off US-441 originally from Cataloochee Springhouse

Mtn. Farm Museum just off US-441 originally from Bryson City Corncrib/shed

Mtn. Farm Museum just off US-441 originally from Bryson City Corncrib

Mtn. Farm Museum just off US-441 originally from Indian Creek
Conclusion
These and other fabulous structures can be found throughout the many valleys, coves, and hollows of the amazing Appalachian Mountains. So, plan the perfect family vacation and come check out these wonderful living memories. There's plenty of modern cabins, with all the modern amenities, available to fit any and all price ranges, so pack your bags, grab the kids and head on down to one of the most historic places in the country. The Great Smoky Mountains National Park has something for everyone.