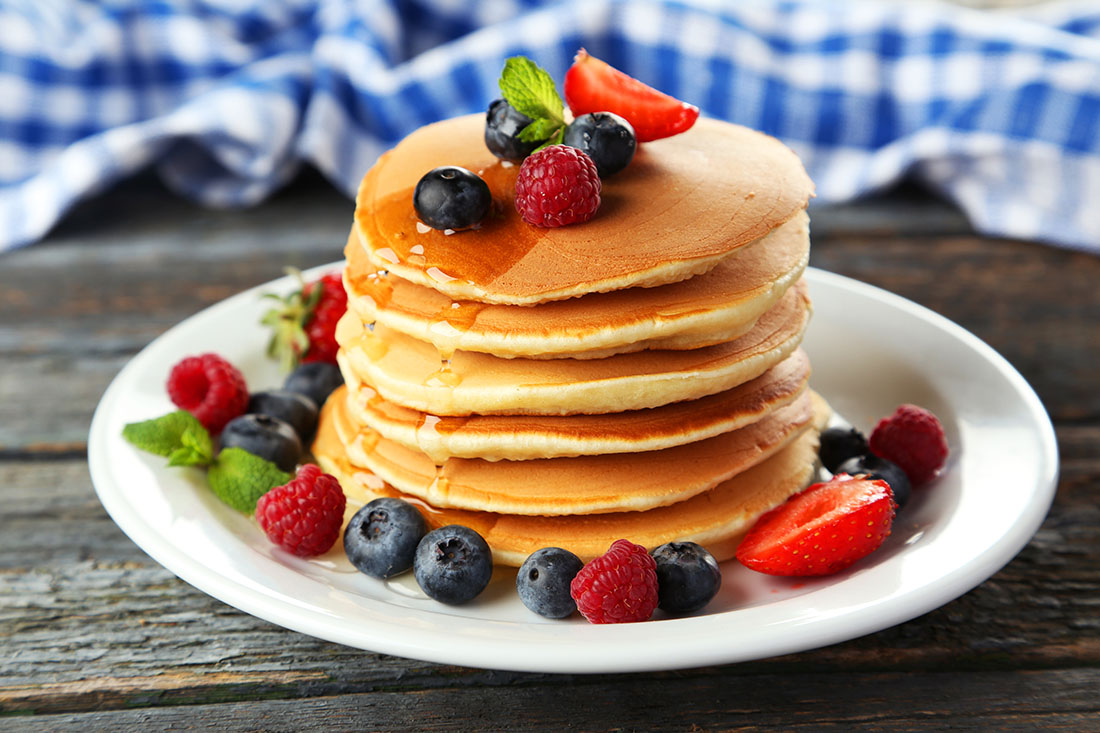 The following article is a list of most of the pancake restaurants in The Smoky Mountains. These are worthy of a visit every time you visit the area. Most of them are conveniently located on the main Parkway in Pigeon Forge and Gatlinburg. They are very easy to find when you are vacationing in the Smoky Mountain region. Many of these restaurants have a full breakfast menu. However, the main draw here is their great selection of pancakes that caters to the youngsters and adults.
Some of them rely on marketing their pancakes to children. However, some are rooted in time-honored family recipes and market their product based on its history. Either way has proven to be a successful model for each of these businesses. There are millions of tourists that help them churn out pancakes on a daily and yearly basis. There are many different options, but many of the same methods are used to craft a tasty breakfast treat that's hard to refuse every time a visit is made to The Smoky Mountains.
10 Pancake-Themed Restaurants You'll Want to Try In The Smoky Mountains
Do you have a sweet tooth and don't have an aversion to consuming the occasional dessert? Then you will be excited to learn about the many pancake restaurants in the Smoky Mountain tourist region! They serve hundreds of thousands of guests--local and out-of-towners--every year. It's little wonder why these places have caught on. It's a treat that brings many people back to their childhood. With millions of visitors to the area every year, most do well simply because the Smoky Mountain tourist hotbeds are a prime place to bring the whole family with kids in tow.
With a long day of shopping and hiking facing you, these establishments provide an ideal place to load up on calories and energy. You will most likely burn it all off! Especially if you take full advantage of all the options around the high traffic and lower traffic areas. They make for an ideal vacation for your clan.
Smoky Mountains Region
In the Smoky Mountains region, you can get pancakes at any place that serves breakfast. However, the focus here is just on places that advertise themselves as pancake restaurant. Whether it's a House of Pancakes or a Pancake House, it's probably a safe bet that they probably want to put out the best pancakes possible and take great care in making sure their signature item is represented well. No one wants to go to a place that advertises themselves as a pancake restaurant and serves a much better omelet than a pancake. That should be the standard anyway. It's difficult to find a place in the area that doesn't deliver in this category! This is no matter how many times you make a visit.
In the following article, you will be introduced to the many restaurants. They're from Sevierville to Gatlinburg! They feature some tasty and diverse pancake options that will make your mouth gape! This is before you even lift that fork with the first bite of the pillowy treat into your mouth. Everyone has different tastes so one person may have a different opinion on who has the best pancakes in the area. Have fun debating this with your family as you try a few of the options available on your vacation. Let's not waste any more time and get started why don't we.
Red Rooster Pancake House
We'll start in Pigeon Forge where the visual senses are bordering on overload. It's still hard to miss the sign with the rooster symbolizing the Red Rooster Pancake House in the tourist town. The color red is well represented not only on the sign, but on the roof. It really makes the restaurant stand out and possibly sending a subliminal message to people that draws them inside. Once inside, it's hard to find anyone arguing with the quality of food and service they get from this experience.
Red Rooster does their best to satisfy everyone's pancake preferences with options that will get your attention. There's Apple Raisin and Chocolate Eclair pancakes. Obviously, if your not a raisin fan, you won't even consider trying the former. It's hard to find fault with a donut-inspired hotcake. Either way, by trying one of these, you're sure to get a treat.
Reagan's House of Pancakes
They have two locations on the Parkway in Pigeon Forge. Therefore, Reagan's House of Pancakes seem to be getting two other things right: quality and quantity. The name "Reagan" ensures that you're going to a family-owned establishment that takes great pride in their product. The family's early pioneers in the area helped establish the community. Currently, they are continuing their tradition by providing guests what they want. This is from season to season in an area full of hungry people.
They have a full breakfast menu, but they also serve an affordable and plentiful all-you-can-eat buffet at both locations. The buffet is a great option to sample the entire offerings of toppings for your pancakes. If you want, you can bypass the pancakes and stick with meatier and more protein-laden choices like sausage and eggs. Since 1996 they have given people a good, savory meal that would do their ancestors proud. The slogan "We're Glad You're Here" is a very accurate description. It's also very appropriate of how they feel about serving their starving patrons.
Smoky Mountain Pancake House
The lasting image you get from another pancake establishment in Pigeon Forge is one of a mama bear giving her hungry baby bears a plate full of hot off the griddle pancakes. This is the first sign that you and your kids will truly enjoy the experience at Smoky Mountain Pancake House. You have to give the owners credit for not going with a generic image portraying The Smoky Mountains. They went straight for what matters most. This is the happiness of a child enjoying his or her favorite breakfast item. In this case, it's pancakes!
Smoky Mountain Pancake House is family-owned and has been in business since 1968. Therefore, they've been here before the huge tourism boom. So you know the pancakes have been a hit with the kids and their parents. One of their most ordered items is the Reese's Peanut Butter and Chocolate Pancakes. Who doesn't love peanut butter cups, right? Like Red Rooster Pancake House, a bright red roof is an eye-catcher. However, SMPH does them one better by putting a "Pancakes" sign directly on the roof. Take a trip in here for breakfast and see why they've been feeding the masses for 50 years and counting.
Frizzle Chicken Pancake Coop
You have to give this next place credit for originality. Not only do they serve a great breakfast with pancakes, they decided that a Pancake House simply would not cut it as a name for the restaurant. They went with coop--Frizzle Chicken Pancake Coop, to be exact. Don't be fooled by the name; this place smells nothing like a chicken's quarters. No, the familiar, comforting smells of breakfast overtake you once you walk inside this offbeat establishment. That's meant in the kindest way possible.
They are partners with The Comedy Barn comedy theatre, and this shows in the atmosphere on the inside. There are animatronic chickens inside that will entertain the kids and make the adults smile. It's a great compliment to the excellent pancakes that are served to guests. Especially those looking for more than just a standard breakfast experience. This is definitely not your average pancake restaurant. With selections like the Tropical Pancakes, Oreo Pancakes, and Glazed Donut Pancakes, you'll want to do an awful lot of walking to burn off the calories consumed from these delicious treats. Are you tempted yet? Give them a visit and see what else you'll be surprised with on the inside.
Smoky's Pancake Cabin
The next place for pancakes on the list is one that has been operated by three generations of tried and true family recipes. These can be found at Smoky's Pancake Cabin. They say a customer favorite is the Pineapple Upside Down Pancakes. However, with such varieties as Lemon Berry and Cheesecake Pancakes, it's safe to say this is another place that doesn't play it safe with standard pancake recipes.
Frequent visitors to the area may recognize this place as the former Log Cabin Pancake House here in Pigeon Forge. However, it has been rebranded to keep up with all the dazzling pancake options available on the Parkway. There will be more on the other Log Cabin location still in existence a bit later. However, this is another proud pancake restaurant serving a fluffy delight.
Flapjack's Pancake Cabin
Flapjack's Pancake Cabin has done so well they have a handful of locations in seemingly every part of the main tourist region. Pancakes had already established themselves as a popular dish in the Smoky Mountains prior to Flapjack's opening at the turn of the millennium, but it quickly caught on as a worthy place to get a high quality flapjack. They already had three restaurants running when they were featured in Southern Living magazine's "South's Best Flavors" piece.
Their Sticky Bun Pancakes were introduced in 2012 and quickly became one of their most popular menu item. There simply weren't many places that made cinnamon roll-styled pancakes. Therefore,it's no surprise why they became a fan-favorite at all of their now seven locations. In fact, an online food site voted FPC as having the best pancakes in Tennessee. So let the argument begin. Flapjack's have done an excellent job at winning millions of people over with their pancakes.
Little House of Pancakes
At Little House of Pancakes in Gatlinburg simplicity is their motto here. It's won over a throng of locals and made the tourists take a closer look at this underrated gem. Simple is first discovered with their laminated two-sided menu that is not loaded with creative renditions of the pancake. They simply just do the pancake justice by serving them with basic sweet and fruity flavors that won't make you do a double-take.
Their pancakes are paired with many different menu items. Therefore, you don't have to order them as a separate--and giant--plate stack. This is an idea that works for many people. It delights guests with a charm that symbolizes the modestly-named Little House. Come visit this restaurant--that's located not far from the downtown area but just close enough to make it popular place to have great pancakes--and see why it's the "Home of America's Favorite Pancakes," because we all love a good slogan when we see one.
Atrium Pancakes
Atrium Pancakes is another local favorite here in Gatlinburg. It's mainly known for being featured in Taste of Home magazine with their magnificent Baked Apple Pancake. It's far and away the most unique item on the menu--and also the most photographed--and for good reason. If you order this, it'll take about 10-15 minutes longer than a normal pancake. However, when they bring it out to you, you won't have to wonder why. It's thick like a cake and covers most of the plate. Therefore, you'll want to think twice before tackling this monstrosity yourself.
The Baked Apple Pancake is made with fresh apples and brown sugar and served with homemade--not store bought--apple syrup. They also have your basic pancakes, but it's recommended to try this brilliant breakfast bake. Just be sure you have at least one partner to assist you with it.
Log Cabin Pancake House
Earlier it was mentioned that there was another Log Cabin Pancake House in Pigeon Forge. That is now Smoky's Pancake Cabin. Well, the one in Gatlinburg now stands alone--and it stands on its own merits as well. Despite the fact that it has a covered wagon raised on the outside of the restaurant, this is not a typical novelty pancake restaurant. The inside may seem a bit odd with its college pennants hung from the rafters. However, somehow it works, even with its wooden, barn-like feel to it.
The pancakes are out-of-this-world good. It's surprisingly good Butterscotch Pancakes come to mind. However the real winner--and more popular pancake offering--is the Pancakes Royale. This tasty concoction isn't over-the-top in appearance. However, it's heavy on the flavor with a generous slathering of their special cream cheese sauce. It covers the banana wedges on top.
Honestly though, it really doesn't need a sauce to mask the flavor and fluffiness of the pancakes; they are simply amazing by themselves. They can also be paired with any other protein-heavy item, like omelets. Three of the buttermilk ones come with almost any other dish, in fact. LCPH is another pancake restaurant that isn't located downtown. However, it still receives a healthy amount of business, local and tourist.
Pancake Pantry
Last but certainly not least is the Pancake Pantry located just outside The Village in downtown Gatlinburg. There's not much to be said about a place that is known as a Gatlinburg Tradition for nearly 60 years. Most have heard of the esteemed Pantry simply by watching or reading from various media sources. Some of these have had high viewership ratings. The lines here are legendary and a common occurrence. This is especially true in Gatlinburg, where tourists flock and fill the place daily by 9 almost every morning.
Known as the very first of all the pancake houses in Tennessee, many have tried to replicate the Pancake Pantry. While many have succeeded as a business here, most agree that they have this great establishment to thank for their success as no one has truly done it as well as Pancake Pantry. They offer around two dozen varieties of pancakes and crepes; each of them are a specimen to behold. In a nutshell, the lines are justified and the pancakes are...well, they're legendary as well.
Conclusion
When you're visiting the Smoky Mountains, it's hard to ignore all the pancake establishments in the area. You might think they're all the same. Well, they're not, but that doesn't mean you shouldn't try them. If anything, you should want to try them all over time! Especially if you're a frequent and avid traveler to the area. All are worthy of a visit. They all have one thing in common--scratch-made with plenty of passion put into producing them. You can be assured of getting a great pancake almost every single time.