There is a restaurant in Gatlinburg that is not only known for the great food but for their resident ghost. The Greenbrier Restaurant in Gatlinburg is a vintage log cabin. It's now a restaurant that not only serves wonderful meals but a story as well.
Lydia
One of their desserts, 'Lydia's Chocolate Suicide for Two', sets the tone for a little hint of a haunting. Named after their resident ghost, Lydia, the restaurant has a long history related to the happenings that caused Lydia to stay here. Lydia is one of the most famous ghosts of Tennessee.
The Wedding
The Greenbrier, a steak and seafood diner, was at one time a secluded lodge. It was frequented by hunters from around the area. There was a young woman with raven hair who stayed at the lodge. She was reported to be of mysterious origins. Her name has been lost in the ravages of time but most folks call her Lydia. There is another young girl named Lydia who died in the train wreck of 1904 but don't confuse the two. Lydia of the Greenbrier was engaged to a gentleman from town. On the day of their marriage, she waited, dressed in wedding gown and veil. She watched out the window for her fiancé to arrive for the ceremony.
But he never came.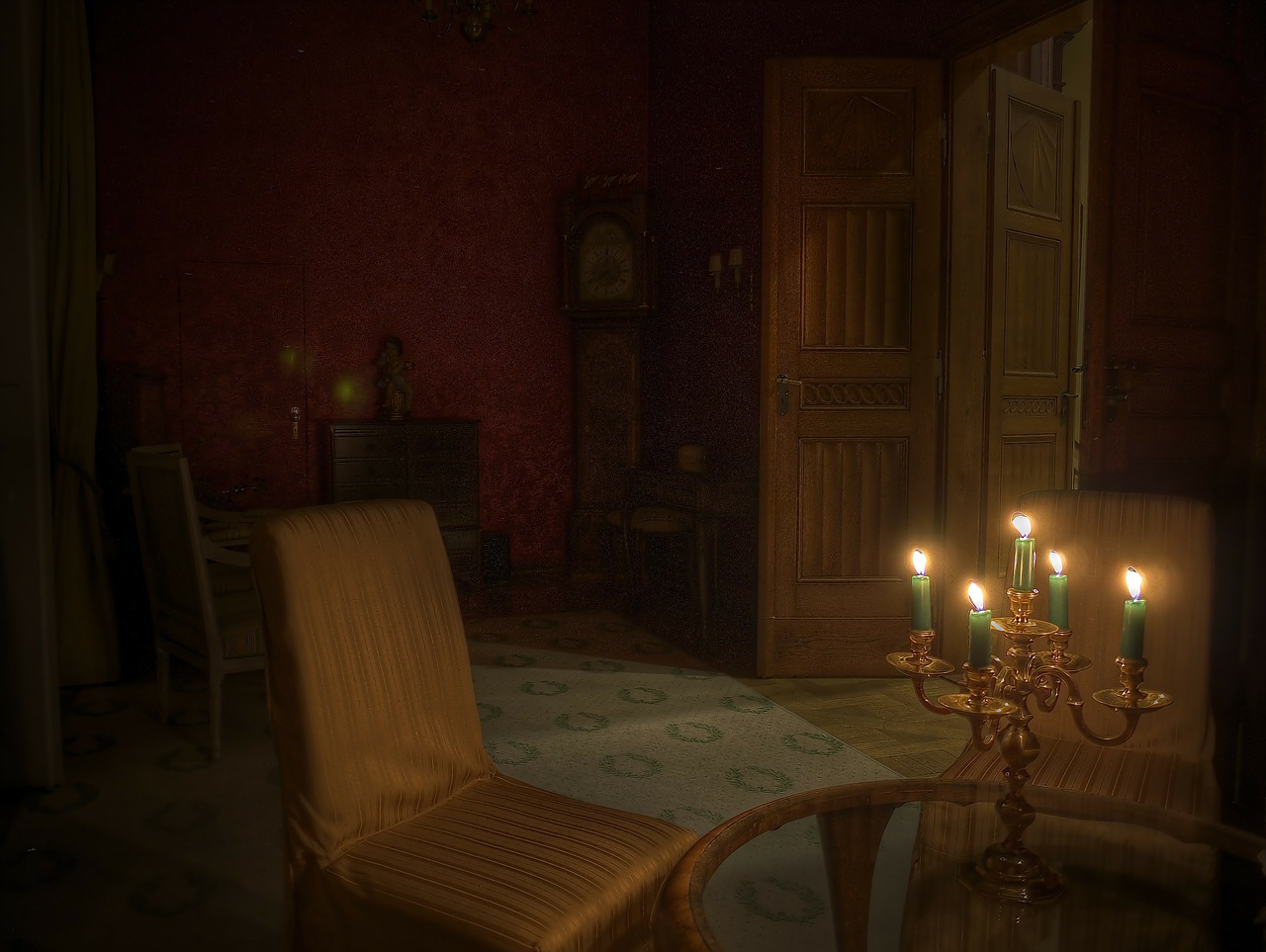 Instead, while Lydia waited at the altar, the young gentleman decided to skip the ceremony she had planned so carefully. He instead partook in the services of a local prostitute.
The local bartender, being a sympathetic man and a friend of Lydia's mother, sought out the wedding party. He delivered the news that the groom would not be attending that day. When Lydia learned of the news, she left the church and the altar. She tore the veil from her head and when she left that church, she also left the Heavenly spirit behind.
Revenge
What the cheating groom didn't know was the fact that Lydia was a student of the well known occultist Aleister Crowley, magician and mountain man. Crowley's teachings included two primary rules. 'Do what thou wilt shall be the whole of the Law' and 'Love is the law, love under will'. Lydia kept these two laws locked inside her heart, her bitterness growing with every breath she took. She knew how to get back at him but it would take a sacrifice from her to complete. Her beau had broken the one sacred law of love. In order for her to have her revenge, Lydia would have to take her own life. Then she could assume the form of another and make her unfaithful lover pay for what he had done.
She returned to the Greenbrier Lodge and on the second floor she hung herself from the rafters. She was still gowned in her wedding attire. By doing this, she could return in any form she pleased and exact her revenge. And she did, soon after she drew her last breath. Soon after Lydia dangled from the rafters of the Greenbrier's second floor, the unfaithful groom was found nearby in the woods, dead, mauled by what looked to be a large cat of some sort. Surely it was a coincidence, wasn't it?
The Unmarked Grave
Since Lydia committed suicide, she was buried in an unmarked grave. She had been wronged. This had caused her to take her own life. It also allowed her to be able to shift her form to get even with the man who broke her heart. Lydia felt it was her right to be buried properly. She called out every evening, begging for a decent grave and a stone with her name on it. This went on for months until the local caretaker felt sorry for her unresting soul. He found her and buried her proper in a grave with a marker.
Yet Lydia still doesn't rest. According to the people who work at the Greenbrier Restaurant and also the guests there, Lydia still roams the upper halls of the lodge. She paces the floor as if it was still the day of her wedding which never took place. Once in a while, she knocks things off of shelves, an act of her frustration probably. She appears in the corner of your eye, seeming to be just out of sight. Even dinner guests have gotten a glimpse of her moving through the lodge, still dressed in wedding attire.
Marietta Craig
And then there's the ghost of Marietta Craig, who still haunts the Greenbrier Lodge Bed and Breakfast. Marietta is a nicer ghost than Lydia. Marietta does nice things, like closing the door after you if you leave it open. The room where she is most active has been dedicated to her. The owners make her feel right at home by keeping pictures of her there.
The Greenbrier Lodge no longer operates as a bed and breakfast but it is available for rent. It can sleep up to 20 people. Therefore, if you have a large group, this 1939 Lodge might be the right place for you. And you may get to meet either Lydia or Marietta in the bargain.
Garden Plaza Hotel
Another place in Gatlinburg that is said to be haunted is the Garden Plaza Hotel – Holiday Inn Sunspree. It has more than its share of haunts. However, there are two that are most talked about. One is about the man who is said to have committed suicide in Room 471. Now, a reflection of his ghost can be seen in the windows. He can also be seenwalking around the pool in the dark of night. Then there's the tale of the Boy Scout leader. He is said to have murder some of his scout troop on the 7th floor. They have been heard running up and down the halls. Other strange things happen here and if you stay here, be sure to ask the staff if there have been any strange happenings lately and where they occurred.
Family Inn in Pigeon Forge
The Family Inn in Pigeon Forge also is said to be haunted by an elderly woman. She was killed here one night while working late. She's not scary and will be felt watching over guests as they sleep. She is very kindly and helpful. Do tell the staff if you happen to catch a glimpse of her out of the corner of your eye.
Rocky River Motel
The Rocky River Motel on the Parkway in Gatlinburg has had some strange happenings also. Loud knocks on the doors and you open it and there's no one there. Wall clocks that run backwards. Orbs floating slowly across your room in the dark, glowing with their own ghostly light. You never know what you'll see when staying here.
LeConte Lodge
At LeConte Lodge in Sevierville has a resident ghost that likes to watch you while you're sleeping. In the early morning, don't be surprised to awake to see a young girl standing at the foot of your bed. She'll just be watching you silently. If you look too hard, she will fade away into nothing. No one knows who she is or why she is there. It's possible she's just passing through and got caught up watching guests. She might be wondering who they are and why they are there.
Cabin on Roarking Fork
There is The Cabin On Roaring Fork where when you stay, you never know what will happen while you're asleep. The cabin itself is over 200 years old. Therefore, it makes sense that somewhere along the line, a ghost has taken up residence. There are so many paranormal events occurring in this cabin they are too many to count. One account was a family who decided to go to a fast food restaurant to pick up some dinner. The kitchen was dirty said that when they went to bed that night, they didn't hear anything. However, when they got up the next morning, the kitchen was clean and the table was set perfectly.
Another guest said that the door, with the original wooden latch, was standing open when they arrived. When they went to dinner, same thing happened except this time the door was wide open. The next day they took a trip to Cade's Cove, making sure the door was securely latched but again, when they returned, it was wide open. A little goat cart sits in the living room, filled with pillows and blankets for guests to use. Many times guests have reported that upon rising in the morning, the little cart has been moved to a different location in the living room. Staying here at the Cabin On Roaring Fork just may be your best bet for a paranormal experience in the Smoky Mountains.
Wheatlands Plantation
Battle of Boyd's Creek
One beautiful place that boasts of haunting is the Wheatlands Plantation. Though you can't stay there, you can tour the house and grounds and occasionally they will allow a ghost hunt. So much has happened at this location over the years. It's no wonder ghosts roam the Plantation, which was built around a large geode by a Freemason. Located just off Boyd's Creek Highway in Sevierville, the antebellum home was built in 1820. History has seen more than 70 murders and deaths within the walls of the mansion and on the grounds. This is where battles were fought in the Revolutionary and Civil Wars, and many more deaths occurred.
Tragic and historic, the Battle of Boyd's Creek resulted in the death of 28 Cherokee warriors. They were massacred and are buried in a mass grave behind this beautiful home. There are also more than 69 African slaves buried alongside at least 2 Revolutionary War soldiers. Inside the mansion, the bloodstain of a father, who was slain by his son, still can be seen in the parlor. This just helps to draw the attention of paranormal investigators as well as the curious observers.
The first Wheatlands Plantation house was built at Rocky Springs, about two miles from where it now stands. In 1812 the present location was the site of the home built by John Chandler. It stood until 1825 when, just after Christmas, three of John Chandler's granddaughters took one of the little slave girls to the third floor to help teach her to read. But their good deed ended in tragedy when while teaching, one of the girls knocked over an oil lamp they were using and set the house ablaze. The house burned to the ground, killing 8 people, including all four little girls.
John Chandler
John Chandler rebuilt the home on the same spot, hiring William Morgan who was 'hiding out from authorities in New York'. The home was built with solid brick walls and an English tin roof, making the home as fireproof as possible. Chandler didn't want to experience the loss he had been through ever again. All of the brick were made on the plantation and any of the wood used was also taken from the plantation grounds. All of the original woodwork and doors remain in the mansion today. The Wheatlands is considered one of America's most intact Federal Style homes. It is actually called "Tennessee Federal" in style. Mr. Chandler also realized he had a master distiller in his employ. Therefore, he had the first large commercial distillery built in Tennessee. He soon became famous for his smooth, golden "Chandler's Wheat Whiskey".
So, with such a rich and bloodied history, the Wheatlands Plantation is one of the premier places to visit if you are considering doing any paranormal research of any kind. They do offer ghost tours and even will consider private paranormal investigations. You can contact them through their website at www.wheatlandsplantation.org to ask about any tours or investigations you'd be interested in.
Conclusion
With the rich history of the Great Smoky Mountains swirling in the hills and hollers of Eastern Tennessee, it's no wonder that there are ghost stories and legends galore and you won't have trouble finding places where someone knows a place that has a shady past or a resident ghost. Whatever you do, please be sure to get permission to explore! Especially if the place you want to check out happens to be private property. And always be careful if you're out in the Great Smoky Mountains National Park and surrounding area. Bears are everywhere and they are not tame. Take precautions when exploring and be safe. As always, enjoy yourself.