Do you like to have some variety on vacation? Do you enjoy some music with your meal? Are you a little outgoing? Want to spend your evenings being entertained instead of resting on the back porch of your cabin? If you answered yes to any of these questions, then you might want to read on and see just what the Smoky Mountain area has to offer in live entertainment. Tourism in the Smoky Mountains caters to all different types of people of all ages and personality types.
There are many restaurants that offer karaoke.There are moonshine distilleries that have live performances. However, these are a list of just restaurants in the area that features a regular or diverse lineup of musicians. They perform in or outside the eateries at certain times of the week.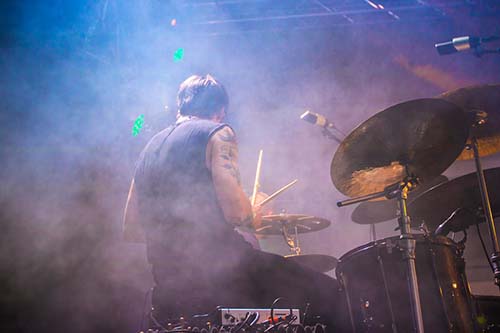 Smoky Mountain Brewery
Smoky Mountain Brewery has different locations throughout the region, including one in Pigeon Forge and Gatlinburg. The original location opened in Gatlinburg in 1996 and is considered the most unique brewery out of them all. It is described as a cross between a ski lodge and a Bavarian beer hall. It's located in Calhoun's Village near the National Park entrance. Even though it is a brewery, don't bother to order a Miller or Bud Light; they only serve the beer they brew in-house.
With favorites such as Mountain Light, Cherokee Red Ale, and Helles, who needs to order a common domestic lager. Each location has live music on different nights of the week. So at any time of the week you can catch a live performance at one Brewery location. The music usually begins at 9 or 9:30 in the evening and lasts until around midnight. This is around closing time every night in the kitchen. Most locations are open every day until 1am, so if you enjoy late nights on vacation, then this is a great spot for entertainment.
Their list of musicians can vary, but there are familiar faces that perform there regularly. This list includes many local artists. These include Logan Murrell, Stephen Goff, Jason Ellis, Ben Shuster, and Mike Snodgrass just to name a few. Most represent a diverse mix of musical genres, but it never usually strays too far from rock and country. Smoky Mountain Brewery has two other locations in Maryville and Turkey Creek, and you can find them online at www.smoky-mtn-brewery.com.

Margaritaville
Jimmy Buffett's Margaritaville is a very successful chain of restaurants that started in 1985 at the Key West location. It has since grown to include dozens of restaurants including the one in Pigeon Forge that opened at The Island in 2015. At Margaritaville you can find a retail store with many different island-themed merchandise. This contradicts the mountain background of the Smokies. It is a place that people of all ages can come visit; it is very kid friendly and is open until 11 during the week and midnight on the weekends.
Their menu does skew a bit toward island style seafood cuisine, but you guessed it, they have burgers that include the eponymous burger of Buffett's hit song "Cheeseburger in Paradise." Their live music can sometimes be held every day of the week. Therefore, there should be no problem catching a performance from a local musician on any given day.
Taking a look at their event lineup at www.margaritapigeonforge.com and you will notice that their musicians are very similar to the ones that perform at Smoky Mountain Brewery. Due to the slightly earlier closing time, artists usually take the stage at 8. They put on a rocking show until the last remaining patrons leave for the night.

Harpoon Harry's
Harpoon Harry's Crab House is another popular seafood lover's place located in Pigeon Forge. It is not a local establishment as they are an extension of Harpoon Harry's Restaurants. Those opened in Punta Gorda, Florida. They have several other beach locations before the ownership group, Smuggler's Restaurants, decided to bring their seafood flair to another tourist location in Pigeon Forge. Most seafood restaurants will cater to those that aren't big on seafood. Harpoon Harry's is no different, offering up steaks and cheeseburgers to complement their varied seafood selections.
It is quite spacious here, which is evident from the moment you pull into the parking lot; they can accommodate up to a whopping 650 people including 260 on the river deck alone. The most unique detail about the restaurant inside is its 1926 Chevrolet Truck bar. Yes, you heard that right--draft beer can be poured from the front of this antique vehicle.
They usually save their live music for the weekends. It may include a local musician or a surprise guest from time to time. So stay tuned for new acts online at www.harpoonharryscrabhouse.com. When you visit a place as large as this one, you can expect to find merchandise here for purchase as well. They are open from noon to 10pm during the week and until 11pm on weekends.

Chrystelle Creek
This family friendly restaurant is off the beaten path in Gatlinburg and is a local favorite. However, visitors looking for a change of pace have discovered this place too. Their menu is probably the most diverse of any on this list. They serve up some quality trout, steak, and even Italian dishes. What also sets apart this restaurant from the others is its limited hours. It's open 3pm to anywhere from 8-9:30pm depending on their reservation list. Therefore, it is recommended you call ahead for parties of 6 or more if you would like to experience its atmosphere and food. They are also a catering service for in-house parties, receptions, or other family group events accommodating groups up to 75 people.
Their live music lineup is arguably one of the best in the Smoky Mountains. Music veterans of all types grace the stage inside Chrystelle Creek every week. Every Wednesday from 5-close, the fabulous Neesee hits the stage with her keyboard performing a vast range of music from the 1930's to today. On Mondays, Ben Stroup performs at the Creek from 5-6pm, while local musicians are reserved for Tuesdays. The best surprise is reserved for the second Monday of every month: John Condrone hosts The Smoky Mountain Songwriters Festival from 6-7pm featuring award-winning songwriters and an unexpected guest, including major label recording artist Mo Pitney and local bluegrass favorites, Emi Sunshine and the Rain, and Boogertown Gap.

Tom and Earl's Back Alley Grill
Tucked away in a shopping alley off the Parkway and backing up to River Road in Gatlinburg is Tom and Earl's Back Alley Grill. Opened in 2014, they can be described as your typical casual burger restaurant with some popular Southern dishes including BBQ, a bologna sandwich, and fried green tomatoes for starters--or as they call them, socializers. They also have a small kids menu for the little ones in your group.
The seating area inside is modest but it does have a nice sized outdoor patio seating arrangement that has a stage area for the live musical guest who performs outside. Playing several nights a week as their main live performer is Denver Evans. He is such a beloved figure there, the owners even named a starter dish for him, Denver's Rings of Fire--hand-breaded banana peppers and jalapenos served with a sweet raspberry pepper sauce. Evans is no stranger to the music biz. In the 90's he leveraged his mastery of the keyboards into a position as a player for a major recording artist after moving to Nashville.
Denver would then become a recording artist on his own and landed with a booking agent and ended up touring the country as the opening act for Montgomery-Gentry and Mark Chestnutt. After this successful time in his life, the road-weary Evans finally decided to come home to spend time with his wife and kids. He has performed at Tom and Earl's almost from the start of the restaurant's opening a few years ago and continues to write and record songs. Every so often another artist will be invited to play here, but Denver Evans has been a great ambassador for this establishment. You can see more of their menu at www.tomandearlsbackalleygrill.com.

Hard Rock Cafe
The Hard Rock Cafe in Gatlinburg closed a few years ago. However, fans of this restaurant can still make their way to Pigeon Forge as it was relocated in 2014. This is your classic rock memorabilia restaurant that seemed to be one of the first to sell merchandise to customers who went to their locations in tourism hotbeds around the country buying Hard Rock Cafe T-shirts. Their menu has your traditional American cuisine done with a touch of pizzazz. It features the Twisted Mac, Chicken & Cheese and Java Lava Burger. This burger sounds every bit as hot as its description on the menu.
The restaurant does not disappoint in the memorabilia department with collectibles from Sevierville's very own Dolly Parton, Shania Twain, Jimi Hendrix, Madonna, and Taylor Swift. Sadly, you won't find any of these music legends on the Hard Rock stage in Pigeon Forge. Once again, you can find an array of local music talents across different genres with The Maggie Valley Band, Kincaid Band, and The Reunited among many others playing to a busy Saturday night crowd from 9-11pm.
Hard Rock Cafe has 3 separate dining areas with seating for over 400 hungry guests, private events for up to 450, an outdoor patio, and a nice 52" touch wall that enables you to explore the world's greatest collection of music memorabilia. Like many of their local restaurant competition, they are open until 11 during the week and close shop at midnight on the busier weekend nights.

Three JImmy's Restaurant
You can find this restaurant as you're venturing out of downtown Gatlinburg and right at the entrance to the Arts and Crafts Community on Glades Road. Three Jimmy's is another American style casual dining restaurant. They serve up everything from tender, juicy steaks to world class artisan pizzas. With pizzas like the Blackberry Pig and Fromage a Trois, it becomes evident that this is not your average down home restaurant.
Their sandwiches can either pile the meat high or leave the meat out entirely and replace it with healthier veggie options. Yes, they have steaks too! These include their large and tasty ribeye. They also throw in some Southern fare as well. This includes pulled pork, smoked sausage, maple bourbon chicken, and an open-faced smoked turkey. As if that wasn't already a stacked lineup of options, they have now added breakfast to their service; they serve it from 8 until noon every day except Tuesday. Three Jimmy's ramps up the atmosphere with a uniquely diverse set of live entertainment.
This is also a venue for the Knoxville and Smoky Mountain area musicians that frequent Margaritaville and Smoky Mountain Brewery; however, this restaurant has a BAMM! Jam Night every Tuesday at 8 where aspiring musicians can sign up, bring their instruments and band and perform in front of an audience! Some of them for the very first time. When the weather is nice, it's also great to have an outdoor patio. Just like Three Jimmy's does, for some fresh air while enjoying a hearty meal. They stay open past midnight most nights, and their website is www.threejimmys.com.
Conclusion
As you can see, there are many options for the live music fan if you're on vacation. Also if you're a local seeking a respite from the daily grind of work. This is not a complete listing, since there are plenty of other options for live music--especially in Pigeon Forge!-However,restaurants are maybe not the first thing that comes to mind when looking for live entertainment. There is plenty of musical talent in the area. Hopefully this will serve as a guide to help you find the music you will enjoy. Maybe one of those same artists will become nationally famous! Then you can say that you saw him/her perform while you were on vacation in The Great Smoky Mountains.