There are some people that don't want to venture too far into the National Park to see its true beauty, and the Roaring Fork Motor Nature Trail just may be the perfect accommodations for those that feel Cherokee, or Cades Cove is just not in the cards for a visit on a particular trip. All you have to do is take the Historic Nature Trail from the Parkway where The Space Needle is located and drive a few miles to its entrance. The following is a list of all the different things a person can see on this 5.5 mile scenic route
The Beginning Part of the Trail

You might miss it, but before you even start the Trail you will come to the Noah "Bud" Ogle cabin. It consists of two cabins with a single chimney, along with a tub mill and a barn. This is worth mentioning and for stopping, despite the fact it is technically not on the Nature Trail. The one thing you will realize when you begin your drive on the Trail is how everything will seem to close around you as nature will begin to embrace your presence. It is important to pause, look, and smell the world that surrounds you now.
There is a hardwood forest here that contains many chestnut oak, white oak, magnolia, maple, and tuliptree representing a very diverse community. Also present among the tall trees and flowers are the animals and bugs that make their home here: birds, raccoon, chipmunk, groundhog, and yes, black bear are all animals that make their home here.
If you are lucky you may catch one or a few of these on your drive. Beside the road are chestnut logs that were victims of disease around 100 years ago. Sadly, there are only a few of these left in the Park. The seedlings that resisted the disease will eventually spur new growth; however, it will take many years for the trees to reach the size of their ancestors.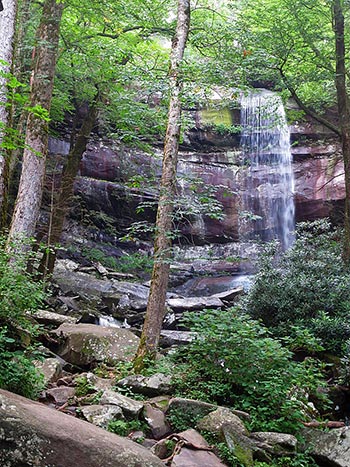 Rainbow Falls
Do you feel like delaying your journey through the Motor Nature Trail and take in a lengthy early day hike? Rainbow Falls might be an option to begin your experience. This hike gets a solid moderate rating as it climbs in elevation by 1,500 feet. It's a 5.4 mile roundtrip hike. This trail can be a bit treacherous. Therefore, make sure to bring plenty of water, durable hiking shoes, and a walking stick. Once you reach the Falls, you may see a rainbow on sunny afternoons created from the mist coming off the 80 foot high waterfall.
This is a sure treat and makes the challenge of the hike worth it. Go during the winter months, and you may see a quite impressive ice formation, especially during long cold spells. Note: Rainbow Falls Trail is currently undergoing maintenance. They are closed Monday through Thursday from 7am to 5:30pm. This lasts until November 16. Therefore, keep that in mind if you had plans to hike it on your upcoming trip. [Photo by C. Hoyer]
Grotto Falls
This is where the necessity to get out of the car will really hit you as you reach the Grotto Falls parking lot. It is recommended that a person get here early in the morning. This is because even during the week the parking lot can become crowded. It can make for a challenge to park along the one way road. Grotto Falls is reached via the first part of the Trillium Gap Trail. What makes this Trail unique is that it can be used to go all the way up to LeConte Lodge at Mt. LeConte--and is also used to transport llamas up here too. Therefore, you may get a nice surprise if you hike it at the right time.
The trail to Grotto Falls is fairly easy. However, it leans a bit moderate for the novice hiker. Though not as rough as Rainbow Falls Trail, a walking stick is recommended due to rocky nature of the trail. It is just 1.3 miles to the Falls. Once you get there, you are rewarded. Especially during a rainy season! It has a nice display of water coming off the 25 foot high Falls.
As the Falls come into view, stop and take plenty of pictures of this beautiful waterfall. The fact that you can walk behind Grotto Falls is a nice feature that the kids will surely enjoy too. It's the only one in the Park with this natural design. For those that want more than just a look at Grotto Falls, the Trillium Gap Trail continues on another four miles climbing some 3,400 feet through hemlock trees, red spruce, and Fraser fir.
Hemlocks and Tuliptrees
Once you get back in the car and continue the journey down the Motor Nature Trail, the tall, evergreen hemlock trees will begin to surround you. As a result, the air becomes just a little cooler. Hemlocks are among several tree communities in the Smoky Mountains, but they have been gaining attention in recent years for the wrong reasons--the dreaded woolly adelgid insect.
These invasive bugs were first spotted in east Tennessee in 2002 and are the main cause of the destruction of thousand of acres of hemlock trees. While efforts are ongoing to combat this scourge, the problem it seems will never completely disappear; chemical and biological efforts are ongoing and nature itself can help the problem when it brings harsh winters. Tuliptrees are tall trees but are thinner than the hemlocks. They are proof that this was once farmland; in fact, it was farmed by the Clabo family. Just past the tuliptrees you will be able to hear the rushing Roaring Fork, and it will begin to get louder as you continue down the road.
Jim Bales Place
As you travel across the stream you will see a house that is not on its original site; it was moved for preservation purposes as the wilderness began to grow around it. This was the home of Alex Cole; it was moved from the Sugarlands, and it represents Appalachia better than the house that was originally built on that site as a "fancy house" meant to entertain visitors. The other two buildings here are original structures on the same land they were built: Jim Bales' corn crib and barn.
Ephraim Bales Home
The next historic site on the Roaring Fork Motor Nature Trail is the home of Ephraim Bales, his wife, and nine children. Today, when we think of a home with nine kids, we can imagine that they would be living in much larger quarters than what can be found here. This was not unusual in their time, and they made the best of their situation, regardless of the issue of privacy in their dog-trot cabin. The house is made from small logs that were drafty, but the small doors conserved heat.
Their living area was the larger cabin with the small one being the kitchen. The only window in the home was used to look out on the corn crib where Ephraim would watch with his rifle in case a hungry creature came looking for food. The corn crib sits beside the house, and while it is small, it was a symbol of the work and time it took to build things by hand; nothing was constructed bigger than what it needed to be.
Their barn housed a mule and a cow, with corn stored in a crib next to the grain box in the corner. The family's spring is located below the road, and once upon a time, it did provide them with fresh from-the-ground spring water. The pig pen is nearby. Most farmers, including Ephraim Bales, would let their hogs roam, feasting on whatever they could find. Winter would be the time they would round them up for slaughter; the farmer would spare very little of the hog, using it for food, warmth, or lard.
Alfred Reagan Place
Alfred Reagan was much like Ephraim Bales in that both were farmers, but what set Mr. Reagan apart was his manual skills used in carpentry. He was known as a jack of all trades, and he was called upon every time there was a death in the area; he would make coffins for free as a courtesy to the grieving family. Also a blacksmith, Reagan was in the business of fixing equipment that suffered wear and tear on the rocky countryside. It would be a nice way for him to supplement his income as a farmer by day. Even after building a store, Alfred Reagan would also build a mill that sits just off the road. Since few people could build a mill, Reagan charged people for their need for bread.
He was not known to be greedy, though; even with all his vigor and money making ventures, he was also a preacher in a church he helped build. The most striking feature of his diverse skills is evident with his home here on the Motor Nature Trail. It is a "saddlebag house" with the three colors Sears and Roebuck had. As the Reagan household grew, (he had seven children) he raised the roof to create added bedrooms and a kitchen wing was added. Despite all of his talents, Alfred Reagan was known to many as being just a man who did no better than anyone else, lived a hard life, helped his community, and died--a true sign of a time passed.
Water, Boulders, and Scenery
There are countless opportunities along the Roaring Fork Motor Nature Trail to stop and take a short walk along the many streams, take wonderful photographs, look at the rosebay rhododendron flowers that lean over the mountain streams, or just sit on a rock and enjoy the sounds of nature swirling all around you. Many different life forms can be found here including plant life, crayfish, insects, fish, and salamanders.
There are more salamanders in the Smokies than anywhere else in the world. Hence their distinction as being the salamander capital of the world. Even though you can find boulders throughout the Nature Trail, they are especially present at this point in the journey as well. Back in the day they were considered a major nuisance. This was because they were constantly being moved for travel and farming purposes. Boulders would constantly be tumbling down the mountain side. Sometimes it would be in massive numbers over the centuries. Some came to rest near the streams with nature giving them all various types of color and hardness.
Place of a Thousand Drips
The winding 5.5 journey through the Motor Nature Trail comes to a conclusion here at the Place of a Thousand Drips. It is not your typical waterfall in the Smoky Mountains, but that doesn't mean it's any less impressive. Much like most of the others, the best time to view these tiny waterfalls that spring from rock to rock is after a heavy downpour, or maybe several days worth of heavy rains, especially in the Spring.
Here's some advice for the travelers who are taking this Trail for the first time. If you aren't paying much attention, you could potentially drive past here during drier seasons and the lack of a parking lot. It's just a short pull-off area on the right side with the waterfall on the left. It's normally pretty cool all throughout the Trail. However, standing in front of Place of a Thousand Drips brings even cooler air caused by evaporation.
Roaring Fork Motor Nature Trail
This is what you can expect to find when you travel the Roaring Fork Motor Nature Trail near Gatlinburg. Rarely can you find such a place that takes you out of your reality of cars, technology, and stress. It puts you in a comfort zone of natural beauty and tranquility unknown to many people. This is just a small part of the Smoky Mountains that can be discovered as you travel on the path less traveled. It is simply an experience that can't be accurately described with just words. It should be planned on your next visit to East Tennessee. This is even if you are not a big nature lover at the core.