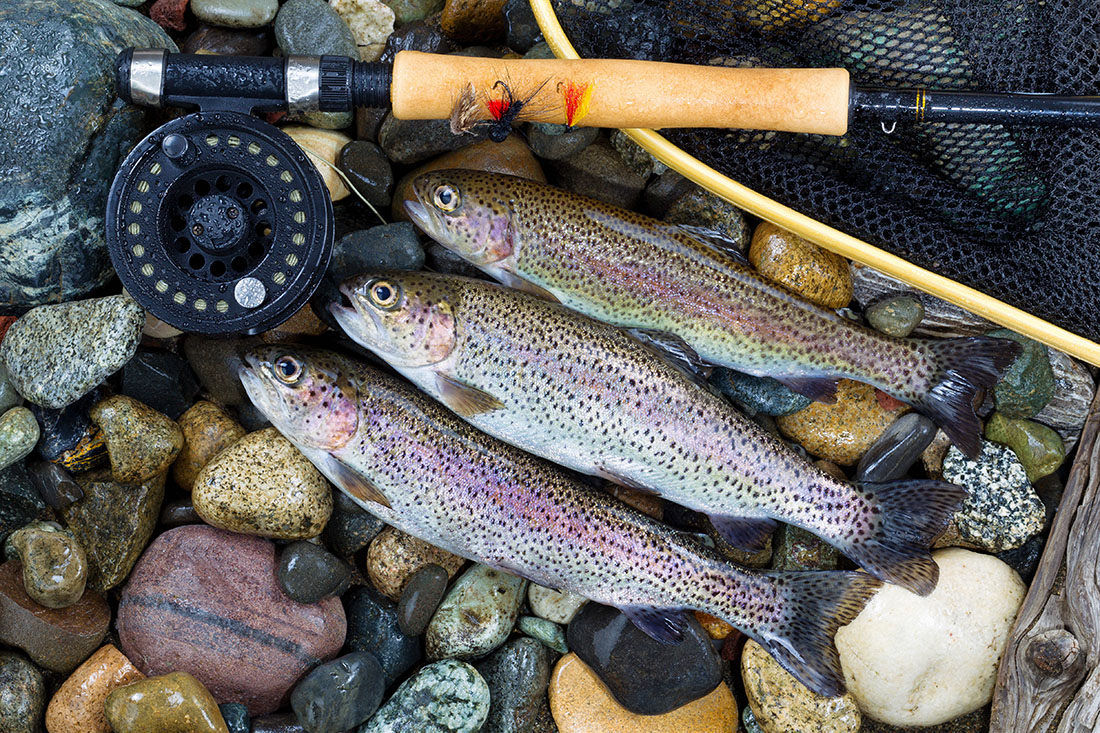 If your searching for a place to visit on vacation, you can find many things to do in the Smoky Mountains near Maggie Valley, NC. Don't expect to find large theaters and tourist attractions like the ones that are located on the more touristy locations. But that's just what makes a place like Maggie Valley great for relaxation, because while it's still a nice area that attracts tourists, you just don't get the same vibe where people are always on the move; here, the point is to make daily life much slower paced, enjoying the beautiful Smoky Mountains on the North Carolina side.
The environment is scaled down for you to enjoy the mountains, as it's not so much as a backdrop here, as it is more in the the foreground. The following is a list of activities available here that will make an ideal vacation for what you expect will be one of peacefulness and calm that you've been looking forward to.
1. Go on a Scenic Drive
This almost feels like a no-brainer. You're looking for things to do in the Smoky Mountains, and it's so beautiful, sometimes, you just need to take a drive. There are plenty of opportunities to capture the magic of the mountains on your drive, but the easiest way to have a guided drive is to take Newfound Gap Road. You can drive it all the way through to Gatlinburg, or you can choose to go halfway to Newfound Gap—maybe even Clingmans Dome. Either way, they'll be plenty of pull-off areas where you can park and enjoy the spectacular scenery.
What's also great about Maggie Valley is you have the Blue Ridge Parkway for your scenic drive. You probably won't want to drive all 469 miles of this famous—and extremely scenic—drive through the mountains; however, you can still get some stunning views. You can head to Cherokee at the southern end of the Parkway, or you can head to Waterrock Knob. The sunsets here are absolutely awe-inspiring, and it's quite the popular area for hikers.
2. Attend an Event or Festival
There's plenty of activities in store for the tourist looking for things to do in the Smoky Mountains at Maggie Valley, NC. You'll feel a better sense of community here, as it really doesn't feel like a hotbed for tourist activity—and it shows in their events lineup that rivals local festivals. The people all over the Smoky Mountains are appreciative of travelers to the area, but it just feels a little different here.
The Spring opens up the events schedule with a car and truck show that doesn't have the same effect in the tourist areas. While traffic does slow things down, that's what most tourists are here to do anyway. The summer is peak season for many arts and crafts shows, bringing in vendors from all over. Here is when you can enjoy many different foods and live demonstrations, as well, so bring some extra cash.
You'll want to support many of these hard-working individuals and businesses that want to spread their joyous creations to a curious audience. The festival grounds are the place where these many events are held, with their Lighting Up Maggie Valley celebration kicking off the Christmas season on the Saturday after Thanksgiving. This is especially a treat!
3. Go on a Hike
Hiking trails are numerous and should be one of you things to do in the Smoky Mountains when staying in Maggie Valley. Most people that visit aren't naturally hikers, but with so many trails at different levels of difficulty, it's hard to resist doing something against the grain—especially when it's vacation time.
Art Loeb Trail
Although not technically in the Smoky Mountains, the Art Loeb Trail isn't far from Maggie Valley, but it's definitely the most challenging one nearby. Named after an area hiker, the trail runs 30 miles, passing through rough terrain. It starts low—at the Davidson River—and runs all the way up to Black Balsam Knob at an elevation of well over a mile above sea level. This is certainly not for the faint of heart.
Graveyard Fields
Graveyard Fields is one of the easiest trails to hike when you're looking for things to do in the Smoky Mountains area near Maggie Valley. Its ease makes it a popular visiting place for families that want to do something they don't normally take up. It's especially nice in the hot summer, because this trail offers some wading pools so you can keep cool during your walk. There are a couple of side trails along the main one that will take you to the Lower Falls and Upper Falls, but the main one will take you to an quite an impressive display that will be well worth a couple hours of your day.
Blue Ridge Parkway
If you chose to do a Blue Ridge Parkway scenic drive, you have several options for hiking nearby. Some of these spots take you to points along the Art Loeb Trail, so you don't need to do a long trek along that epic trail. Milepost 420 will lead you to a section of trails where you can view magnificent balds in the North Carolina mountains. This milepost is where you can walk to the bare walk summit of Devil's Courthouse. Milepost 431 takes you to the Richard Balsam Overlook, which is the highest point on the Blue Ridge Parkway and offers a 1.5 mile guided trail. Then Milepost 451.2 is home to Waterrock Knob Visitors Center, giving you a 1.2 mile trail that leads you to incredible Smoky Mountain view atop Waterrock Knob.
4. Ride the Rapids
While you're probably looking for some peaceful relaxation during your vacation, you'd be lying if you said you have no desire to do anything thrilling on your trip. Going whitewater rafting isn't just an activity for daredevils when your looking for things to do in the Smoky Mountain; people of all ages enjoy getting out on the water and experiencing some cool, rushing rapids.
Rolling Thunder River Company
Rolling Thunder River Company gives you a choice of what river you'd like to tackle for your rafting adventure. Starting with the Nantahala River—the closest one to Maggie Valley—this is probably one that you'll want to do if you're not ready to take your adrenaline meter up to 11. It's family-friendly and allows kids as young as 7 to participate in the pleasures of this activity. The Ocoee River takes the excitement up a notch without making it an extreme thrill ride.
Kids need to be at least 12 though, and there are several sections of the river that you can choose to do as well. If you just want to go tubing, well, there's an area for that too! For a nice and peaceful float, the Toccoa River is there to let your cares drift away for an afternoon of calmness. This experience offers canoeing and kayaking and is available for children as young as 5. This is a fantastic way to explore the deep valleys of this region!
Rafting in the Smokies
Rafting in the Smokies is located in near Maggie Valley with its actual address putting it in Hartford, TN. This is perfect if you want your options all to be in one place, as you can choose your own rafting adventure without traveling to a different area. You can do some actual whitewater rafting, or you can do a serene family float on the river. The Upper Pigeon River is where all the thrills are, and you don't need experience to accept this as part of your afternoon adventure. Kids as young as 8 can tackle this, as you are given thorough instruction from an experienced river guide that will make your day quite an exhilarating one worth remembering
5. Visit Elevated Mountain Distilling Co.
We're going to take the excitement level down a few notches and introduce you to one of the more popular things to do in the Smoky Mountains near Maggie Valley, NC. A visit to the Elevated Mountain Distilling Co. isn't one for minors to fully engage in, but the adults will find it tasteful. Gatlinburg and the entire Smoky Mountain region has seen a plethora of legal moonshine distilleries opening, and it has proven to be a boon to the area's economic muscle.
Elevated Mountain Distilling is a little different, because you feel like you are an active member of the process. Upon stepping inside, you'll be surrounded by a spacious areas, but you can dive into the belly of the distillery by taking tours along with a complimentary tastings that feature their showy shines, whiskeys, and vodkas.
Moonshine
Speaking of their spectacular spirits, they take great pride in crafting batches that stay true to their Smoky Mountain roots. As of right now, they only have a couple flavors of moonshine—peach and root beer flavored white lightning—but keep an eye out for more in the future. Their whiskeys include the Purchase Knob Oak Reserve and Purchase Knob, but they have 3 more in the works real soon. At the moment, they only offer one vodka—Hurricane Creek—and it's a corn-made liquor with water sourced from a stream that runs through Maggie Valley. Now that's as pure of a taste of the mountains as you can get!
6. Visit Wheels Through Time Museum
Motorcycle enthusiasts unite! If you love these two-wheeled motor machines, a visit to Wheels Through Time Museum should be on you list of things to do in the Smoky Mountains. Maggie Valley is proud to be the location of this prized museum filled with vintage motorcycles of days gone by—well over 300 of them. Here you can find the American-made Harley-Davidson, Indian, Henderson, and a slew of other horses that are a part of every motorcyclists' dream collection.
The Exhibits
Inside are other fascinating things related to the classic motorcycles themselves. The exhibits spotlight some rare finds and include some of the motorcycles that helped provide the United States with an edge during the second World War. It's pretty safe to say that these exhibits will interest more than just the motorcycle man or woman; it's a trip back in time that'll interest anyone with even a passing desire for history.
The Wheels Through Time Museum is a 38,000 square foot building that opened in 2002, but its collection was started long before this date. Dale Walksler, the founder of the museum, started his collection back in 1969. After moving it to his Harley-Davidson dealership in 1977, his hobby grew to give him an opportunity at this special location, where it will serve as a place where history can be preserved for years to come.
7. Watch and Participate at Stompin' Ground Dance Hall
If you're looking for things to do in the Smoky Mountains in Maggie Valley, you can find some good, clean fun waiting for you at Stompin Ground Dance Hall. This fun little entertainment barn was opened in 1982 and is the perfect venue for some old-fashioned square dancing and clogging. Visiting dance groups perform here often, and the dance floor is normally cleared for them in between guests filling the floor with their own partner or group dances. Bands will perform popular bluegrass and country songs past and present for visitors to dance the night away. The biggest competition held here is an October clogging contest that has proven to be quite the draw.
Much of its appeal isn't just because it provides a great night of fun; it's also popular because it's a stop on the Blue Ridge Heritage Music Trail. This trail gives you a map in which you can travel to many different locations for events and festivals where the music keeps playing, and the entertainment is endless and extraordinary! If enjoy music from this region you're going to love what you find at Blue Ridge Music Trails where they maintain a comprehensive list of the all the different locations with venues to see a variety of different music styles and fun for all ages.
8. Play at Maggie Valley Golf & Resort
Golf is another sport that popular with people of all ages, no matter how frustrating it can be for us amateurs. At Maggie Valley Golf & Resort, it's definitely worth putting on your list of things to do in the Smoky Mountains. Playing at this beautiful golf course with the stupendous mountain backdrop proves you don't have to hike to get in plenty of exercise on your vacation. Until you play, you really don't realize all the effort that goes into playing a round, but let's show you a little of what to expect here—besides magnificent views.
This course in unlike many, in which you can buy a membership or book a tee time. Rates will probably be a bit higher than your local golf course, but it's worth it for the experience of playing in such a wonderful environment. The course sits on 30 acres with the total distance of the holes being 6,500 yards. You can play the Valley Nine for a nice beginner warm-up course, or you can accept the challenge of playing the Mountain Nine, which rises 800 feet and sends shivers down the spine of good golfers, but at least the views will be awesome if you fail spectacularly.
9. Go Trout Fishing
Being a designated Heritage Trout Waters area makes it one of the great things to do in the Smoky Mountains for trout fishing. As one of the five areas with this distinction, Maggie Valley proud to be on the list, and it's certainly proven to be a hotbed for people who love to take advantage of this relaxing hobby.
There are quality fishing opportunities in the Maggie Valley area with its abundance of streams and rivers flowing from many locations in the Smoky Mountains. If you wish to purchase a license, the NC Wildlife Resources Commission makes the process an easy one. All you need to get a Mountain Heritage Trout Waters license is to go online at www.ncwildlife.org, or by calling 888-248-6834. It's valid for 3 days and costs just $5 for persons aged 16 and older.
The full list of places where you can enjoy a day of fishing with this license are as follows: Upper Frank Mehaffey Bridge, Lower Frank Mehaffey Bridge, Fire Top Road Bridge, Ghost Town Walk Bridge, Maggie Valley Post Office, Maggie Valley Methodist Church, Rich Cove Road Bridge, Behind Carolina Nights Dinner Theater, Evans Cove Road Bridge, Sanibel and Heart Lane, Behind Springhouse Lounge, Behind Meadowlark Motel, Upper Moody Farm Road Bridge, Parham Park, Hall Drive Bridge, Hall Drive, Johnathan Valley School, and Fox Run Road Bridge.
10. Lounge in Spectacular Accommodations
Finally, there's nothing more relaxing than the accommodations you choose to stay in before you go out searching out all of these things to do in the Smoky Mountains near Maggie Valley. Feel free to pamper yourself with some of the finest places to stay in the area, whether it's one of the many vacation rentals and cabins, B&B's and Inns, or hotels. There is no wrong answer, as long as you're comfortable and satisfied with your experience.
There is certainly no shortage of things to do in the Smoky Mountains near Maggie Valley. It's a lovely area that gets a good amount of tourism from folks who've done their research and come to the conclusion that this is the area that they would rather visit on their vacation. Come see for yourself the beauty that awaits you!