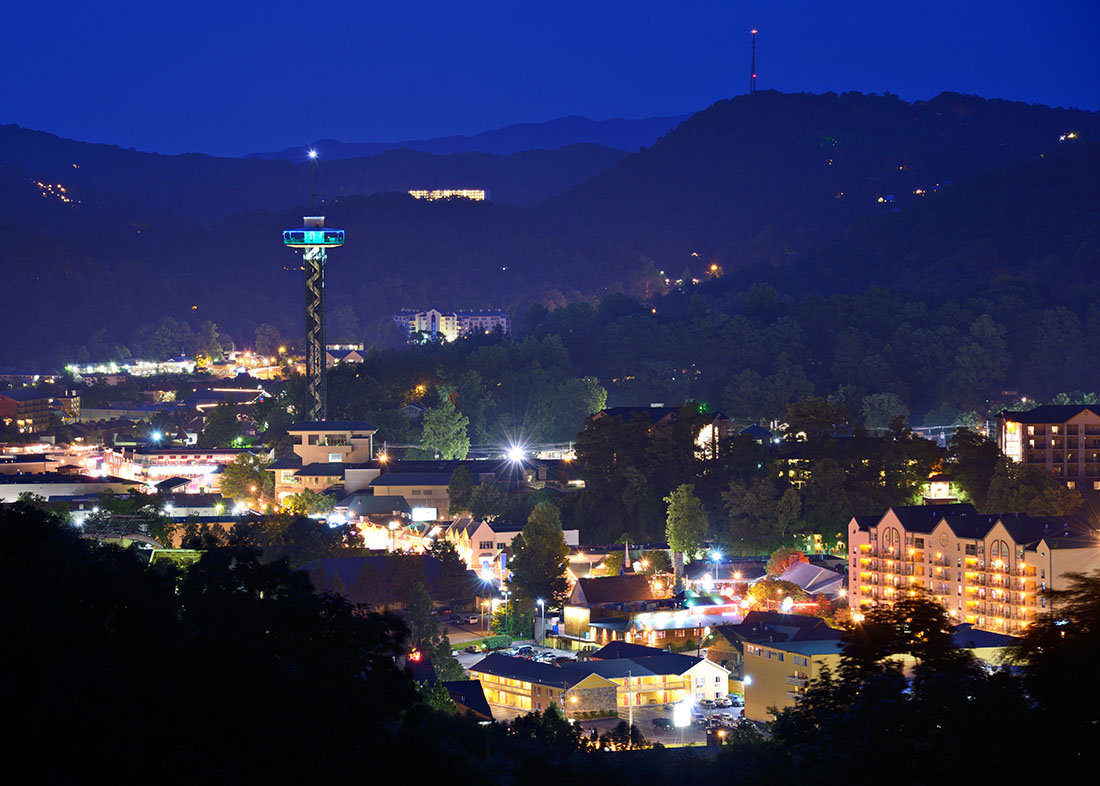 Tourism in the Smoky Mountains surpasses 11 million yearly visitors. Therefore, it's pretty easy to see that there's plenty of things to do. Even if you have varied interests, there's something for everyone. You probably already know that the summer and fall are the busiest season of the year for this scenic area.
The winter isn't necessarily slow either—especially right around the Christmas holiday. Luckily, we've decided to educate you on the best events and attractions that are special to this season. Not only will you enjoy them, you will be drawn to a totally different environment that's beautiful to behold once you get the chance to visit. Here are 8 Awesome Winter Things To Do in Gatlinburg and Pigeon Forge during this time!
1. Winterfest in Gatlinburg and Pigeon Forge
You don't have to look far to find great things to do in the Smoky Mountains during the winter. It all starts with the illumination of the lights that spread through the entire area. This is to the tune of several million in number. What makes it even better is that these lights are economical and energy-efficient. Gatlinburg made the decision to replace their 5-watt bulbs with LED lights. This saved them a boat ton of money and kept the lights running for the entirety of the season. This goes through February.
The kickoff to Winterfest in Gatlinburg is also the time for the Chili Cookoff. This is an annual event that has been running hot for almost 30 years. It features all kinds of vendors—some of them businesses in town—vying for the prize of best chili. Admission is $10, and you can sample as many as you like. Just be sure to make your vote for your favorite amongst all the quality recipes! Recently, there's been tribute bands that entertain the crowd with familiar hits of the past for added value.
Pigeon Forge's Version
Not to be outdone Pigeon Forge also has their version of Winterfest. The many lights that turn the town into a colorful Christmas concoction. Located at Patriot Park next to The Old Mill, the celebration is a family-friendly one. It has games, food, and the kicker being a free tour of the lights via trolley. Both tourist destinations offer a Trolley Tour of Lights, but Pigeon Forge offers a free tour to kick off the start of the season. This makes it a desirable and popular event here. Details of the Gatlinburg tour is next on the agenda of things to do in the Smoky Mountains in the winter.
2. Gatlinburg Trolley Ride of Lights
Are you looking for the best guided tour that'll make you giddy for good this season? Check out the Gatlinburg Trolley Ride of Lights! It will ensure your attitude is filled with positivity. This tour is highly recommended for your holiday visit. The fact that it's 45 minutes of nothing but the most spectacular display of Christmas you've ever seen makes it totally worth it! The light displays can be quite elaborate. They depict many of the animals of Christmas lore and the Smoky Mountains as well. You will see just how amazing the amount of work that's put into making this a wonderful and whimsical adventure into the scenic symbols of the season.
Tours occur 3 times nightly from the kickoff of Winterfest in November through the latter part of January. The trolley departs next to the Ripley's Aquarium of the Smokies and returns to this same location upon completion. Tickets are just $5! If you're taking a child 3 and under then they're free so long as they can sit on your lap. The only times these tours pause during season is Christmas Eve, Christmas Day, and New Year's Eve. Therefore, you have absolutely no excuse not to see this spectacle on an efficient and reliable mode of transportation. Speaking of New Years Eve...
3. New Year's Ball Drop and Fireworks
One of the premiere things to do in the Smoky Mountains where the streets are shut down and full of spirited people is the New Year's Eve Ball Drop and fireworks display that follows. In Pigeon Forge, their celebration is held at the relatively new and bustling place called The Island in Pigeon Forge; otherwise known as the location where the giant ferris wheel stands. Many people opt to celebrate the New Year here simply because it's a smaller scale event to Gatlinburg's party. Parking is free here, where it's not in Gatlinburg, unless you're staying at a downtown hotel. There's tons of shopping, entertainment, and games available at The Island, and you won't be disappointed in this event unless…
That's right, the biggest event in the Smokies is held in Gatlinburg. The streets packed with party people ready to ring in the calendar change with a bang! Do you want to know what it's like standing amid a sea of thousands of revelers? Then you can't create a more perfect opportunity. It may seem like chaos, but it's a wonderful event that goes off rather smoothly despite the big crowd. The cherry on top is definitely the countdown and flickering Space Needle as it reaches a crescendo with the incredible fireworks display that starts the year in style!
4. Hit the Slopes at Ober Gatlinburg
For the exercise-minded person who doesn't let the cold deter him or her from fun activities, some high-intensity skiing and tubing at the classic Ober Gatlinburg ski resort should be in short order. While there's plenty of activities that keep the fun going during every season, it's the winter that brings the most enthusiasm for this attraction.
Normally, the slopes open officially for skiers in December, but Mother Nature can sometimes have her own ideas as to when they should open. Nonetheless, an experience skiing should be a spectacular way to spend part of your Smoky Mountain vacation. Why? Well, for a beginner, you don't have to hit the slopes without a lesson first; in fact, it's mandatory. Ober Gatlinburg has a set of instructors that will teach you the basics of skiing and snowboarding so that you can have a safe and enjoyable experience that you're sure to remember!
Tubing
While skiing brings its fair share of active participants, the all-ages winner for the most popular outdoor winter activity at Ober goes to...tubers! Tubing involves no thorough lesson or skill. It's just plain fun for kids and the kid at heart soaring down the hill in an inflatable inner tube. Of course, this means the demand for tickets is high and wait times can sometimes be long, so plan accordingly, and then you'll have the best of times, especially if you have smaller children.
Rules should be heeded, as safety is still a priority when it comes to this kind of activity. Riders should and must be at least 6 years old and 42 inches tall for solo riding. Children under 3 are not permitted, but they won't have to wait long for the fun. Tickets are $25, and you can have all the excitement you can cram into a 90-minute tubing session. Ride the tram and be prepared for a full day of great winter wonder!
5. Watch a Spectacular Themed Christmas Show
The great thing about having all sorts of things to do in the Smoky Mountains is the exclusivity of some of the seasonal performances at one of the Pigeon Forge theaters. Most of these end their yearly grind with a Christmas show before taking a much needed break at the beginning of the next year.
Country Tonite
Country Tonite is one musical theater with no shortage of talented performers, and their Christmas Show puts an exclamation point on it. You'll get to see singers and dancers putting on an extravaganza of holiday music and bits that are acted out in a way that differs from their normal routine. The costumes themselves are creatively stunning in an homage to the season. It will positively put you right mind-frame and spirit that might just bring a tears to your eyes.
Comedy Barn
If you love comedy, then the Comedy Barn will bring tears to your eyes in a totally alternative way. This is a throwback to some old-school and old-fashioned comedy that is 100% kid-friendly, but don't be surprised to find some winks and nudges with some of it that may find the adults in your group snickering. The comedy at this time is, of course, all centered around the Christmas season, so expect to find some things in here that aren't performed on a regular basis any other time of year.
Dolly Parton's Stampede
The grandest show of them all during the Christmas season is undoubtedly at Dolly Parton's Stampede. There's quite possibly no better grouping of talent here and their Christmas performances are over-the-top in the best possible way! The arena is transformed and the acts are thrilling, even with the changing of the season. They put their own stamp on the holidays with an accurate representation of the true meaning of Christmas. The family will be glad this is one of their planned events for sure!
6. Take a Peaceful Hike
Yes, we do understand that it's colder in the winter—most especially in the mountains—but that absolutely should not mean a hike is out of the question. Honestly, you don't have to go deep into the mountains to take a peaceful hike; in fact, this is one of the more ideal times to take such a journey. The trails are much calmer, and if you are fortunate enough to get some decent weather on your winter trip, you won't have to worry about spur-of-the-moment road closures.
To put it simply, there's nowhere near the foot traffic on trails during this time of the year, because unfortunately, many people think the mountains are off-limits in the winter—not true in most cases. A few trails close for the season, but many are still good for hiking.
Approaching a Winter Hike
Here's how to approach doing a winter hike: You're already going to do plenty of hiking on your trip—walking back and forth down the Parkway and in and out of shops. Why not at least try the Gatlinburg Trail. Not only can you take your dog on this trail, it connects Gatlinburg to the Sugarlands Visitors Center. Not a single mile can be put on your vehicle! Dress appropriately for the weather conditions and take a relatively flat hike that takes you along the Little Pigeon River, over a bridge, and even by a historic cemetery near the Park headquarters. Now you know that is now a real possibility on your winter vacation!
7. Enjoy the Beautiful Snow-Capped Smokies
Even though you'll be inundated with an endless supply of things to do in the Smoky Mountains, those peaks are simply awe-inspiring in the winter months. They are beautiful at any time of the year, but your first look at the snow-capped Mt. LeConte will simply be the frosting on your cake during the winter. You can't simply get a good view if you spend all your time downtown in the shops. We recommend you spend part of your morning or afternoon during the limited daylight hours and take a drive. You don't even have to take back roads to see the different mountain peaks dusted in a glorious white powder that is inspiring to anyone that appreciates outdoor beauty.
If you're not interested in driving or the weather is uncooperative, take the SkyLift up Crockett Mountain for glorified views of this visual phenomenon. Another fantastic idea is a ride up the elevator to the top of the Space Needle, where you can observe much more than just snow-capped mountains. If you're not at all fond of heights, there are places you can stay in and around the area that will provide you with the most amazing views without even moving from the inside of your temporary residence. While we're on this topic, we'll just give you our final activity—if you want to call it that.
8. Bask in the Warmth of Your Accommodations
Sometimes, the best things to do in the Smoky Mountains involve doing nothing at all. A vacation for many of us is meant to be a form of peace and relaxation that we can't get away from in our normal day-to-day lives. When we decide to take a vacation to the Smokies in the winter, the prudent decision for our well-being is just to sit inside the cabin, turn on that fireplace, and give yourself a few moments to really think about—you.
Hectic is just one word to describe the way things really are, and too many times we forget about ourselves and what we really want. While it's crucial to be a good role-model for our kids, a stay in the Smoky Mountains in the winter is a great time to be a great parent AND get the proper perspective.
The Cabins
Smoky Mountain cabins are awesome in many ways that can give you these feelings of clarity. The amenities they provide go above and beyond guests' expectations, with enough games—board, table and electronic—to keep you occupied when the conditions are bitter, because it's not always ideal or safe to engage in outdoor activities during cold and blustery patches. This rounds out our opinion that there truly is something for everyone to be excited about when it comes to a winter vacation in the Smoky Mountains.
Conclusion
We hope you enjoyed taking a look at these 8 awesome winter things to do in Gatlinburg and Pigeon Forge during the winter season. Are you convinced that there's enough activities that the family can enjoy? Do you still think the cold will prevent you from having just as much fun as any other season? If you answered these questions in a way that will lead you closer to a vacation in the winter, we'd love to see you here! It really is a paradise if you can get past some pesky cold patches that you may in fact embrace!