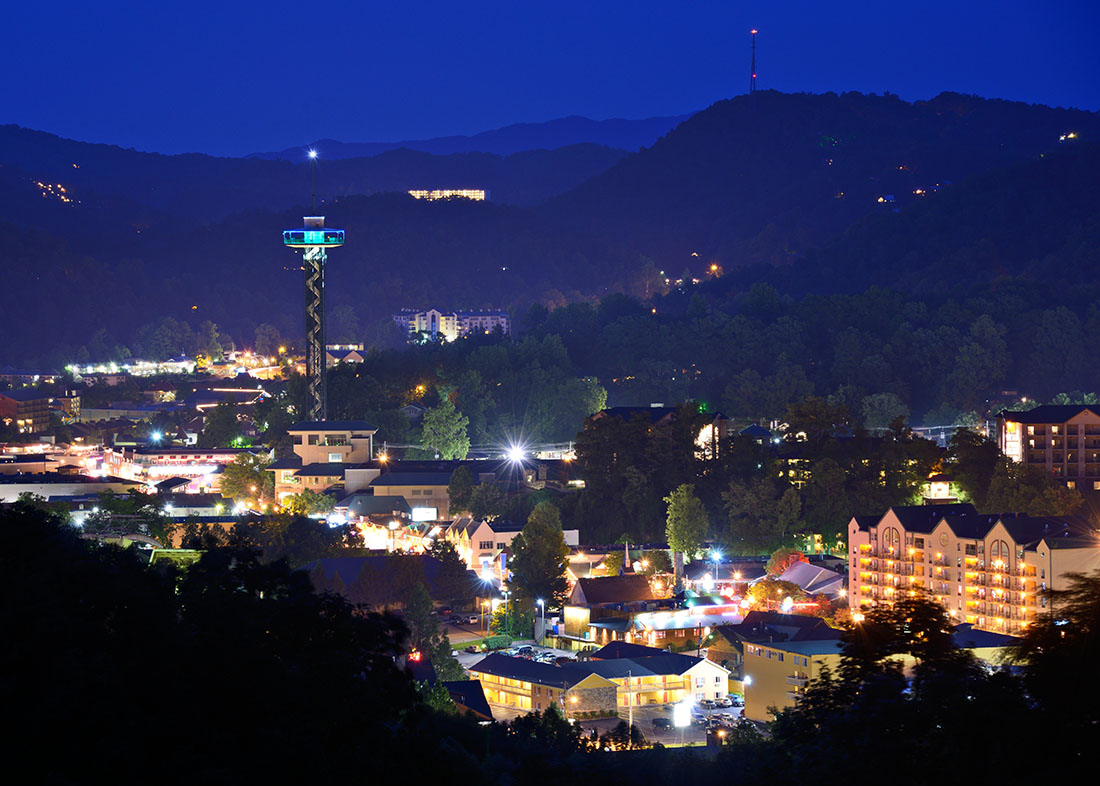 There are many misconceptions people have of Gatlinburg before they even begin their research. While most of these can be dispelled immediately with a basic look-up of this beautiful tourist attraction, some are still believed even after a visit.
We want you to have the most enjoyable time--and not miss something based on these misconceptions. Therefore, is important to point out what is actually true about this community and the area as a whole. That way it will enable you to spread the word to others what Gatlinburg and The Great Smoky Mountains really offers to the vacation-seeker.
1. Pigeon Forge and Sevierville are Gatlinburg
This can really drive the frequent visitor to the area a little crazy. Many people think they've arrived in Gatlinburg as soon as they get off Exit 407. This when they'll see all the billboards and attractions. Not true. Depending on traffic, you're still up to about an hour away. Sevierville is the first town a few miles down the Winfield Dunn Parkway. After making a right to continue on the Parkway you will enter Pigeon Forge.
Gatlinburg is finally reached after the Spur. This is a section of road that splits and closes in around you as you enter the mountain territory. You will definitely know when you get to Gatlinburg, since it contrasts with the flamboyance of Sevierville and Pigeon Forge. Gatlinburg is definitely a mountain town that has character putting it in a separate class of its own. This causes many people to have that debate. Should I stay and spend most of my time in Pigeon Forge or Gatlinburg?
2. I Don't Have the Right Vehicle to Get Around in Gatlinburg
This misconception comes from the common belief that the area sits on a mountain. It is true that the roads are hillier--especially to a Midwesterner. However, you don't need a big truck with four wheel drive just to get around different points in the town. With that being said, it's not a bad idea to have one if you plan on a winter visit. Or if you have a cabin in the mountains, but it's certainly not necessary if you have a downtown hotel reservation.
Even a trip to points outside Gatlinburg are easily traversed by a small car. The Arts and Crafts Community and nearby hiking trails can be accessed without a four-wheel-drive vehicle. The one thing you should be careful of is taking the many curves around the area too fast. Be wary of posted speed limits. Also, use common sense by keeping distractions at a minimum when driving around unfamiliar territories.
3. There is Nowhere to Park in Gatlinburg
This is mainly an excuse for those that visit during busy times. Even then, there should still be enough parking to find a spot--even if it's not in an ideal spot. Yes, it's true that most of these lots are paid lots, and some people bemoan this fact about Gatlinburg. However, most of the town is very walkable. With over 1,200 municipal parking spaces available, this makes it easier.
Plus, there are a number of free lots that can be found. There's Behind Calhoun's Village (with a food receipt from the restaurants there), NOC, River Road, and on the Parkway early in the morning until 9. If you're staying in a downtown hotel, you won't even need to take up an additional spot for parking. That's if walking is not that difficult for you--and it's free.
4. There's No Good Shopping in Gatlinburg
What many people believe even after visiting is how much they didn't like the homogenous shops that are on the Parkway. There are various shops on the Parkway that offer cheap T-shirts and sweatshirts. However, you shouldn't just be driven inside a business solely based on the large printed signs in the windows.
There are many shops in Gatlinburg with more variety in their apparel. Stores such as Jonathan's, The Maples Tree, Ranger Bob's, and NOC are just a few. They offer Tennessee-themed shirts that cost more. However you should find that after purchasing and wearing them they will last much longer a $5 shirt. By going into shops in The VIllage and definitely The Arts and Crafts Community, you should find plenty of unique finds on your vacation as well. Therefore, you won't be limited to just an apparel item for a souvenir.
5. Everything is Too Expensive
The previous misconception puts an unflattering light on cheap T-shirt shops. However, to the budget-minded vacation-goer this is actually a good thing. A vacation can be expensive! These shops cater to those that want their money to go far on their trip. Besides that though, you always hear these things when it comes to tourist towns: "Of course, you can always expect prices to be higher there".
Believe it or not, this isn't exactly true. The only thing people can expect to pay more for is taxes. You should expect to pay at least 10% on sales tax. Restaurants and shops all along the Parkway you should find are generally very comparable. This is especially true when it comes to value! If you still aren't a believer, go to local mom and pop place and see what you think. If you're still not sure, then you can still make that money go a little farther. Try taking advantage of the many places that offer tons of free samples of their food offerings.
6. There's Nothing But Ripley's Attractions
There are certainly Ripley attractions here just like Myrtle Beach and Niagara Falls; however, this doesn't define the town in its entirety. Gatlinburg is finding new ways to entertain people every year. If you don't agree, you should check out the Impossibilities Magic and Mentalist Show, or visit the new Anakeesta attraction, or take a ride up the mountain to Ober Gatlinburg. Cooter's is a nice museum full of Dukes of Hazzard merchandise and memorabilia, and Sweet Fanny Adams might be the funniest, most enjoyable moment of your stay in Gatlinburg with its vaudevillian-styled comedy bits.
There's nothing wrong with the Ripley's attractions, anyway; the kids and adults should love the Ripley's Aquarium of the Smokies--a centerpiece attraction in Gatlinburg.
7. Not enough Kid-Friendly Activities
Gatlinburg cannot compare to Pigeon Forge in the kids activities department; that much is true. But if you think Gatlinburg doesn't have anything for the kids to enjoy, let's give you a list to persuade you. Cooter's--which was mentioned in the last one--has a mini golf area upstairs and a small go-kart track inside that is perfect for the young one. There are at least three other mini-golf courses that are all unique and a blast for kids.
The base of the Space Needle has the biggest arcade in Gatlinburg, and there are a few others for enjoyment on the Parkway too: one of which is Fannie Farkle's, also home of the foot-long Ogle corn dog--for the kids too, of course. A new mountain coaster opened this year--making it three for Gatlinburg--and Ober Gatlinburg is an outdoor wonderland in the wintertime for kids that love to go tubing, skiing, and just plain run around in the snow. Are you convinced yet?
8. Moonshine Has Taken Over the Town
This is a somewhat controversial topic, but it's one that shouldn't be ignored because of it. Some people don't like alcohol, and most have reasons why they don't. A lot are difficult for them to discuss and rightfully so. Some will believe this to be true, anyway, but this at least serves as a warning to those that don't want to be around it.
There are four different places in Gatlinburg that serve as distilleries offering their versions of a once illegal and immoral practice to some. Gatlinburg has skewed a little more in the adult appeal with this, but it should be noted that there are laws that keep the distilleries in check, and Gatlinburg shouldn't be known as a moonshine town just because a few distilleries opened up. This article alone should tell you that Gatlinburg isn't overrun with moonshine and indecency; it still maintains a family-friendly charm all its own.
9. It's Crowded All The Time
There is truth to this if you only go during the months of July and October--peak seasons in Gatlinburg. Let's just say that if you play your cards right and alter your schedule a bit, you can avoid the bustling nature of this tourist town. The best time to do anything is early in morning, that way you can get a head start on breakfast and hit all your favorite stores without bumping into your fellow tourist too often.
Also, if you go after the holidays in the winter, you may not experience crowds, whatsoever. Weekdays can get a little crowded, but it pales in comparison to the crowds on the weekends--no matter what time of year. The same rule applies to anything you do: The early bird gets the worm--faster than anyone else, especially.
10. The Food Is Nothing Special Here
What? How dare you say that about the food down here in Tennessee! Just kidding, but really, what is hard to understand is that some people think the food isn't good here. Everyone has their own tastes for what good food really is, and that is perfectly fine, but in terms of Southern comfort foods, barbecue, and some fine dining, Gatlinburg has the answer to home-cooked, scratch-made, and satisfying dishes.
You should find that the portions are quite large here with breakfast being king with all the great pancake houses; plus plenty of steak restaurant to satisfy the meat and potatoes eater. The fresh made ingredients aren't just limited to barbecue and breakfast; it also broadens to include pizza places with Big Daddy's, Best Italian, and Taste of Italy giving us their own recipes--secret, of course--for entrees that many other restaurants have a tendency on which to cut corners. It's the kind of pride in their food that you can actually taste.
11. Gatlinburg Isn't Walkable
Many people feel like how the tourist areas appear in Pigeon Forge also is how Gatlinburg does as well. Pigeon Forge isn't very friendly when it comes to navigating on foot unless you're not planning on walking very far--or if spending time at The Island or The Old Mill. Gatlinburg is an extremely walkable town that can be traversed, criss-crossed, and hiked rather easily for the average person--with the only exception being a semi-steep hill midway through town.
Even River Road is a nice walkable option--and you can stop and skip a few rocks by the River or just take in your surroundings. This makes Gatlinburg a welcome respite from constantly trekking in and out of traffic in the nearby tourist communities of Pigeon Forge and Sevierville.
12. The Smoky Mountains Are Too Far Away
It's a shame that some tourists don't take advantage of what they maybe didn't realize when they came to Gatlinburg: The Smoky Mountains are right on Gatlinburg's doorstep. It's an awesome sight to see when you get close enough to view the mountains from the Parkway before reaching Sevierville, but they still seem quite far away, and this tricks people into believing the Smoky Mountains are too challenging to reach.
Newfound Gap Road is a welcome and awe-inspiring drive through the Smoky Mountains that can change many minds about the area--in a positive, inspiring way. There's no need to be intimidated; even though it is a steady climb, Newfound Gap is a major highway that just happens to bisect the Smoky Mountains and provide some of the most amazing views east of the Mississippi.
13. Gatlinburg Is A Typical Unfriendly Tourist Town
Opinions can run rampant on the idea that the tourist trap town is a place where people only care about your money as a visitor. Well, ask anyone who's been here multiple times, and they will tell you that Gatlinburg is far and away the friendliest place they've visited. Southern hospitality is simply the way we would all like to be treated, and for the fast majority of people who make this their home, this is how they conduct their business.
Saying "honey", "sweetheart", and "baby", isn't meant to offend anyone; it's the way these people were raised. They were taught to be kind and appreciative to others and be thankful for the money people spend to support their business. You'll probably find that they are even friendlier than the people in your hometown--with their tendency of striking up a random conversation with you about anything from the weather to asking about your vacation.
14. Gatlinburg Was Mostly Destroyed By the Wildfires
This is clearly the saddest of all the misconceptions about Gatlinburg. The coverage of the wildfires--as fair as it was--caused many people who never knew much about it to begin with, to believe they could never visit the town--even if they wanted to--anymore because it was gone. It is true that the fires of November 2016 caused devastation and tragedy, but the Parkway and The Arts and Crafts Community was virtually untouched; although, they came a little too close for comfort.
There was actually quite a lot of randomness of the destruction mixed in with specific areas outside the area--especially many cabins--that caught the brunt of it. Some businesses have unfortunately took a hit with this perception, but Gatlinburg remains strong and will continue to welcome the millions of tourists that visit the community.
Conclusion
These are some of the most common misconceptions about Gatlinburg. Hopefully, your research will help make your trip to the Smoky Mountains an enjoyable one. There are still plenty of accommodations available if feel that staying in Gatlinburg is not the ideal location for you in which to stay. If nothing else, you now have 14 different options to convince--or sway--you into the decision that's best for you and your family.