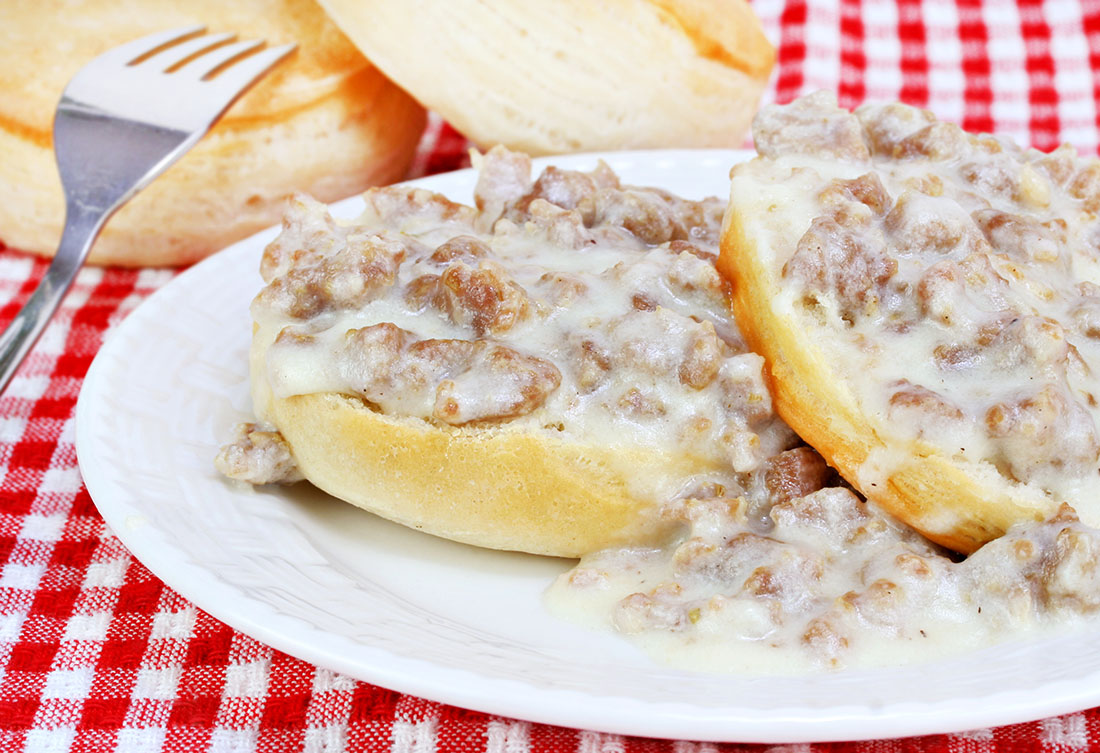 The following article features 12 popular Southern Dishes. These are easily discovered when you make a trip to the Smoky Mountains. These are all Southern classics that have been enjoyed by its people for generations. When you make a trip to the Smoky Mountains these dishes can be found in many restaurants in the area. Each food--while not necessarily all having its origins here--has an important history to it. They have helped shape the way people make it today.
These same techniques are demonstrated in many restaurants in The Smoky Mountain tourist area. They help introduce people unfamiliar with these foods in their region to a whole new cuisine. Maybe they inspire them to bring it back home into their own kitchens. The article will also give some examples of where you can find these 12 delicious foods in The Smoky Mountains.
12 Delicious Southern Dishes to Discover in the Smokies
If you've never been to the South, chances are pretty good that you've heard about all the good grub you can find on a potential visit here. Chances are also good that your first trip to the South will more than likely be to the Smoky Mountains. This is based on the Great Smoky Mountains National Park being the most visited in the entire United States. There are many different hiking trails and picturesque landscapes that dot this area of East Tennessee. It's only natural that you'll get quite hungry doing all that exploring. This is whether it's on a vacation or just a day trip.
So let's introduce you to some of the fantastic food that you hear about on the cable networks. You can be assured that same food is on display at many of the restaurants in the main tourist areas of The Smoky Mountains.
Barbecued Meats
There are many places in different regions in the United States that have their own interpretations of barbecue. Tennessee is just one of those places where there's plenty of sauces to put on your favorite meats. The owners of all the barbecue restaurants take pride in smoking their meats for long periods of time. This is in order for all the flavors of their homemade specialties to absorb through all the layers. This creates a masterful marriage of meat and sauce.
Some like to have their sauce a little sweet, like Bennett's Pit Barbecue does, and some like to accentuate the vinegar in the sauce, like Calhoun's. Each person has their own favorite sauce. People in the sauce are used to spotting the nuances of each one. It's easy to see why each state seems to have a special kind of barbecue sauce attached to its name. One thing is for sure: the Smoky Mountains has a nice representation of restaurants that gives it an appropriately "smoky" name for itself.
Country Ham
You may think to yourself: What is so Southern about something as ubiquitous as ham? Well, in the South, they take their ham-curing very seriously. In fact, the term country ham is derived mainly from the South. What makes them different from another tasty ham offered in restaurants here--sugar-cured ham--is that country ham is salt-cured. This is how servers describe the different hams they offer on the menu.
All around the Smoky Mountain tourist area restaurants can you find country ham as a side item. You can also find it as part of a main course. Therefore, it's simply not necessary to list the many places that have it on the menu. Most often, it's simply a sure thing to order no matter where you go.
Grits
It's no surprise that in today's world more and more people have now been introduced to a previously unknown food to regions other than the South. That food is a primarily breakfast food, grits. Grits are made when corn is coarsely ground into a meal, then boiled. They are often enriched with brown sugar, salt and pepper, and most especially, butter. This is because of course, we're talking about the South.
There are options for grits at most, if not all, breakfast places in the Smokies. They can also be ordered at many restaurants that are open for dinner as well. Grits can be an acquired taste for those who didn't grow up on it. When you're on vacation, give it a try with blue or cheddar cheese to enhance the flavor. You might just go back home with a newfound taste for the Southern specialty.
Fried Green Tomatoes
This is another genuinely Southern dish that has grown to be a popular item in many different parts of the country. Fried green tomatoes are the unripe version of the more popular red tomatoes. They are made simply by slicing and rolling them in cornmeal and finished by frying. In the North, they are sometimes made by using white flour. However, many choose to recreate the Southern way by using their methods.
This dish is not as easy to discover as grits and ham are in The Smoky Mountains. However, it's still relatively easy to discover in contrast to other areas in The United States. One restaurant--Pottery House Cafe and Grille--arguably does Fried Green Tomatoes better than any other restaurant here. In addition to having it on their menu as an appetizer, they also serve it on a BLT as a replacement for the more standard red tomato. Try it across the street at The Old Mill restaurant too and get an even bigger meal with it.
Pimento Cheese
Here is one cuisine that hasn't spread too far out of the South; certainly, not in the ways that the previous dishes have caught on in popularity. Many have heard of this Southern signature item. However, many get their first taste of it on vacation in the Smokies. It is made with mayonnaise, cheese, and pimentos, and can be used on crackers, chips, sandwiches, and vegetables. This is much in the same way as hummus. It's known as "the caviar of the South", but it's a much easier--and cheaper--food to obtain and create.
It shouldn't be a surprise to find it at the popular and relatively new Paula Deen's Family Kitchen. This is where it's served as an appetizer with crackers. Also, Local Goat in Pigeon Forge--known for its enthusiastically experimental and excellent burger creations--has a Pimento Cheeseburger. It's topped with the aforementioned pimento cheese as well as bacon jam and sauteed onions. How about that as an introduction to this Southern relish!
Fried Chicken
There really are few words to describe the popularity of Fried Chicken. Most people identify it from Colonel Sanders and the fast food chain KFC. However, its origins are mainly Scottish and African. In fact, many slaves brought their techniques for making the dish from their home country. This then became known as a primarily Southern dish because of it. Fried chicken is something that on the surface seems rather simple. However, throw in some spices and various methods of frying, and you can see why there are so many different variations. Many families do not give away their secret ingredients.
You don't have to go to Popeye's or KFC to get your fix of fried chicken; Mama's Chicken Kitchen in Gatlinburg is your local answer to good fried chicken in the area. They have buckets too, and you can say you supported local business! They are under the Johnson's Family of Restaurants umbrella that are exclusive to East Tennessee.
Chicken Fried Steak
Chicken fried steak throws people for a loop when they hear of this Southern cuisine. Despite its name, there is absolutely no chicken in this entree. It's only named this way because the methods of cooking this beefsteak closely resemble the fried chicken method. Even though it originated in the South and is known outside the region as a general association of the dish, the people in Texas would like you to think that it's not just Southern, but a Texan-styled specialty.
Even though it's not as elegant as other steaks, the methods people have used in its creation makes it a cheaper alternative. Here in East Tennessee, it's also known as country fried steak. You can find it at places that serve good old-fashioned diner food. This includes The Diner and Mel's Diner to name a few.
Buttermilk Biscuits and Gravy
Nothing says old-fashioned Southern cuisine quite like buttermilk biscuits and gravy in the morning. We're not talking about your grocery store bought biscuits, or even pre-packaged and processed gravy powders either. No, we're on to something good when we say this is what grandma used to make. Using items found in the cupboard that took some preparation. The secret as far as the gravy is concerned is fat; and when we say fat, we're talking about bacon grease as the special sauce here.
Buttermilk biscuits that turn out nice and fluffy on the inside while holding a nice outer crunch is a desired feature of a good biscuit, Southern style. Ingredients such as real butter loaded with saturated fats is not ideal for overall health in large quantities. However, it sure does make for a fantastic breakfast. Just ask the many breakfast restaurants in The Smoky Mountains what many people request when they make a visit! Just about every single establishment offers it, and they do it well.
Catfish
Certainly, Tennessee is not sitting next to the ocean; geographically it's surrounded by neighboring Southern states. This doesn't necessarily mean you can't find a good catfish meal in the Smokies, however. When migrants from Europe brought the cuisine over to the colonies, it became a very popular Southern dish. While its popularity finds it in cajun and creole country in the deep South, some of those people didn't have to travel very far to find a home for it here in East Tennessee when they wanted to start a Louisiana-style restaurant.
New Orleans Sandwich Company is a small restaurant hidden inside a shopping area in Gatlinburg serving up a fried version of catfish--and as part of a poboy sandwich. Over in Sevierville, Pawpaw's Catfish Kitchen serves a delicious fried catfish basket loaded with the sea treat and alongside a generous portion of fries and shrimp, if that's what you're craving.
Cornbread (corn pone, pudding)
In the Smoky Mountains, you shouldn't have to settle for just white bread as an appetizer or as a side item; that's why there's something called cornbread that's quite the tastier option. Corn has many uses, and cornmeal--like grits--has found its way into the hearts and stomachs of many Southerners. Cornbread's most valuable use in the South has to be as a complement to a good barbecue meal.
That's not all it can be used for, as many find it to be a necessary part of a meal consisting of either beans or chili. Cornbread can have it drawbacks if it's not cooked properly; it can prove to be a tough eat if it's over-baked and dry, but most restaurants in this heavily traveled area do a nice job overall. For an interesting twist on cornbread, go to Crockett's Breakfast Camp and taste the unmistakable cornbread in their "pancakes".
Black-eyed Peas
Like many other Southern specialties, the black-eyed pea had its origins across the pond and made its way to the South, becoming a tradition in many families' kitchens. This legume has its many nutritional benefits to go along with the fact that it's free from disease and the destruction of pests. Black-eyed peas are eaten in this part of the country as a tradition--and as a good luck charm--for New Year's Day.
This dates back to The Civil War era when Southern supplies were pillaged, and when the peas were left untouched, it turned into a symbol for positive fortunes in the future. In today's South--especially here in The Smoky Mountains--they fry them too, and at Mama's Farmhouse in Pigeon Forge, they are added as a topping on your house salad. Now that's a sure sign that you're in the South.
Sweet Potatoes
The sweet potato definitely has a home here in The Smoky Mountains with its sweet, starchy flavor that disguises its real identity as a root vegetable. Some people in other parts of North America know it better as a yam, but even Northerners mainly call it a sweet potato. Its versatility has been used to a great extent by home cooks in the South; not only can it be served as an entree, its sweetness lends itself nicely as a meal-finisher at dessert.
This can be seen in places like the Pancake Pantry in Gatlinburg and the Applewood Farmhouse Restaurant in Sevierville. The Pantry, of course, has one their famed pancake creations made from sweet potatoes and The Apple Barn area restaurants serve up a nice sweet potato casserole as a dinner entree. If you look even further, you may even find some sweet potato sauces for dipping purposes.
Conclusion
Now that your appetite has probably intensified after reading this article, you should have a pretty good indication that the South doesn't mess around when it comes to food. Their pride is exemplified with their scratch-made menu items featuring some of the best foods the South has given birth to and helped hungry Americans discover some good old-fashioned comfort food to come home to their kitchens and start cooking.