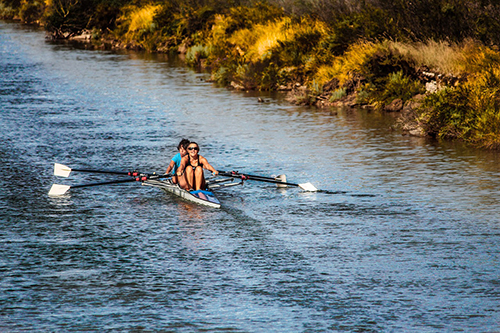 Are you looking for a place in the Smoky Mountains with fewer crowds and a wealth of outdoor activities? Townsend just might be your opinion of the perfect vacation. Townsend is located on "The Peaceful Side of the Smokies". There's good reasons why this quiet little village lives up to this moniker. They offer much of what the more touristy side does. However, due to its location, offers a wide range of outdoor activities that include horseback riding, working gristmills, tubing, and backpacking.
Each one of these activities gives people a way to enjoy the outdoors through guided tours and heart pumping fun. They ensure that a person can experience these adventures without flying blindly on their own. Of course, there are hiking trails that you can walk without the use of an instructor. That's if you want to go that route and experience the outdoors without spending the extra money. The following is a list of some of the more well-known and popular things to do in the Townsend area. They bring you closer to nature, whether it be thrilling or peaceful.
Tuckaleechee Caverns
Tuckaleechee Caverns opened to the public as a tourist attraction in 1953. It's been thrilling visitors with its rich history and rock formations. Located in the Dry Valley of Townsend, it features the tallest underground waterfalls in the eastern United States. Named "Silver Falls", it is an impressive 210 feet high and features two tiers.
Tuckaleechee Caverns is also notable because it's constantly being monitored for seismograph activity by the Department of Defense and The United States Geological Survey. Visitors can even get a look at actual worldwide earthquake and nuclear activity at the welcome center. The "Big Room" is part of the cavern that is the size of a football stadium; this is the also the largest of its kind in the eastern United States. Millions of different rock formations can be seen on the tour, which is about 1.25 miles in length.
Things to Know
There are a few other things you should know before you go. These will prepare you for your experience seeing natural formations that are millions of years old. Tuckaleechee Caverns is open most days from 10-6 p.m. and the price of admission is $18 for adults; $9 for children aged 5-11; and small children 4 and under are admitted free. Once inside, you will probably need a jacket since the temperature is usually a little on the chilly side. They're in the 50 to 55 degree range.
You are led by a tour guide that will tell you loads of information. Depending on the group's size, the tour can take anywhere from 1-2 hours. There are also slippery spots on the tour. Therefore, it's advisable to leave the flip flops at home. Take a comfortable hiking or tennis shoe for good traction. Also on the tour is a place where you can stop and drink some of the water in the cave; most people opt to use their hands, but you can also bring a small plastic cup to gather the water.
Overall, this is a fantastic way to spend a few hours of your day without breaking the bank in the Smokies by learning and seeing what the Smoky Mountains have given us.
Smoky Mountain River Rat
Another business in Townsend that offers a spectacular outdoor experience, and especially those who love the water, is the Smoky Mountain River Rat. They offer paying customers a dual option: tubing and whitewater rafting. Since the whitewater rafting is located in Hartford, Tennessee, the focus will be on their tubing, which is located here in Townsend on the Little River. It's hard to find a better or more refreshing activity, especially in the hot summer months, than floating down the river on a yellow inner tube and getting a small thrill out of the relaxing rapids.
There are two sections of the Little River that can be used for tubing: the upper part is the adventurous section that features modest rapids and swimming holes; the lower section is their family friendly outpost with more relaxing rapids and a rock jump. Prices include all day access to their upper or lower sections and are $15 for adults, $12 for kids between 6 and 12, and the younger kids are free. Special discounted prices are offered if traveling with a group, and because of this, it is a good idea to call and make reservations.
Things to Know
Some important facts should be understood before you take the family for a day of fun here. Water levels are constantly being monitored, so this may affect the time that you will be able to spend at River Rat. Children under the age of 2 are not permitted on here for obvious safety precautions. Tennessee law also mandates that any child under the age of 12 wear a life jacket, and you may bring your own as long as it is coast guard approved. Obviously we want to keep our rivers and lakes free of litter so any cans, bottles, or containers are not allowed on site.
The convenience of a gift shop gives people who forgot to bring proper lotion, water shoes, and water towels to buy them here. While you're there, why not get a T-shirt as a souvenir, since this is sure to be an experience that the whole family will be talking about when they return home.
Mtn Trax
People can have fun doing a multitude of things by getting outside, and this particular activity counts because people love motorized vehicles of all kinds. Mtn Trax is a family owned business that gives the visitor an opportunity to experience the mountains in an open air vehicle as opposed to the means by which many came here, whether it was a car, truck, or van. Many people are familiar with ATV's or all-terrain vehicles, but Mtn Trax has UTV's or utility-task vehicles.
They are different simply because UTV's have side by side seating with a safety belt and roll-over safety, while ATV's are mainly for solo riders. Mtn Trax offers these in various bright colors for rent or for guided tours in the beautiful Smoky Mountains. Their wide range of UTV's are available in two-seaters, four-seaters, and six-seaters, so your whole family might be able to ride in one these street legal vehicles.
Off-road guided tours are also available so you can have a more UTV experienced rider take you through a few mud puddles if that's what you desire--and why not, since you are on vacation, after all. The tour guide will also give you a nice drive through the most remote parts of the Smoky Mountains that you probably wouldn't get to see driving in your own vehicle. Expect this adventure to take approximately 90 minutes, but the memories will certainly last much longer. What sets Mtn Trax apart from its limited competition is that they are the only UTV company to offer street legal and off-roading option the Smoky Mountains.
Things to Know
It is important to give you some additional information regarding Mtn Trax: First and foremost, you must be 21--not 16 or 18--to rent and drive one of these vehicles. Second, there is a $100 deposit required with a valid driver's license. Third, and an important safety feature required, is a car seat for children under nine years old and under 4'9" tall; also, children must be at least one year old and be in a front facing seat. Last, and another important safety measure, is driving on The Tail of the Dragon. It's a popular but dangerously curvy route popular with motorcycle enthusiasts. It's prohibited, as is driving into North Carolina.
Because these are open air vehicles, you may want to dress according the weather. S make sure to check the forecast for the mountains. Sunglasses and cameras are also recommended. However, please be safe, since distracted driving is a major factor in accidents on the road. Keeping all these things in mind, you should have no problem enjoying your experience with Mtn Trax; another activity that is fun for all ages of your family.
Great Smoky Mountain Heritage Center
This is a museum that deserves to be listed here simply because it offers important historical artifacts. They promote not only Native Americans, but early residents that inhabited the area. They were those that sought to preserve the peace between them. It is not just an indoor center. It's also a place that features a historic village. This allows visitors to marvel at the historic buildings located here. Many hours was spent showcasing these buildings. Some even had to be taken down. Then they were built again to reflect the true nature of how people used to live.
History
If you are a history buff, or are just enthralled with the idea of an old time wedding, there is even an old wedding chapel that can be reserved for weddings. Other buildings include a print shop, barns, a sawmill, and an authentic outhouse. There are also a number of permanent exhibits that serve as educational tools for people to take from the experience. In here you will notice tons of artifacts from Native Americans. You'll see a wealth of information archaeologists have discovered about prehistoric life in Tennessee.
Also, a Transportation gallery is here in case you are interested in early automotive history. This includes a fascinating look at early East Tennessee roads, the Model T, and McClung's Freight Wagon. Music is as much part of East Tennessee heritage as everything else and the Heritage Center holds concerts to entertain guests as part of their event lineup throughout the year. Check out their events page and for $8 you can bring a chair and listen to some talented musicians play some of their best work; most of these concerts begin at 7 p.m., and since they are played in the amphitheater, you don't have to worry about rain spoiling the music. Become a member and these concerts are part of the price, so you don't need to fret about the admission.
Things to Know
Some basic information about the Heritage Center you should know includes the price of admission. It's $7 for adults, $5 for children, and free for children under 5. You can sign up to become a member, and your admission to the museum is absolutely free. They are open seven days a week until 5 p.m, and open every day at 10 a.m. This is except for Sunday when they open at 12 p.m. For those who would like a guided tour of the museum, a docent is on hand. They will give visitors a voice and a pleasant personality. So that way you can hear about what you are seeing on display at all the different exhibits.
If you are in a group of 10 or more, you can get the discounted price of $4. However, there is an additional option of a boxed lunch and Cades Cove tour. This will give you a full day of sightseeing and education; of course this will be extra and adds up to $31 per person. Reservations will be required even if you just want a docent-led tour of the museum.
If you enjoyed this--and it is a pretty good bet you will--they also have a gift shop with popular local authors and talented regional artists, whose creativity is displayed in various forms: watercolors, mugs, candles, jewelry, baskets, pottery, and framed art. This is definitely a fine option. It's special for those that enjoy the outdoors but would rather enjoy the heritage of the area and are not necessarily fans of adrenaline-pumping outdoor activities.
Conclusion
Clearly, there is good reason why Townsend is considered a central location on "The Peaceful Side of the Smokies". There are a myriad of activities geared toward the outdoor enthusiast who doesn't necessarily get to experience these things in the Gatlinburg/Pigeon Forge area. There are many people that don't want the word to spread too much about this gem in the Smokies. They would rather have this part of heaven to themselves. However. with so much to do the Smoky Mountains, there are plenty of activities for all kinds of interests to be enjoyed here.
Gatlinburg will still be the tourist mecca that it is. Townsend visitors should not be worried, since part of their appeal is how much people enjoy their peaceful side. They appreciate the limited availability of options that are heavy on outdoor fun, excitement, and education.