Experience Paula Deen's Lumberjack Feud
Originally, the Lumberjack Feud opened in 2011. This popular and very fun dinner show centered around the competition of two (2) teams of ESPN's professional lumberjacks. Showcasing their distinct skills of tree climbing, ax swinging, chainsaw carving, and the ever popular log rolling, and other logging related events, this one-of-a-kind performance was always an exciting show to watch.
The Lumberjack Feud was acquired in 2015 by Dolly Parton and, after they overhauled the theater, became known as Dolly Parton's Lumberjack Adventure. The "new show" began to feature more acrobatic, aerial acts, and many special effects. Less than a year later, Dolly Parton decided to move away from the "lumberjack" themed show in order to begin producing a show about her family. The new attraction, dubbed Dolly Parton's Smoky Mountain Adventures, opened in April of last year.
Now, Paula Deen's Lumberjack Feud will be presented in a more "lumberjack comfortable", and probably more appropriate, outdoor setting. The new show will be located at 2530 Parkway in Pigeon Forge (which is Walden's Landing). Here, in addition to the Lumberjack Feud, you'll also find The Tomb Escape Game, Calhoun's, Smoky Mountain Brewery, and The Forge Cinemas,
This new Lumberjack Feud in Pigeon Forge we're told will open on May 1, 2018. We encourage you to visit the official website for the attraction by clicking here, but the new website is not live yet.
I'm Considering buying a cabin in the Smoky Mountains
Are you considering buying a cabin to use as a vacation home? Maybe you've thought it's a good investment. Maybe you just want a place to go and relax when you get a chance or have a place to spend the summer. Maybe you want a place to go in the winter where you can ski and do other winter activities. Whatever your reasoning or thoughts may be it can be tempting to consider the purchase of a cabin. You can always rent it out when you're not using it, right? That can help the mortgage costs for sure. Before you take the plunge, there are things you need to ask yourself.
1. Where is a good place to buy?

You've enjoyed the area where you'd like to buy and now you want to make it permanent. Nothing wrong with wanting a long-term commitment and wanting to settle down and make a life there.
Choosing where you want to buy a cabin is going to be dependent on where you live, how much money you make, and whether you can rent out your cabin when you're not using it. So before you actually take that step give some serious thoughts to these questions: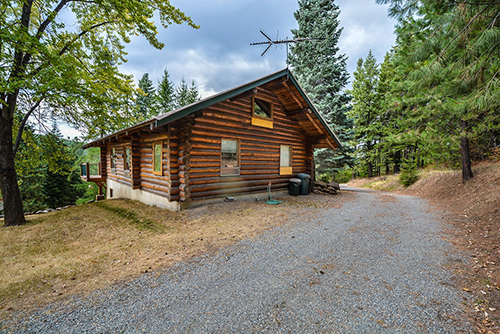 - How will I get there?

You should consider how often you plan to visit, because that's going to be a factor in determining where you buy. More than half of cabin owners buy their vacation home within fifty miles of their residence. Approximately eighty percent buy it somewhere within driving distance. Sure, you might have enjoyed that trip to Costa Rica, but you're not going to be able to go there on a three-day vacation whenever you'd like.
- Will I need rental income?
National Association of Realtors show that most people don't put their vacation homes on short term rental programs. However, if you need the rental income to help make the mortgage payments, you might want to choose a place that's in a very desirable location. That includes near oceans, lakes, rivers, or in mountain recreational areas, such as Gatlinburg, Tennessee.

- Will the location fit my future lifestyle?

It's true that many vacation homes can actually gain value overtime, but the National Association of Realtors suggests that short-term speculation on vacation real estate can be a tricky business. Most buyers decide on a place they're planning on using for many years to come. If you plan for long-term enjoyment, that means you need to buy a place that's big enough for a future family, or choosing an area with a wide selection of recreational opportunities that will help to accommodate any future or currently evolving interests.
It could be that mountain biking is your current passion. What happens when you decide to trade that bike in for some golf clubs? What if you decide you enjoy fishing more than hiking? You also want to consider the implications of long-term retirement. If you're going to live there permanently after you retire from your career, you want to make sure that the location is comfortable for seniors. In later years, are you really going to want to climb up stairs if you decide you want a place that's master bedroom is on the top floor? Will you really want to have to drive down a dirt road if you choose a more rural, rustic cabin?

2. Can I afford a second home?

It's very important for you to sit down and take a good long look at your finances before deciding to go through with the purchase of a vacation home? If you don't, there's a good chance that your dream cabin will become your worst nightmare. Don't just look at the purchase, there's a lot more to consider when you purchase a vacation home.

- What's the financing like?

The first thing is find out what kind of financing offer you can get. Mortgage companies are known for charging higher interest rates and larger down payments for second homes. There are ways, of course, to finance your cabin without breaking into your kid's college fund. You can leverage the equity in your primary residence, or even divert pretax funds from the IRA. With the overwhelming array of financing options available, we would advised you to ask for help from a mortgage professional instead of just doing it all yourself.

- Insurance

You may absolutely love the location of your new vacation home, but you need to be aware of the flip side of that coin. Those adorable little vacation communities also, just likje many other places, have a risk of natural disasters such as floods, hurricanes, and forest fires. So you'll need insurance, and that insurance can often leave your budget in the dumps. Don't get unpleasant surprises during the purchase process; get several insurance quotes before you even make an offer. Trust me, this will save you in the long run.

- Maintenance Must Dos:

Buyers sometimes don't consider the maintenance cost associated with a vacation home, especially things like roof repairs or replacements, HVAC, exterior paint and other big ticket maintenance items. However, you should probably set aside about two percent of the house's value each year just for maintenance alone. If you're using a professional property rental management company, it's a good idea to expect them to take anywhere from twenty to forty percent of the gross rental income, because they're going to be doing most of the work involved.

3. Am I making a smart investment?

Certain numbers from the National Association of Realtors show a trend that's going upward in the number of vacation homes purchased solely for investment purposes. Rental properties far outnumber vacation homes by a wide margin. Of course, property values DO fluctuate, but according to Tom Kelly, who co-wrote How a Second Home Can Be Your Best Investment, sinking a large portion of your total net worth into a residential home can be a good way to get variety in your portfolio.
Kelly goes on to explain that investors who currently lack the funds needed to buy an idyllic leisurely retreat, the way to owning a vacation home can begin with something more affordable.....a utilitarian rental property closer to home. "That becomes a real financial nest egg for you," he says, "and down the road, you can build more equity and trade it for a place you've always wanted to spend time."
When you choose to invest in a vacation cabin, Kelly says he believes it's wise to look for a place that has some sort of value as a partial rental property too. "Find something you like that you can also rent out, because most of time you're not going to be able to use it as much as you think."
Just like all investments, Kelly adds, you must pay attention to what you're buying. Before you make any sort o offer, put down your rose-colored glasses and learn everything possible about local zoning laws, construction standards, development plans, and any other factors that might negatively affect the long-term aspect of your investment on the cabin you plan on buying.

4. How will a second home affect my taxes?

Much like your current home, a vacation cabin is likely to have a huge impact when tax season comes around. According to National Association of Tax Professionals, mortgage interest and property taxes on both primary and vacation homes alike can be claimed as Schedule A deductions. So in order to avoid negative interactions with the IRS, you should be knowledgeable of some major differences in how vacation cabins are taxed.
The NATP will advise you that homes rented out for less than fifteen days a year are considered to be personal use property by the IRS. You are not required to report your rental income as actual income, and no other deductions (other than from mortgage interest and property taxes) are allowed.
If, however, you decide you do want to rent your cabin for more than fifteen days a year, you should be prepared for all the paperwork that will come, beginning with the requirement that all rental receipts must reported to the IRS as a form of income. The NATP additionally adds other expenses such as your utilities, any repairs that might pop up, the monthly insurance premiums, and rental management fees can be deducted against the income you get from your cabin home. You might be able to cover travel expenses used for maintaining the property as well, but not for any property rented out for fewer than a total of fifteen days annually.
Other than your primary residence, any profits from the sale of the vacation cabin will be taxed as capital gain. It might be possible for you to make a end run avoiding capital gains tax if you decide to move into your vacation home and stay there for at least two years before selling.

5. Should I look into time shares or joint ownership?

Time shares have gotten a bad rap over the years due to shady business dealings and pushy sales tactics. However, recently, the industry has worked hard to turn over a new leaf, and people are much more satisfied than before with how their time shares work. There are actually two different things that both fall under the umbrella of the term 'time share'. In some instances, buyers receive a deed to the property that allows them ownership of a house or condominium for specific times of the year. In other instances, you buy specific times at a resort but do not actually hold a deed to the property.
No matter which way you go, time share owners must pay annual maintenance fees to a rental management company. Most of the contracts will allow you to trade in your time at your vacation home for time at another destination.
Just like homes, time shares can be sold if you grow tired of it. However, it is warned that you typically receive far less than what you paid for it. So keep that in mind if you suddenly have a change of heart, because the loss could really hit you hard.
The Federal Trade Commission also warns buyers to never, ever sign a time share contract before carefully looking through all the different obligations and benefits. That being said, if you shop carefully and take the time to read the fine print, time shares can be a great way to pay upfront for your future vacations.
Another form of joint ownership is that you buy a vacation property with one of your friends or with a relative. This can cut down on cost for everyone and you'll be able to better coordinate when people are using the cabin and how often each of you gets to use it. Just make sure that even if you're jointly owning it with a friend or family member that you carefully go over the contract and make sure all the details are in place just in case one of you wants out of the deal.
After all is said and done, if you can afford a vacation home, Great! There's nothing quite like relaxing in a giant hot tub, or stretching out on a lawn chair and admiring a picturesque view. If you enjoy fishing, or golfing, or other attractions, than you should look for and find the perfect rental property to suit your lifestyle. Good luck and happy house hunting!
Paying it Forward
Every year the date of September 5 has been declared to be the International Day of Charity and wouldn't it be the perfect time to Pay it Forward and help your neighbors in need? Most everyone knows what the term "Pay It Forward" means but for those who don't, it's doing something good for someone after someone has done something nice for you. You don't repay the person who helped you. You pass that help on to someone else in need. You pay it forward to another. If someone helps you change a tire, you might shovel the snow from someone's driveway.
The whole concept was made popular by a movie released in 2000 titled, Pay It Forward, starring Kevin Spacey and Helen Hunt. In the movie a young boy has a school assignment in which he has to figure out how to change the world. He creates the Pay It Forward method and sets in motion a chain reaction of good deeds.

To keep with the concept of Pay It Forward, you have to do something nice for someone without expecting any sort of repayment from that person. It's done as a selfless act with the only gratification being that you've done something for someone. If you want to do something to Pay It Forward and don't know anyone off hand who you can help, there are organizations that will let you Pay It Forward anonymously by donating money or performing good deeds without gaining any recognition. The receiver of the good deed is then told to do something for someone else and so on, thereby keeping the Pay It Forward custom going.

You don't have to give large sums of money or put forth a lot of effort. It can be simple and easy. Pay for the meal for the person behind you at the drive thru. Hold the door for someone. Carry someone's packages to their car. Mow your neighbor's lawn. Buy somebody a cup of coffee. It's easy. You can do something for free, spend a little money, or you can donate to an organization to help someone in need that you may not know needs it.

This practice, though made popular in 2000, has been in practice since the 1700's when Ben Franklin lent Benjamin Webb some money. In a letter to Webb, Franklin told him to not repay him directly but instead to help some other honest man in need and help that man by paying him the money to help him out. So you see, this isn't a recent thing. When you help your neighbor, it instills a sense of the common man helping one another and it also feels good in your heart.

The Gatlinburg and Cobbly Nob fires of November 2016 put many, many families in a situation which put them in need of the simplest things. Water, food, clothing and a place to stay were top priorities. Knoxville Pays It Forward, inc. delivered a 12 foot box truck full of relief supplies to Gatlinburg within less than 24 hours of the call for needing help. Knoxville Pays It Forward, Inc. receives no government funding, relying on fundraisers and donations to help individuals in their time of need. Not only did they assist with relief for the fire victims, they continue to help the community, paying it forward in other ways such as providing relief for other fires, giving Christmas gifts to needy families, supplying the elderly with pet food when they can't afford it, donating to Children's Hospital and Assisted Living Centers. By donating, or even attending a fund raiser held by Knoxville Pays It Forward Inc., you are giving of yourself and even though you are donating anonymously, you are paying it forward in your own way.

The International Day of Charity is observed all over the world with the hopes that people will donate to not only their favorite charity but also help improve people's lives. The United Nations created the holiday, choosing September 5th as the date to honor the memory of Saint Teresa of Calcutta who passed away on this date. Mother Teresa dedicated her entire life to charity work and this international holiday commemorates her selflessness and dedication. The holiday is celebrated every year and the work of world-wide charities is brought into the spotlight while people are encouraged to donate money or spend their time helping others and to raise awareness about charity issues worldwide.
To some charity begins at home and if you're so inclined you can find many ways to help in your own hometown or your own county. When you contribute, whether money or time, whatever you do enhances mutual understanding among people concerning simple needs that haven't been met in your community. Poverty is an issue in other countries but it is also an issue on our home front.

Many people in Sevier and the surrounding counties have contributed so much to the needs of fire-stricken families and the outpouring of love and help has been amazing. The fire began November 28, 2016 and by the time it was extinguished 2,400 home and businesses were severely damaged or completely destroyed leaving some 2,000+ people homeless. But the people of the Great Smoky Mountains know how to rise together and Pay It Forward. Everyone pitched in and helped out and that is solid proof that they are Gatlinburg Strong. People like Steve Tanner, owner of Super Suds Coin Laundry, who allowed anyone to wash their clothes and furnished everything free of charge to the only laundry left standing for a full weekend show what it means to have a charitable heart and to give back of himself. The definition of Paying It Forward. Another example was the Wear a Pair/Give a Pair drive held in Knoxville on December 24th 2016 where if you wear a pair of pajamas, you give a pair of pajamas which were slated to go to the needy in Sevier County due to the fires. There were 14 drop off stations around the city and truly East Tennessee became Smokies Strong. It doesn't matter whether you donate your time to help out or send in some money to a charity, just help your neighbor and join in on International Charity Day on September 5th. It could even be something as easy as buying a Smokies Strong t-shirt. The money goes back to the fire victims.

The whole purpose of this day, International Charity Day, other than honoring Mother Teresa and her charitable works, is to get people talking, create a dialogue and get people involved in helping others in any way they can. No matter what your choice is, get involved. It will raise your spirit to a higher level when you Pay It Forward and help others. And then, by your example, others will pass it on, Paying It Forward because you did.
Things to do in the Smoky Mountains
Things To Do in the Smoky Mountains
Welcome to The Great Smoky Mountains! Now that you have decided that this is where you would like to spend some quality time with your closest friends and/or family, it's fair that you want to know some of the best places, sights, and activities to engage in when you arrive. Are you ready to be thrilled? Amazed? Or even entertained? Well, you've certainly come to the right place to experience all of these emotions, and chances are high that you will probably come up with a few more adjectives to describe your trip when it quickly--as most trips do--comes to an end. Since there is so much to do in the Smoky Mountain tourist region, let's break it down by activities and list some of the more important places to visit from these activities.
Shopping
Many visitors to the Smoky Mountains come from I-40 and drive into Sevierville via the Forks of the River Parkway. Instantly, they are inundated with many eateries, small businesses, and museums which catch the eye; large billboards, flashy signs and the many hotels are just a few more of the many things to see on the Parkway. One of the first real shopping experiences many anticipate when visiting is the Tanger Outlet Mall in Sevierville. With name brands such as Aeropostale, Claire's, Lane Bryant, Under Armor, and Kirkland's just to name a few, you can take advantage of great deals and check out what all of these stores offer in one place.
If you didn't come to the Smoky Mountain area to check out familiar store brands, you won't be disappointed in the number of specialty shops that are spread out all through Pigeon Forge. A tourist and regional visitor favorite here is Three Bears General Store. This is a one-of-a-kind and all-in-one type store that caters to all ages; and even those who have a strong distaste for shopping can be talked into this establishment. They've been here since 1979 and have given customers good reason to stop in with their selection of Amish jams and jellies, handmade fudge, and tons of Smoky Mountain souvenirs. If you haven't found what you were looking for here, it may be difficult for you to find anything anywhere else to your liking; the store simply does a great job with their selection, as do the employees with their hospitality: southern style, of course.
Gatlinburg is every bit the shoppers paradise as Pigeon Forge; only in Gatlinburg, a majority of the shopping can be done on foot. The tourist mecca is home to many small businesses and some familiar names, but the real standouts are local: Jonathan's, The Maples' Tree, and All Sauced Up. The first two feature the usual souvenirs, but also give their guests a nice selection of home decor, signs, bags, and even a heavy dose of scrapbook supplies for lovers of scrapbooking--which is done by many people to remember important memories in their lives, especially following a Smoky Mountain vacation. All Sauced Up has all your favorite kitchen fixins in here: cooking supplies, jams, dips, and candy. These are just a few of the options in the abundance of shopping that can be done in Gatlinburg.
Entertainment
The Smoky Mountains' appeal has always been emphasized by its marriage with entertainment and music. There is a rich history of music as it related to the culture of life on the homestead in early pioneer life. Those same people would be proud--if not a bit amazed--at what is being produced on a daily basis to keep the music alive and well in the region. Country Tonite Theater Show in Pigeon Forge is just one of the many shows that gives the audience every reason to believe it's money well-spent. They've been at it for 20 years strong with their talented singers and performers that sing and play everything from pop to bluegrass. For two hours you will be tapping your feet, laughing, and even singing along to hits that span generations of music fans.
The Track in Pigeon Forge is just one of five locations in the South that gives the kids a fun outlet for their energy. Of course, adults can partake in some of these activities that include go-kart racing, thrill rides, bumper cars, miniature golf, and an arcade. There is no admission fee for The Track, but the go-karts are extra, and you will certainly want to bring a little money to take advantage of the arcade.
The Island is one of the new attractions in Pigeon Forge, and its landmark attraction is the Great Smoky Mountain Wheel which takes riders 200 feet in the air for spectacular views of the Smoky Mountains. The Ropes Course is an elaborate maze that takes guests on a physical challenge that can be accepted by anyone over 42 inches tall. In addition, there are other variations of games and rides you can find on The Track, but here at The Island you can do some shopping at specialty stores; also, be sure to check out the fountain which is synced to musical tracks that are played through the speaker system.
Gatlinburg has no shortage of entertainment as well, even if it's on a bit smaller scale. There are several miniature golf courses in town, and each one offers fun and challenges that the whole family will enjoy. Cooter's is a Dukes of Hazzard museum, but also features a fun oval go-kart track inside that won't break the bank, and a mini-golf course inside too that's easy on the wallet.
Two other entertainment options in Gatlinburg you won't want to miss are Sweet Fanny Adams Theater and a mentalist/magic show called Impossibilities. Sweet Fanny Adams Theater has been in business for 40 years with their wacky slapstick sing-a-longs and skits that are hugely popular. Some of the humor is adult in nature, but kids are welcome as they keep it tame--and broad--enough for kids to laugh out loud. Impossibilities features the master mentalist, Erik Dobell, and his sidekick, the magical comedian Chris Collins, for some comedy and professional mind reading and magic that will make you scratch your head in amazement. This is a very welcoming show for all ages, with its audience participation that extends to the after-show where they like to take crazy selfies with the paying guests that want to meet them; you should find this money well-spent.
By no means is this all you can find in the Smoky Mountain area when it comes to entertainment. Your options are plentiful and you should have no problem finding a favorite place to spend some quality fun and games time with the family.
Hiking
If you are looking for a much more peaceful way to spend your vacation, then the beauty of the Smoky Mountains will easily draw you into the National Park. With its hundreds of miles of trails to explore, it is a popular day trip for the novice and expert adventurer.
Probably the most visited of all the Visitor Centers in the Park is Sugarlands. It is located just two miles from Gatlinburg along Newfound Gap Road--which bisects the Park and runs to Cherokee, North Carolina. This is a great starting point for the visitor, because there are plenty of maps and park employees who are here to help you figure out the best trails, sights, and points of interest.
A great beginner trail is the Fighting Creek Nature Trail located conveniently behind Sugarlands Visitor Center. This trail is one of the most kid-friendly trails in the Park--it's just under a mile roundtrip hike that will probably take less than an hour; this is enhanced by the 25 foot high Cataract Falls located at the end. Despite its location, this is still a very quiet hike that is perfect for even those people with short attention spans.
Just down a road is one of the most popular trails in the entire park: Laurel Falls. This is a paved trail that is just a 2 and a half mile roundtrip; it should take no longer than two hours to hike it. The trail has a gradual incline, and eventually leads you to the 80 foot high Falls that features a lower portion as well--that one is a bit harder to descend and not recommended for those that aren't sure-footed.
The other fan-friendly trail is located along the Roaring Fork Motor Nature Trail and is called Trillium Gap Trail, which leads to Grotto Falls. This is the only Falls in the Park you can walk behind and--like Laurel Falls Trail--can get quite busy during the day, so it is recommended to get your day started early at sunrise to avoid the large crowds. This is the more challenging of the short trails--it actually leads all the way to Mt. Leconte--so watch your step as you're navigating your way to another beautiful natural attraction in the Smokies.
This should give you a pretty good start on the many things you can do in the Smoky Mountains. Don't forget about the many great restaurants in the area that are the epitome of home-cooked goodness with Southern hospitality. Check out the PiddlinEats section for a sample of some of the great restaurants you can find in Sevierville, Pigeon Forge, and Gatlinburg. The Smoky Mountain area has a little something for everyone, so make sure you experience as much as possible to keep everyone in your travel group happy, and this should be no problem if you ask any frequent visitor.
Top 5 FREE Kid friendly things in Gatlinburg and Pigeon Forge
FREE Kid friendly things to do during your Gatlinburg and Pigeon Forge Vacation

Gatlinburg Tennessee is one of the most visited vacation destinations in the United States. Are you looking to find kid friendly things to do when you get here? Well, Gatlinburg will not disappoint! We're listing the top 5 free kid friendly things to do below. The list includes things to do while your here for one day or many days. If you do plan on staying a while, visit piddlin.com/cabins to search multiple cabin rental companies and find the perfect cabin for your vacation.

Mynatt Park in Gatlinburg TN
Mynatt Park is a hidden gem in Gatlinburg. This is where you will find the locals getting away from the hustle and bustle of the more touristy areas. Also, a good starting spot for a hike. This park is one of the top places to go with kids, and many don't know about this parks existence. Have a picnic, play in the creek, shoot some hoops, etc. The creek is perfect for the kids to fish [youth fishing only], and you can watch them closely at the tables set up next to the water. Mynatt Park is an ideal location to stop at after a long drive to the Smoky Mountains, get out stretch your legs and enjoy a picnic.

Things to do in Gatlinburg Pro tips:
Pro tip #1: Pack a basketball for a quick pickup game or bring a ball and glove to practice your baseball moves.
Pro tip #2: Bring a bathing suit and towel. The kids and young at heart can wade through the stream.
Pro tip #3: Bring water shoes to walk among the rocks in the water. (some rocks may be slippery, be careful)

Cooter's Place in Gatlinburg TN
It's free to check out all the Dukes of Hazard Memorabilia in this little mom and pop attraction. If you have watched the show, then you will love this little museum and knick-knack shop. It's located at 542 Parkway in Gatlinburg, Tennessee. If you and your family would like to participate in the indoor go karting and indoor mini golf there is an associated fee for these activities. The go carts will reach up to to 23 MPH on the slick track and are gas powered. The 18-hole putt-putt golf course is great for younger kids. The setup of the greens are between rooms, making for a unique putt putt golfing experience.
Cades Cove in National Park
Cades Cove is always a no brainer, make sure you stop by when you come to the smoky mountains. It's one of the most popular places to visit in the Smokies. The views, plus the anticipation of random sightings of wildlife, make the cove a hit with the whole family. Visit the many stops off the loop, old homesteads, an old grist mill and a souvenir shop that has live music and demonstrations at certain times during the summer, check to see what's going on during your trip, (https://www.nps.gov/grsm/planyourvisit/calendar.htm) etc. If you're staying in Gatlinburg, you will need to plan almost a whole day for the trip to the Cove. There are many shops, and places to eat along the way. Or take a picnic basket and a cooler with you, and you can stop along the cades cove loop for a bite to eat inside the park! Check out this in depth article about Cades Cove.
Sugarland Visitor Center in National Park
Inside the visitors' center there is a 20-minute video introduction to the park and some interesting educational information. You can get a park schedule of things to do there as well as find out about ranger led programs, for example, the kids' night hike. Some activities are seasonal so be sure to ask questions, you can also get maps for the Sugarland Visitor Center trails. They open bright and early at 8 am. 7 days a week except Christmas. There are restrooms and a soda machine.
1420 Little River Road Gatlinburg TN 37738.

Things to do i Gatlinburg Pro Tips:
Tip #1: Cell service can be spotty so pick up some trail maps if you are going on a hike. (Cash/honesty system) Day maps $1
Tip #2: Don't be afraid to ask about trail details in Gatlinburg or other areas of the park. Get to know which trails are difficult and which are easy to hike2
Tip #3: Get there early or get prepared to be patient when speaking to staff or rangers. The park can get very busy in season.
Tip #4:Some trails may be closed for many different reasons, ask before you hike.
Tip #5: There is a short trail behind the center that takes you to Cataract Falls. .6 miles there and .6 miles back for a total of 1.2 miles.

The Old Mill Square
Feed the ducks while enjoying the mesmerizing mill!! Bring some peas instead of bread. Bread is essentially junk food for ducks. The Old Mill is just outside of Gatlinburg on the Pigeon Forge Parkway. It's super close to most areas of Gatlinburg. The mill is from the 1800s and is still working! If you prefer a guided tour, they are $3, there are other shops and restaurants nearby the whole family can enjoy.

Once you get to Gatlinburg, you will find it easy to entertain the kids. The entire family will enjoy each of the things to do in Gatlinburg.
Traveling "The Quartet" in The Smoky Mountains
Traveling the "The Quartet" in The Smoky Mountains
"The Quartet," includes the towns of Gatlinburg, Pigeon Forge, Wears Valley, and Townsend.


Does your bucket list include visiting one or more of these world famous places? Have you already made a legitimate stop over in each? And by a legitimate...not just a gas station fill up.
Each are nestled in the Great Smoky Mountains and are relatively close to each other. They can all be explored in one day. If you want to make the most of the beauty, serenity and shops of the area, you will need to give your travels more time than just a day.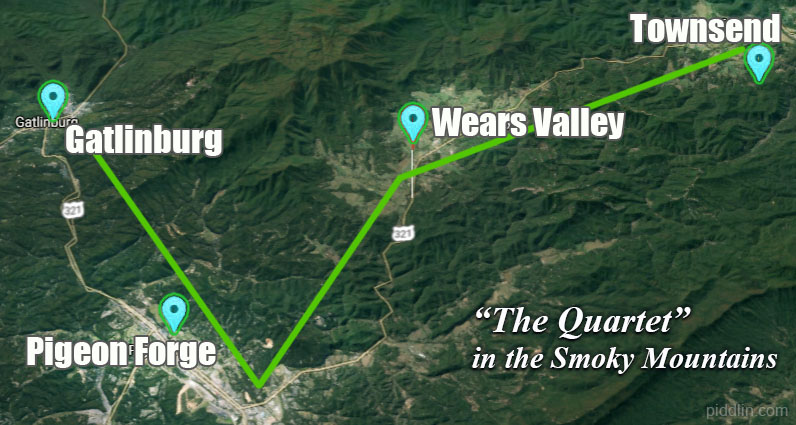 Depending on where you are traveling from, Townsend or Gatlinburg would be the ideal starting points for traveling "The Quartet."
Townsend …..to Wears Valley ….to Pigeon Forge ….and ending in Gatlinburg is basically a straight shot with little to no turns.
You can't really get lost going from one city to the next, but you may find yourself doing one of the following:
Gazing at the scenic Mountain views of the Foothills Parkway
Finding multiple mom & pop antique shops along Wears Valley Road
Enjoying the scenic views of the Parkway in Pigeon Forge
Looking deep into the magical mountains in Gatlinburg.
Each individual has their own idea of what a lively stop would be, so here is a suggested itinerary:
First, discover the start of what is now one of the largest attractions in the United States, the Great Smoky Mountains. You can do that on your first stop at the Little River Railroad and Lumber Company Museum in Townsend.
If you brought along your children, reward their good behavior after the museum with tubing on the Little River.
After, travel to Wears Valley for some lunch in one of the local restaurants, and visit one or two of the antique shops. You do not have to collect antiques in order to enjoy some of the memorabilia and knick knacks. There is literally something for everyone.
If you need a place to rest, you can find a cabin rental in any of "The Quartet." Search dozens of cabin rental companies via piddlin.com search.
Wears Valley Road will ultimately put you onto the Parkway in Pigeon Forge. Again, a straight shot.
While driving through scenic Pigeon Forge, stop and explore any of the shops or attractions that catch your eye. Consider checking out The Island. There is a ton of stuff to do there for all ages. It includes about 60 places to shop, eat and explore. You wont be able to miss the super huge Ferris Wheel!
If you have been yearning to go to DollyWood, then Pigeon Forge will get you there.
To complete "The Quartet", head to this writers favorite part of the leg, Gatlinburg!
Continue on the Parkway, and drive into downtown Gatlinburg. Ripley's Aquarium of the Smokies would be the first choice stop, if you have never been there, and Sugarlands Distillery would be a close second. Exploring downtown Gatlinburg on foot is a treat, literally.
In closing, If you have completed "The Quartet," send us a message on Facebook[link] and let us know. Tell us your favorite stops. We would love to post your adventure for others to explore.
Bonus stops:
Cades Cove (closest to Townsend). Plan to spend multiple hours there via the scenic route and multiple cabins and wildlife to explore.
Visit downtown Sevierville to see the statute of Dolly Parton, part of a 28-stop downtown walking tour of Dolly's hometown.
Townsend, the peaceful side of the Smoky Mountains
Townsend, Tennessee
If you're looking for history, heritage, and log cabins, then Townsend is for you. Did you know the the Smoky Mountains were mostly clear cut to make way for cabins and other lumber uses? According to local historians they were. The beautiful mountain forest that you see is not first generation timber.
No harm. No Foul. The Smoky Mountains look as beautiful as ever.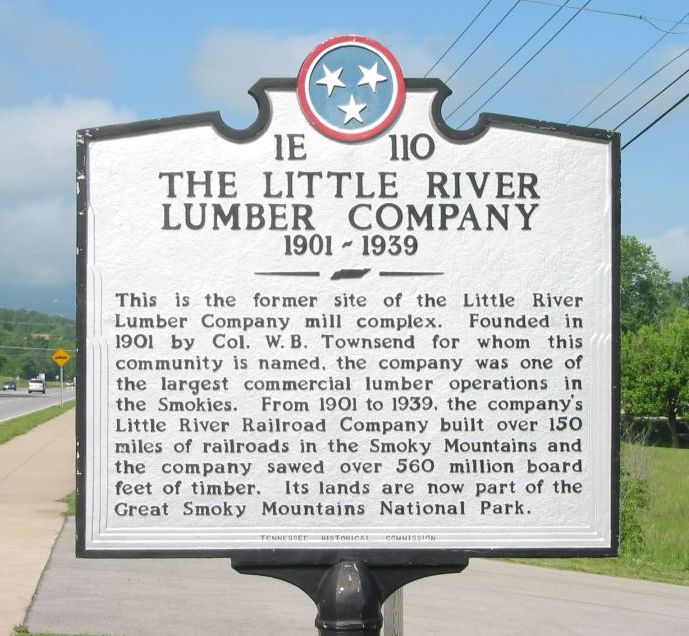 The Little River Railroad and Lumber Company help establish the city of Townsend in the Great Smoky Mountains. This company created a railroad from Townsend to Elkmont and beyond. Because of all the hustle, bustle and resources in the area, Elkmont and other areas grew in population and popularity.

Wilson B. Townsend, the founder of the Little River Lumber Company, ultimately sold off 76,000 acres, and most of that land ultimately formed the Great Smoky Mountains National Park.

Much of the lumber was used to build log cabins in Elkmont, Gatlinburg, Pigeon Forge and Wears Valley.

If you like cemeteries, Myers Cemetery, circa 1795, is located adjacent to the Townsend Visitors Center on East Lamar Alexander Parkway in Townsend, Tennessee.

An archaeological dig in Townsend, around 2001, found the Following:
A Fortified village dating to 1200 A.D. By unknown Native Americans
Pottery from the 1600s and 1700s, when the
Cherokee had villages all the way along Little River.
Former Cherokee winter and summer houses have been discovered.
Pottery from 300-500 B.C.
Grooved ax heads from 500 B.C. to 500 A.D.
The oldest items are pit features that date back to 2000 B.C.

Donald Kenneth "Don" Sundquist, the 47th Governor of Tennessee from 1995 to 2003, has 10 acres and is said to live in Townsed.

Townsend is just a hop, skip and a jump from Knoxville, Gatlinburg and Pigeon Forge.

If you do not hop, skip or jump, travel to Townsend in a vehicle
Knoxville to Townsend 42 min (34.0 mi) via US-129 S & US-321 N/E Lamar Alexander Pkwy
Pigeon Forge to Townsend 34 min (18.0 mi) via US-321 S
Gatlinburg to Townsend 45 min (22.8 mi) via US-321 S.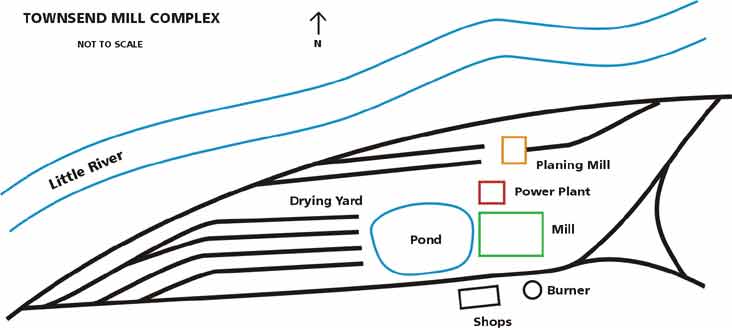 Photo by The Little River Railroad and Lumber Company Museum
Much of the railroad tracks were removed in secret in the 1920's.

Townsend employees a police chief and three officers.

The park's history has an archival storage area located at the Department of Energy's Office of Scientific and Technical Information Storage facility in Oak Ridge. Artifacts from this area can be found there.

There is a Little River Lumber Company Museum in Townsend, and it's always free of charge. The museum hours are different depending on the time of the year.

Museum Hours:
June, July, August & October:
Daily and Saturday 10-5, Sunday 1-5
April, May, September & November:
Saturday 10-5, Sunday 1-5
Closed Easter & Mothers Day
December through March:
by appointment only.

"There are trees here that stood before our forefathers ever came to this continent; there are brooks that still run as clear as on the day the first pioneer cupped his hand and drank from them. In this Park, we shall conserve these trees, the pine, the red-bud, the dogwood, the azalea, the rhododendron, the trout and the thrush for the happiness of the American people."

Franklin D Roosevelt
Cades Cove Riding Stables
10018 Campground Dr, Townsend, TN, 37882
865-448-6286

Cades Cove Galley
7144 E Lamar Alexander Pkwy, Townsend, TN, 37882
865-448-0250

Smoky Mountain Convention & Visitors Center
7906 E Lamar Alexander Pkwy, Townsend, TN, 37882
865-448-6134

Cades Cove Visitor Ctr & MSM
10042 Campground Dr, Townsend, TN, 37882
865-436-1200

Tuckaleechee Caverns
825 Cavern Rd, Townsend, TN, 37882
865-448-2274

Little River RailroadLumber
7747 E Lamar Alexander Pkwy, Townsend, TN, 37882
865-448-2211
Sources
Great Smoky Mountains National Park
Maryville Times
Google Maps
Pet Lodging options, Pet Friendly hiking Trails and more
Find Pet Friendly Cabins, Hiking trails and Doggie Sitters in Gatlinburg Tn.
You do not have to leave your pet love at home when going on a vacation to the Smoky Mountains. There are many options to bring along your dog. From pet friendly restaurants and cabins to doggy sitters and boarding. You can even bring your dog with you in the park.
You can take your furry family member hiking too, but there are some restrictions.
If your pet wants some alone time away from their human family, we have options here for you as well!
"Dogs are only allowed on two short walking paths in the park—the Gatlinburg Trail and the Oconaluftee River Trail. Pets are not allowed on any other park trails." from the National Park Service
The Gatlinburg Trail is 1.9 miles long and starts at the Sugarlands Visitor Center. The trail is mostly flat and you will often find bicycle riders and joggers sharing the trail with you. There are no fees, and the trail is also handicapped accessible. There is a restroom and camping on site.
Surgarlands was named so because of all the sugar maple trees in the area.
Directions to the Sugarlands visitor center: US 441 south of Gatlinburg at the entrance to the GSMNP. The visitor center is at the intersection of US 441 and Little River Road.
The Oconauftee River Trail is pet friendly and is locate just beyond Cherokee NC inside the Great Smoky Mountains National Park. While this is a pet friendly trail, it's more than 30 miles from Gatlinburg driving through the Great Smoky Mountains National Park and those roads are slow speed and curvy.
There are multiple reasons dogs are not allowed in most of the areas of the park. While all of those beautiful bears we all enjoy will normally stay away from humans, they may see your pet as an opportunity for food and therefore act differently in the presence of a dog. Dogs also bring in unseen diseases that normally wouldn't affect anything outside the park. The park also says that dogs bark, and may upset the quietness around them.
If you would like more information on dogs in the park you can head straight to the source:
https://www.nps.gov/grsm/planyourvisit/pets.htm
Dogs are also allowed in campgrounds and picnic areas, but must be on a short leash.
After hiking with your pets, you may want to take a walk on the strip and have a romantic evening alone in Gatlinburg.
There are multiple places to find a dog sitter, doggy day care or boarding for your animals.
You have to have some paperwork, so be sure to check out details on their websites.
Barks and Recreation
[http://www.barksandrecgatlinburg.com]
If you're looking to find a Gatlinburg Dog Boarding, Dog Day Care and Dog Grooming Facility then this is the place. They charge 2.50 an hour and with a $10 minimum. They also board dogs. And if you're looking to find cage free boarding in Gatlinburg they have that too!
Just Fer Paws
[justferpaws.net]
Gatlinburg, Tennessee
They have a dog park, doggie day care and they also kennel dogs.
Smoky Mountain Pet Resort
[Smoky Mountain Animal Clinic] [Sevierville]
Daycare for dogs is $2 an hour and Open Everyday 8:00am – 5:30pm They also board cats and dogs for the night, so that you romantic evening can turn into an overnight relaxation.
For finding a great place for humans to stay, please visit the home page and search the thousands of local area cabin rentals.
Ride Through Gatlinburg Tennessee
Ride Through Gatlinburg Tennessee
This video takes you on a tour of the bustling tourist destination of Gatlinburg, Tennessee. It is populated with visitors that come from all over the United States to see the beautiful scenery of the Smoky Mountains and take in all the excitement of the downtown area--which is full of great eateries, attractions, and arcades to keep everyone in your family more than satisfied. If you've never been to Gatlinburg, you may want to read about what you're actually seeing in the video: it will be taking you from the National Park all the way through Gatlinburg and onto the spur which leads into Pigeon Forge.
As the video begins, you will find yourself entering Gatlinburg after driving on Newfound Gap Road through the Great Smoky Mountains National Park--an essential part of your visit. Some notable places you may want to check out on your vacation appear on the left at the beginning. The first is Sugarlands Cellars: it is one of a few wineries in town and offers wine tastings and bottles of wine that are crafted on site and made from grapes right here in the Smokies by generations of farmers. The elaborate bottle designs--and names of the different wines--showcase the fine local history and the inspiration for these fine wines. Right beside Sugarlands Cellars is Old Dad's General Store. It serves as a convenience store with a working grill featuring a wide selection of quick and tasty breakfast and lunch items for someone who doesn't want to do the sit down casual restaurant; or someone who wants to take a picnic lunch with them on their way into the mountains for a nice day of hiking. Just a bit further ahead will lead you to the giant skillet in front that invites you into one of the best breakfast spots in town: Crockett's Breakfast Camp. The skillets inside are not much smaller and could potentially feed a family of 3 by itself. They are only open until 1 p.m., so if have a morning to try them, it is highly recommended by tourists and locals.
The first thing you will notice coming into town on the right side is the sporting goods behemoth that is the Nantahala Outdoor center, or simply, NOC. This 18,000 square foot store offers a dizzying selection of outdoor apparel, gear, and footwear--everything you could possibly need for either your vacation, or your active lifestyle. Kids will appreciate the swinging rope bridge on the second level and the bear cave carved into one of the walls. Traveling a bit more up the road takes you to Calhoun's Village, which features the Copper Cellar restaurants' big three: Calhoun's, Smoky Mountain Brewery, and Cherokee Grill. At each location you can enjoy a refreshing craft beer that's brewed on-site at the Brewery. Each restaurant offers some nuance to their menus: Smoky Mountain Brewery offers pub-style foods with great pizzas; Cherokee Grill is a bit fancier, but casual, with its seafood and steaks; Calhoun's is known for their ribs and barbecue, but also has steaks and excellent side dishes. The Gatlinburg Convention Center--also on the right--is home to many different events during the year; most of which you will not want to miss: concerts and the seasonal arts and crafts shows that feature exhibits from the many artisans and crafters from the Arts and Crafts Community on Glades Road (not featured in the video because they are located off the beaten path).
Just before stoplight #8 in Gatlinburg, you will begin to see why Gatlinburg is such a hit with the family. The Star Cars Museum is great for the car, movie, and TV show enthusiast, since it features famous cars in some of your favorite Hollywood and small screen shows. Next door you can find the first two of seven total Ripley's attractions in Gatlinburg: Ripley's Haunted Adventure and the 5D Moving Theater--each one is an entertainingly fun experience that even the adults might find worthwhile.
The iconic Gatlinburg Space Needle--a symbol of the town since 1969--is located just off the Parkway and rises 407 above the mountain resort. For about $10 a person you can ride the elevator to the top to gaze at spectacular views of Mt. LeConte and a 360 degree perspective of the entire area. If the first trip up wasn't enough--and you weren't too frightened by the experience--you can ride again at night for free and take in a beautiful Smoky Mountain sunset.
After light #8 ahead on the left is one of the working distilleries that have appeared since it became legal to sell moonshine: Sugarlands Distilling Company. They've risen in popularity as one of the top attractions in Gatlinburg due in part to the experience: a tastemaker will crack jokes after stepping up to a bar-in-the-round as he (or she) will tell you about each one of their flavors of moonshine--and for $5 you can sample their lineup for the day, and you will get a voucher for that amount to purchase anything in the store. Ole Smoky is another favorite in town, and even if you aren't a fan of alcohol drinking, there is live music nearly every day in at least one of the locations from very talented musicians trying to earn a living doing what they love. Also, be sure to check out their broad merchandise selection, which includes sauces and jams.
The two locations that follow have been traditions for Gatlinburg visitors for decades, and they are the Sky Lift and The Gatlinburg Inn. The Sky Lift takes guests up Crockett Mountain for an amazing view of Gatlinburg and the surrounding mountains. Unfortunately, the gift shop at the top was destroyed in the fires of 2016, but the recently refurbished Sky Lift will still live on and continue to delight first time and old time riders. The Gatlinburg Inn has been accommodating guests since 1937, and it's a popular draw due to the number of famous guests who have stayed here throughout the years; most notably, the songwriting duo of Felice and Boudleaux, who wrote the song, "Rocky Top" in Room 388 here.
Looking to your right as you head further down the Parkway in Gatlinburg there are a few gems here that many proclaim as their all-time favorites. As you walk through the awning of The Village Shops, you will feel like you are stepping into a quaint, European village adorned with little shops that almost make you forget you are in Tennessee. There are 27 such shops in this little village that sell everything from toys and boots to coffee and donuts. The Day Hiker is like a miniature version of NOC with its hiking supplies, but its small-scale nature ensures that you will be able to find an employee easily and help you with any questions. The Donut Friar has been here since The Village's humble beginnings, and its only considered by almost everyone as having the best donuts in the Smokies. If your morning has to begin with a cup of joe, The Donut Friar can give you a caffeine fix, or you can hang a left into a little nook to find Coffee and Company where the owners--who took over the shop in the early 1990's--will expertly craft your favorite coffee brew, hot, iced, or with their various cappuccino flavors.
Outside and next to The Village are two Gatlinburg visitor's favorites: Pancake Pantry and Ole Smoky Candy Kitchen. Everyone's favorite breakfast splurge is pancakes and few can say they've done it as long--and as well--as Pancake Pantry has been doing with pancakes. The lines can be long at this Gatlinburg tradition, but it never deters the die-hard pancake and breakfast fan from making a trip to this throwback business--and by throwback, expect to be treated to hand-written order tickets and cash only pay methods. Ole Smoky Candy Kitchen's beginnings in Gatlinburg stretch all the way back to 1952--and despite a myriad of candy options in downtown Gatlinburg, they have proven that if you make a good treat, there will always be a market for a candy shop in a tourist destination.
After passing this section of town, you are now getting to the northern edge of Gatlinburg, where the foot traffic gets a little lighter; however, that could be changing with a few new attractions that have either recently opened, or will be open soon. The new Anakeesta development opened in September 2017 and offers two options for a ride atop the mountain: chondola or open-air chair lift similar to the Sky Lift. Once you reach the top, you'll be greeted with views never before seen by visitors of Gatlinburg. It's an amazing sight, and there are plenty of activities for you to make a day of it here. There is a Children's Playground, a few eateries and shops, a zipline for the thrill-seeker, and an amphitheater that is under construction and should be ready by next summer.
Margaritaville is the newest hotel resort coming to Gatlinburg in 2018 and will be located just past the famed Ripley's Aquarium of the Smokies--another one of Gatlinburg's family favorites, and one of the best aquariums in the country. This resort will dwarf the Twin Islands hotel that unfortunately had to be torn down to make way for the giant seven story, 174 room hotel that will soon be accommodating guests with its island themes smack dab in the mountain resort of Gatlinburg.
Even as you are heading out of Gatlinburg, there are a few more attractions that should catch your eye on the right. There are two fairly new mountain coasters that have opened in Gatlinburg--one of which opened this past summer: Rowdy Bear Mountain Coaster. The other coaster was the first of its kind to appear in Gatlinburg a few years ago, simply named Gatlinburg Mountain Coaster. Each of them takes you on a fun ride down the mountain after the slow climb builds the excitement for the last part of the ride. Another long-time business in town is Hillbilly Golf. Here, you actually get to ride in a moving car that takes you up to two 18 hole miniature courses which are perched on the mountainside, offering a truly unique experience.
There are so many different things to do in Gatlinburg, many of which are not included in this article. It is important to spend a little time downtown to visit the various shops and say hello to the friendly people that work hard to maintain Gatlinburg's reputation as one of the most hospitable--and popular--vacation destinations in the country. It is hard to argue that Gatlinburg certainly has more than enough activities to keep the enjoyment from fading, and you just might want to keep coming back, because chances are good that you didn't have enough time to experience everything that Gatlinburg has to offer visitors.
Renting a Cabin for Increased Profits in Gatlinburg
Renting a Cabin for Increased Profits
Individual Cabin Owner Vs. Rental Management Companies
Cabin owners are looking for increased earnings now more than ever. Rental management companies are jousting for those same banknotes. There is a virtual tug of war between the standard 60/40 rental split between owners and managers.
This phenomenon is driving more and more owners to list their cabins themselves on third party websites. But in a surprising twist, those third party websites are forcing themselves into what is only a two party tug of war. War costs money, and all parties are having to pay up.

These predatory websites like Expedia are succeeding in cornering the rental market and dictating further increases of fees. They continue to gobble up vacation websites with what appears to be an endless supply of cash. Expedia now has a near monopoly on the online travel industry. You can still do soemthing about it.
Vacationers are not immune to the new controversial fees.

"Travelers looking for a place to stay will pay up to $499 a week extra now that the sites have instituted a 4% to 9% service fee on all vacation rentals." USAToday.com
These fees are in addition to the forced increase in fees to both Rental Management Companies, and individual cabin owners.

Yes, even after paying the increased fees to list each of the rentals, the third party sites are now charging a large fee to individuals as well.

Cabin owners in Gatlinburg, Pigeon Forge and the Smoky mountain area are turning towards marketing and renting their own properties, even if they have only one or two.

This split from the norm is also forcing some management companies to offer greater incentives to their rental programs, including guaranteed income programs.

A guaranteed income will come with risks and rewards.

The rental manager has to pay out a monthly fee to cabin owners that are on their guaranteed rental program. Manager's have to pay up-even if rental sales hit rock bottom. A downside for a cabin owner is if the cabin is a good renter, the cabin owner cannot collect the extra revenues above their monthly agreement with the cabin company.

If cabin owners and rental management companies do not come together soon, Expedia and other connected online vacation websites, will completely take over and dictate even greater fees.


Enter Piddlin.com

Piddlin.com offers a service that will help knock down or offset some of these costs. The more cabin owners and management companies that join, the more they will not have to rely on these third party websites.

Vacationers will save hundreds of dollars by bypassing these greedy sites and purchasing directly from the locals in the Gatlinburg, Pigeon Forge and surrounding areas.