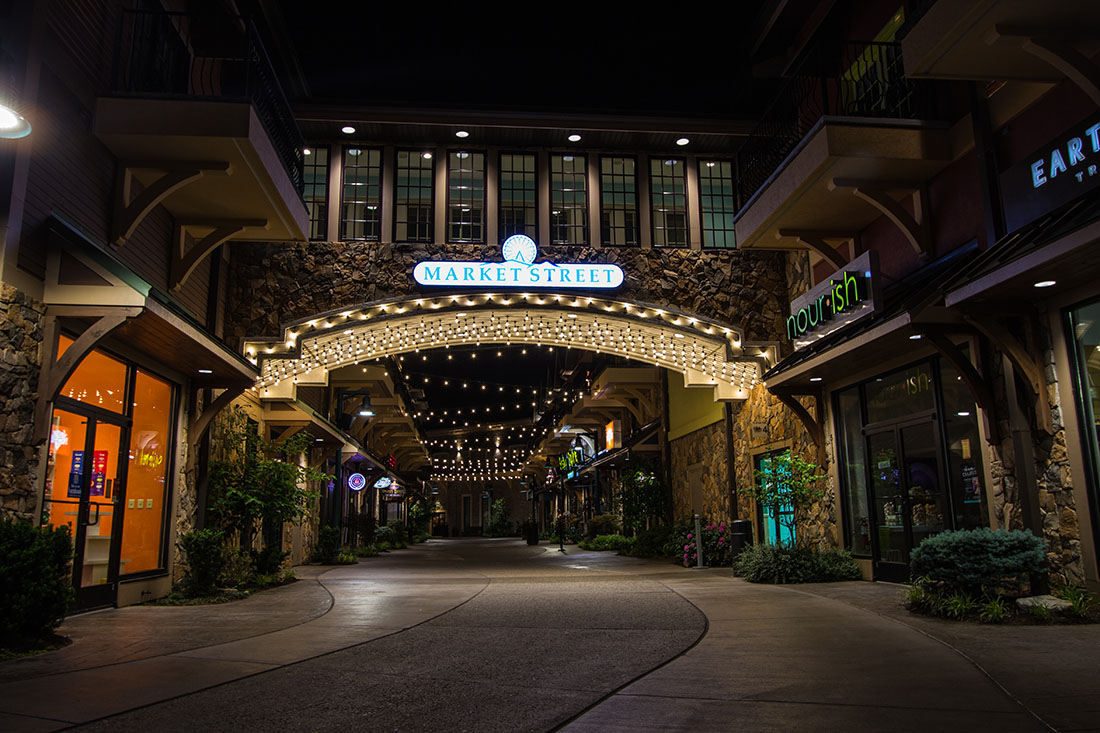 It is a fact that the Great Smoky Mountains National Park is the most visited park in the entire country. Around 11 million people make their way to this magnificent piece of land in East Tennessee and parts of North Carolina every year. What's also been well-documented are the many things there are to do here. So many, in fact, that there's a little something for everyone here, no matter what their interests are. Mountains, the shops, the attractions, or the hikes... It's extremely difficult—nearly impossible, that is—to be bored with all of the things to do in the Smoky Mountains.
There are 5 kinds of people—and probably more—that characterize the methods with which they go about their day here. It's hard to just analyze these people as being introverts or extroverts—that's simply too broad. We're going to break it down by explaining it with 5 different people; we're positive these types describe either yourself, or someone else in your family. Let's get started, shall we.
1. The Shopper
While this generally describes the ladies in your group, we believe you might just become a shopper! Even if you're one of those manly men that avoids shopping. This is especially true with everything there is to see around the main tourists spots in town. There are also places off the beaten path that really shouldn't be ignored either. They offer guests of unique items you can't find in the downtown shops.
Pigeon Forge
Pigeon Forge has TONS of shopping available—and that's no overstatement. The Three Bears General Store is probably the biggest—and probably has the largest variety of items anywhere—shop in Pigeon Forge. Here, you can find knick-knacks, games, seasonal items, fudge, piles of apparel...the list keeps going. You can easily kill a couple hours in here without realizing it.
Old Mill District
The shopper will also delight in The Old Mill District where you can find souvenir items. You can also find ingredients that come straight from this historic mill. They are made to prepare dishes at their two restaurants on-site. Therefore, you can grab a bag or jar for home. If you're looking for some stones to have carved for your home, The Sandman's Workshop is wonderful, as is Pigeon River Pottery for pieces that are also made in the building. The cat lover will be wowed by the amazing selection of cat merchandise available at Smoky Mountain Cat House.
The Island in Pigeon Forge
The Island in Pigeon Forge is also a shopper's dream with its many shops for the shopaholic in your group. There are more than 60 shops here that should tempt you into buying more than a few things. They have a bag shop, a place with essential oils, a magic shop, a few sports shops, and even a Christmas shop! This keeps the magic of the holiday a year-round shopping experience.
Nantahala Outdoor Center
When you're tuckered out from the shopping in Pigeon Forge, we'd like to remind you there's a whole other town to explore for your endless shopping expedition! The Nantahala Outdoor Center in Gatlinburg is a place that the males in the group can get behind. Outdoor supplies and apparel that are essential for the hiker can all be found here. If you can't find what you're looking for here, well...never mind, you probably will.
The Parkway
The Parkway is not unlike Pigeon Forge in that it's also lined with plenty of shops to browse. Two of the best shops for souvenirs are The Maples' Tree and Jonathan's. The Maples' Tree is best known as the home of Donna Sharp quilts and purses. However, it has many unique items that include wood signs, t-shirts, and souvenirs that are made well. Jonathan's is best known for their downstairs scrapbook supplies. At the ground level, they have hilarious bear shirts and "old-guys rule" shirts. Thesewill amuse grandpa and the rest of your group.
Mountain Mall
Of course, the Mountain Mall has been a staple of Gatlinburg since the 1970s. It contains a wide variety of different shops that's sure to please even the casual shopper. If you don't believe us, then you need to go up to the Pepper Palace to see a vast selection of hot sauces and salsas that'll make smoke come out your ears—it'll sure feel like it, anyway. The music lover will appreciate The Rhythm Section that's stacked full of CD's you won't normally find in stores.
By now, you can see it's quite the shopper's delight in the Smoky Mountains, but we have more in store. All of this walking is sure to made you quite hungry. The foodie in your group will be pleasantly surprised at what in store—or in the restaurant—in the Smoky Mountain tourist areas.
2. The Food Lover
You would be seriously underestimated the food choices here if you thought it was just a place for Southern specialties. There is quite the fair share of regional favorites here. So, don't ignore the enormous amounts of high-quality grub that can be represented in every corner of the country. Here's what the food lover can expect to find around the area.
Pigeon Forge Favorites
Pigeon Forge is a little bit grander in scale when it comes to tourist favorites. We'll start it off with Paula Deen's Family Kitchen. Come hungry and enjoy favorites right out of Paula Deen's actual kitchen, family style. You'll want to go here for some true Southern comfort foods. However, you might be done eating for the day after you're finished. Music fan favorite Jimmy Buffett has a Margaritaville restaurant here. This isn't that surprising, since he usually opens them in vacation hotspots. Mama's Farmhouse is much more local. They serves a heart-warming Southern meal, so you can feel good about supporting a local business.
Pizza Places
Speaking of local, there's plenty of good ones here. Pizza is one food that's generally not considered a purely Southern. However, you wouldn't know it once you've had Big Daddy's Pizzeria, Smoky Mountain Brewery, and J. Del's Pizza. These restaurants keep many of their ingredients fresh, local, and homemade; you can tell after getting your first few bites how good these pies are.
Pancake Places
Pancake places are what has made this place so popular due in large part to its selection of great, fluffy breakfast treats. The Pancake Pantry in Gatlinburg stands out—and is mostly responsible for the outburst of pancake breakfast restaurants. In Pigeon Forge, good pancakes—and wholesome breakfasts overall—can be found at Sawyer's, Old Mill Restaurant, and a tiny, but reputable place called Lil Black Bear Cafe.
Look around and you'll find a scores of restaurants serving all kinds of cuisine. They'll satisfy all the different styles of food your resident foodie will enjoy. There's just too many to mention but try TripAdvisor for rankings of the best voted on restaurants.
3. The Hiker
Hiking is an absolute must whether you're a hiker or not. There hundreds of miles of trails in the Smoky Mountains for all levels of hikers. Even if you're not an expert and just love the outdoors, you can join the novices in a extraordinary experience that you won't forget.
Sugarlands Visitor's Center
Beginner trails are located at Sugarlands Visitors Center. This is where the Cataract Falls Trail welcomes hikers of all ages in an easy hike. It has the reward of the falls at the end. Fighting Gap Nature Trail is here too, offering a beginner leisure loop walk with wonderful nature views. Just down the road from the Sugarlands V.C. is the Laurel Falls Trail. This is also a nice beginner hike that inclines a little. However, the ease is rewarded with one of the more impressive falls in the entire Smokies; this makes it a popular, but crowded walk in the middle of the day, so get trekking early.
Elkmont Campground
The Elkmont Campground area of the park is steeped in history, and much of it is still on display. The Elkmont Ghost Town is a place where the Knoxville elite used to vacation; many of which are still standing for you to walk through and be amazed at the simplicity of these old homes. Elkmont is also the place where you can hop on the Little River Trail and walk for many miles if you really feel like exploring. Much of your walk will be done next to the wonderful white noise of the rushing, but somehow quite relaxing, Little River. There are several waterfalls that empty into this impressive wonder, making it a perfect place to stretch those legs and get a nice and vigorous walk on your vacation.
If you're seeking a full-on, strenuous hike, you can venture onto the Appalachian Trail and do some countless mile-walking on this legendary path. But maybe you just want to say you did some of it, even if it's just several miles worth. There are other expert-level trails to test your endurance that lead to it, so head into the middle of the Smoky Mountains, if you want to get your hiking fix.
4. The Cabin Dweller
If we were to characterize the person who calls themself the cabin dweller, this person is usually the introvert of the group, or someone who just wants a break from the rigors of daily life. We know that's not always the case, but a cabin is a wonderful place to get away and enjoy a life where you have no problems and nowhere to be when you wake up in the morning.
The Amenities
You'll be amazed at how much time you can spend in a cabin in the Smoky Mountains. There are amenities aplenty among all the outstanding cabins. Some of them offer basic, bare-bones type that are for those who really want to unplug, or there are a large number that offer luxurious accommodations, giving you the feeling that—at least for a brief period of time—you're living the life of your dreams. In fact, isn't that what vacations are really for? A time when we can imagine a life without worrying about how we're going to make ends meet every week—or month.
Newfound Freedom
Cabins give you the opportunity to read your favorite book without distractions, or maybe you want to soak in the hot tub or jacuzzi for as long as you like without being at anyone's beckon call. Either way you want to play it, there should be absolutely no worries clouding your mind when you're enjoying your newfound freedom in your very own cabin. Heck, you can splurge on large cabin, even if you don't really need it. It's totally up to you how you want to handle your vacation. You earned it, so now you can truly reap the rewards of vacation!
5. The Thrillseeker
The Smoky Mountains have a reputation as being a peaceful place where you can be as isolated or part of the tourist gathering as you wish. But there's much to rejoice if you're a thrillseeker and want a little more than just tranquility on your vacation. Remember, this whole piece is dedicated to 5 different people that'll find the Smokies a great place to visit. Let's get into the adrenaline-pumping excitement that lies ahead.
Dollywood
Dollywood should be the first place that comes to mind when you visualize thrilling things to do in the Smoky Mountains. You're certainly not wrong in that assumption. This is also its own little place for people with varied interests, but you are looking for something that's quite exhilarating, after all. Coasters are a thrillseeker's top anticipatory activity, and it's safe to say Dollywood has a few. If you love the feeling of falling, the Drop Line does exactly what the name suggests. As a thrillseeker, you're just getting started, so the Lightning Rod will bring the speed, as it's the world's very first wooden launch coaster. Follow the link to discover all the emotions you'll feel at this iconic theme park in the Smokies.
Ober Gatlinburg
Ober Gatlinburg is Gatlinburg's answer for thrilling things to do in the Smoky Mountains. Skiing and tubing aren't necessarily extreme sports, but there is a certain level of difficulty—at least for skiing—that make them appealing to the thrillster. As a matter of fact, the tram ride up to Ober itself is a pretty gnarly experience that you must try to conquer if you're not a fan of heights of enclosed spaces.
Ziplining
Ziplining is another cool thing to experience in the Smoky Mountains. With this activity, you are driven up a mountain where you're given a thorough instruction on how to properly and safely glide down the zipline. You may think this is a brief little thrill ride, but it's certainly worth it, as you have several hours in which your feet never touch the ground. With the ziplines in the Smokies, you will fly from station to station traversing across wooden sky bridges until you eventually reach a final, suspenseful glide. The adventure-seeker in your group is sure to get a thrill out of this one!
Mountain Coasters
Finally, mountain coasters are a fairly new thing that's really taken hold in the tourist areas. You can find one at Ober Gatlinburg, one at Anakeesta (coming soon), and another on the Parkway. With these, you are strapped in a cart and slowly taken up a track where you will eventually reach an apex; then, you are shot down the mountain as gravity pushes you faster as you twist and turn downhill. There is a brake provided if you want to slow down, but of course, we recommend you feel the full force of the ride as the wind whips your hair into a tussle.
Conclusion
Are you one of the people on this list? If you don't consider yourself any one of these, you may be surprised to learn after a trip to the Smoky Mountains, you've actually become one of these people—whether you realize it or not. That just makes a vacation to this area all the more special. You'll end up learning a few things about yourself in the process, and we think that means you've succeeded with maximum enjoyment on your trip!