Townsend, Tennessee
If you're looking for history, heritage, and log cabins, then Townsend Tennessee is for you. Did you know the the Smoky Mountains were mostly clear cut to make way for cabins and other lumber uses? According to local historians they were. The beautiful mountain forest that you see is not first generation timber.
Yet still, The Great Smoky Mountains look as beautiful as ever.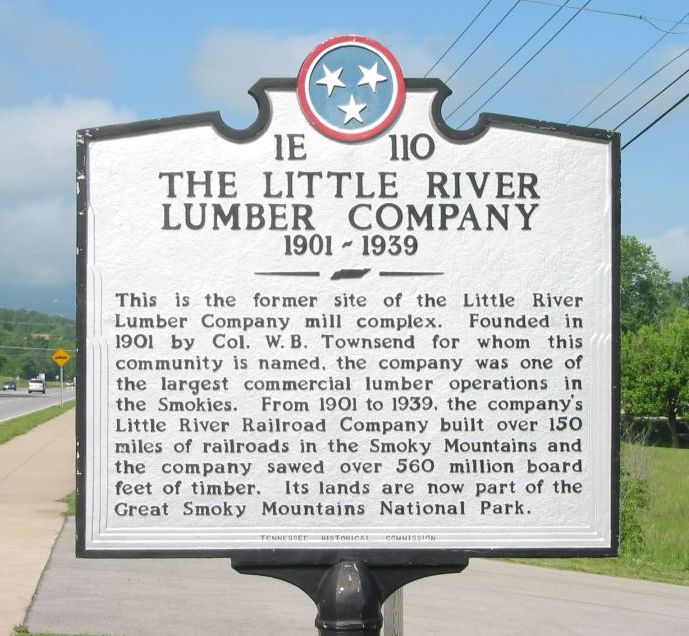 The Little River Railroad and Lumber Company help establish the city of Townsend Tennessee in the Great Smoky Mountains. This company created a railroad from Townsend Tennessee to the Elkmont community and beyond. Because of all the hustle, bustle and resources in the area, the Elkmont community and other areas grew in population and popularity.
Wilson B. Townsend, the founder of the Little River Lumber Company, ultimately sold off 76,000 acres, and most of that land ultimately formed the Great Smoky Mountains National Park.

Much of the lumber was used to build log cabins in Elkmont, Gatlinburg, Pigeon Forge and Wears Valley.
If you like cemeteries, Myers Cemetery, circa 1795, is located adjacent to the Townsend Visitors Center on East Lamar Alexander Parkway in Townsend, Tennessee.
An archaeological dig in Townsend Tennessee, around 2001, found the Following:
A Fortified village dating to 1200 A.D. By unknown Native Americans
Pottery from the 1600s and 1700s, when the Cherokee had villages all the way along Little River.
Former Cherokee winter and summer houses have been discovered.
Pottery from 300-500 B.C.
Grooved ax heads from 500 B.C. to 500 A.D.
The oldest items are pit features that date back to 2000 B.C.
Donald Kenneth "Don" Sundquist, the 47th Governor of Tennessee from 1995 to 2003, has 10 acres and is said to live in Townsend Tennessee.
Townsend Tennessee is just a hop, skip and a jump from Knoxville, Gatlinburg and Pigeon Forge.
Knoxville to Townsend 42 min (34.0 mi) via US-129 S & US-321 N/E Lamar Alexander Pkwy
Pigeon Forge to Townsend 34 min (18.0 mi) via US-321 S
Gatlinburg to Townsend 45 min (22.8 mi) via US-321 S.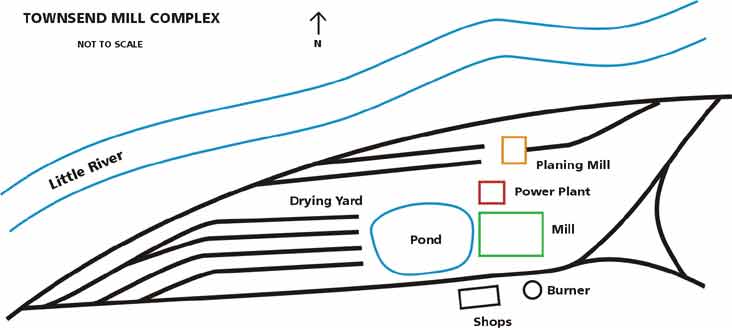 Photo by The Little River Railroad and Lumber Company Museum
Much of the railroad tracks were removed in secret in the 1920's.
The park's history has an archival storage area located at the Department of Energy's Office of Scientific and Technical Information Storage facility in Oak Ridge. Artifacts from this area can be found there.
There is a Little River Lumber Company Museum in Townsend, and it's always free of charge. The museum hours are different depending on the time of the year.
Museum Hours:
June, July, August & October:
Daily and Saturday 10-5, Sunday 1-5
April, May, September & November:
Saturday 10-5, Sunday 1-5
Closed Easter & Mothers Day
December through March:
by appointment only.
"There are trees here that stood before our forefathers ever came to this continent; there are brooks that still run as clear as on the day the first pioneer cupped his hand and drank from them. In this Park, we shall conserve these trees, the pine, the red-bud, the dogwood, the azalea, the rhododendron, the trout and the thrush for the happiness of the American people."

Franklin D Roosevelt
Cades Cove Riding Stables
10018 Campground Dr, Townsend, Tennessee, 37882
865-448-6286
Cades Cove Galley
7144 E Lamar Alexander Pkwy, Townsend, Tennessee, 37882
865-448-0250
Smoky Mountain Convention & Visitors Center
7906 E Lamar Alexander Pkwy, Townsend, Tennessee, 37882
865-448-6134
Cades Cove Visitor Ctr & MSM
10042 Campground Dr, Townsend, Tennessee, 37882
865-436-1200
Tuckaleechee Caverns
825 Cavern Rd, Townsend, Tennessee, 37882
865-448-2274
Little River RailroadLumber
7747 E Lamar Alexander Pkwy, Townsend, Tennessee, 37882
865-448-2211
Sources
Great Smoky Mountains National Park
Maryville Times
Google Maps